Perry's Monument
Introduction
The Battle of Lake Erie near Put-In-Bay was a major battle during the War of 1812. The Battle of Lake Erie was one of the greatest triumphs of the War of 1812 and secured control of the lake to the Americans. The British army was defeated then on October 5, 1813 and during peace talks the major victories ensured that Michigan and Ohio would remain a part of the United States of America.
Images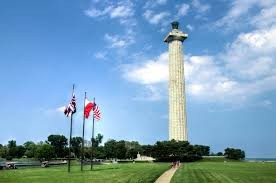 Backstory and Context
Early in the morning on September 10, 1813, six British ships were spotted to the northwest of the island. Master Commandant Oliver Hazard Perry, who was in charge of the fleet located on the island, began issuing orders to his men in preparation of a battle with the British. With Perry's fleet located in Put-In-Bay on Lake Erie, the supply route of the British from Fort Malden to Fort Dover had been broken. So the British had two choices, fight or abandon Fort Malden.
The battle that followed took place between six British ships with over sixty cannons that had a longer range and nine American ships with fifty four guns that had a shorter range. Perry needed the wind to his back in order to stand a chance in the ensuing battle. After a small battle with Mother Nature, Perry was able to get the wind at his back and the British battle line was finally revealed. The first shot was fired at 11:45am and lasted until 3pm. It was a long battle and at one point Perry faced the idea that he may have to surrender due to the damage caused to his fleet of ships. He decided not to give and took one last plan of action against the British. The British had also suffered terribly and this last attack left the fleet in even worse shape and just after 3pm the last four of the fleets vessels surrendered one at a time and the entire remainder of the British fleet was captured.
Perry's victory at Put-In-Bay at the Battle of Lake Erie is still recognized and celebrated to this day. A 352 foot tall Doric columnn was placed on the island to remember not only the victory but to celebrate the long lasting peace between the United States, Great Britain, and Canada. Its official title is Perry's Victory and Peace Memorial and sits five miles from the longest undefended border in the entire world. The 200th anniversary of the victory was just held this past summer and members from every military force in the country including many veterans were in attendance. A great celebration was had by many and Commander Perry's victory is still remembered to this day. It is well preserved and protected as well due to the fact that it is a part of the National Park Service.
Additional Information