Burr House
Introduction
Burr House sits on Vallejo St and is encompassed by Franklin Street to the east, and Gough street to the west. Constructed in 1878, the three-story building plus basement, is built in the Italianate style, with many angled bay windows and mansard roof. The building was the brainchild of businessman Ephraim Willard Burr, who also served as the ninth mayor of San Francisco from 1856 to 1859.
Images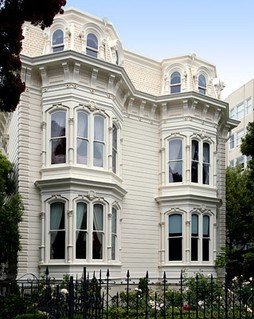 Backstory and Context
Ephraim Willard Burr was born on March 7, 1809, in Warren, Rhode Island. In his early years, he worked as a whaler and spent much of his time at sea. When many of his fellow crewmates left their posts with the hope of finding their fortune in the Gold Rush, Burr stayed and opened up a grocery store.
The venture proved so successful that he opened California's first savings union, the San Francisco Accumulating Fund Association.

His first foray into politics was in 1855 when he petitioned the city's council to curb pollution caused by slaughter houses. Burr believed that the pollution was causing cholera to spread through the water supply - a disease that took his son's life.


Through this, he became noticed by the Vigilante movement and became the People's Party candidate for mayor of the city. He was elected in 1856 and was determined from cutting the city's spending.
He also proposed a plan to put the city's Board of Supervisors in charge of the city debt and made the city's attorney the overseer of the city's legal matters, which were previously handled by outside attorneys.
After leaving politics Burr became more involved in business interests. His main business was the Savings and Loans Society, which he became president of in 1857, while he was also mayor. He was also president of the San Francisco Fire Insurance Company from 1861 to 1866. He loaned $30,000 to the city to build the now-famous cable car system before retiring in 1879.
Sources
National Register of Historic Places Registration Form. CA Parks. Accessed April 30, 2017. http://www.ohp.parks.ca.gov/pages/1067/files/burr%20house%20nr%20draft.pdf.