Bank of Lucas, Turner & Co.
Introduction
Built in 1854 the Bank of Lucas, Turner & Company was located at 800-804 Montgomery in Jackson Square, San Francisco. Designed by Reuben Clark in the Italianate style typical of early San Francisco, the classical building faces Montgomery Street, which was the city's main commercial street at the time. The ground floor is built from well cut and fitted granite blocks. The granite is not from California- some claim that the granite was imported from China while others claim that it arrived from the eastern United States. Originally three stories high, the building cost $53,000 to construct- a large sum for the day.
Images
This plaque is on the Jackson Street corner of the building.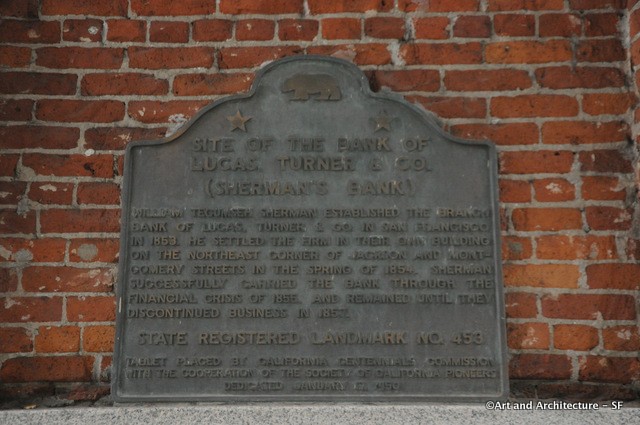 Construction of this historic building was supervised by future Union General William Tecumseh Sherman.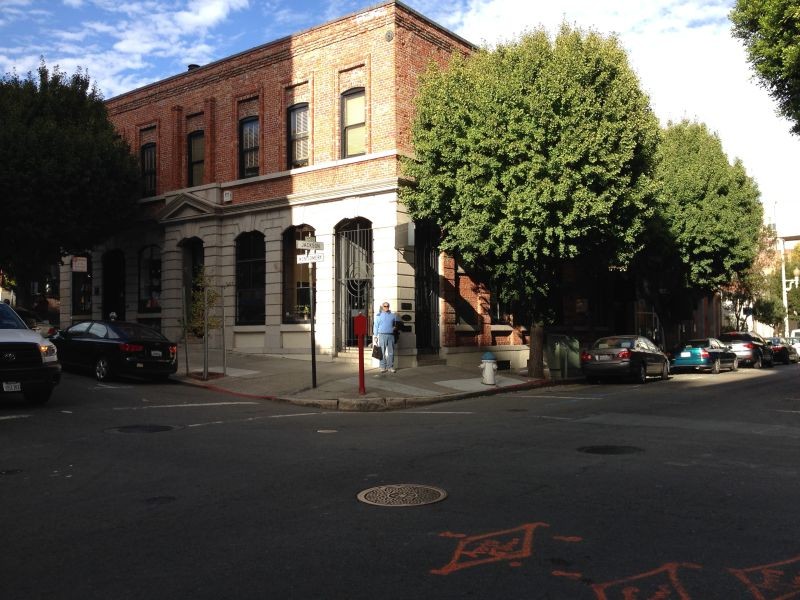 Backstory and Context
The building's construction in 1854 was overseen by future Union General William Tecumseh Sherman. The building was impressive at the time, but only three years after moving in, the fledgling bank was bankrupt.
Tenants came and went over the years and in 1906, Eiffel Tower, a French restaurant, occupied the ground floor with a lodging above. That same year the Great Earthquake struck the city, damaging the third floor so badly that it had to be removed. Despite this the restaurant stayed open until 1924.
A sausage factory shared part of the ground floor in the 1920s, before becoming a Chinese soy sauce factory. In the 1950s, with the revival of Jackson Square, the building was converted for use by decorators. The building now houses one of the finest Architectural Book Stores one can encounter, William Stout Books.

The plaque reads:

"William Tecumseh Sherman established the branch bank of Lucas, Turner & Co. in San Francisco in 1853. He settled the firm in their own building on the northeast corner of Jackson and Montgomery Streets in the spring of 1854. Sherman successfully carried the bank through the financial crisis of 1855, and remained until it discontinued business in 1857.

Tablet placed by California Centennials Commission with the cooperation of the Society of California Pioneers. Dedicated January 17, 1950."

Sources
San Francisco Landmark #26 Bank of Lucas, Turner and Company. Noe Hill. Accessed April 30, 2017. http://noehill.com/sf/landmarks/sf026.asp.

William Tecumseh Sherman and the Bank of Lucas, Turner. Art and Architecture. Accessed April 30, 2017. http://www.artandarchitecture-sf.com/william-tecumseh-sherman-and-the-bank-of-lucas-turner.html.