Bradford Graves Sculpture Park
Introduction
This Sculpture Park, which opened in 2010, features the works of Bradford Graves (1939 – 1998). Born in Dallas, Texas, Graves moved to New York in 1958, where he studied at the School of Visual Arts, the American School, and the New School. He specialized in sculpting stone, rather than the metals and plastics preferred by other sculptors of his time. Graves' work drew inspiration from archaeology and the ancient world, and he traveled extensively observing "stone cultures," such as Greece, Egypt, and Japan, in person. Visitors can now visit the Sculpture Park by appointment to view a collection of over 200 pieces.
Images
Nabu - Writing, 1995 (Bradford Graves: A Legacy Carved in Stone)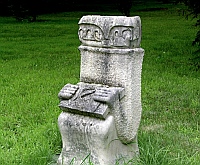 Magnus I, 1995. Limestone (Bradford Graves)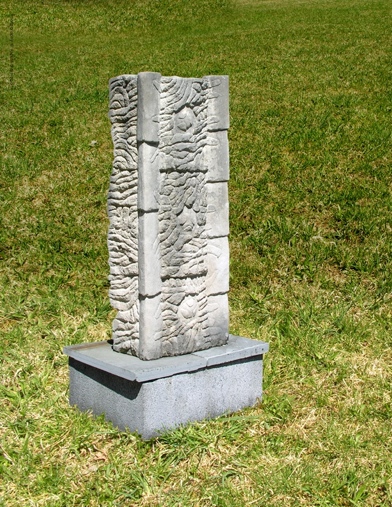 Ravages of Silent Agencies III, 1992. Limestone. (Bradford Graves)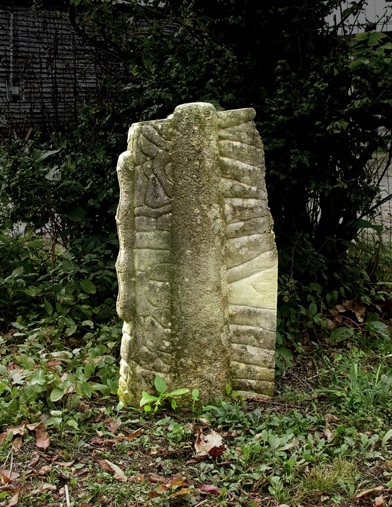 Backstory and Context
Graves traveled widely in search of artistic inspiration and insight. In 1962 he visited the Greek island Sifnos to study traditional ceramics. He then participated in the Massada Archaeological Expedition in Israel. Later, Graves traveled within Eastern Europe, the Middle East, and India, Haiti, Scotland, West Africa, Egypt and Japan. He was also especially drawn to the American Southwest. According to his widow Verna Gillis:
He was deeply influenced by geological references and the physical aspects of land. His favorite place in the whole world was the Southwest because of the extraordinary stone formations there. I consider him to be a very American sculptor, but he was also drawn to what he considered stone cultures where stones figured prominently, for example in Japan or the U.K. (Quoted in O'Connor).

Former head of the Arts Council of Princeton Jeff Nathanson described a visit to Graves' studio in New York City as follows:
I was struck by the power and solemnity of this collection of stone images.. Entering his work space was as if walking into a quarry, a graveyard, an ancient ruin. They, like all sculpture, respond to the force of gravity – form a relationship with the surface on which they lay. This was at the root of Graves' extraordinary conceptual approach in making his sculpture. Graves considered that stone came from the earth and with human intervention, became sculpture, to lie on the ground only to return to the earth after time. Graves created flat horizontal slabs that sprawled on the floor and upright totemic blocks recalling the ancient sites that provided the inspiration to make these pieces. (Nathanson).
In addition to sculpting, Graves taught at the Parsons School of Design in New York and at Fairleigh Dickinson University in Madison, New Jersey. He composed several essays outlining his views on art, humanity, and creativity. For instance, in one essay he wrote:
The making of sculpture may be taken as a desire for the realization of wholeness. We don't want to be on the world, but in it. We begin by putting our identity on materials with the hope that we will become one with the world. Watch a child handle any material. He will deform, mutilate, or shape the material into a new form. He may take that material and combine it with another material into a structure. Or he may set that material aside from others and give it a personal value. Even when a child is given a toy that already has meaning invested in it by the adult world, the child often will give it meaning in ways unthought of by adults. The personal meaning given materials by a child is his way of neutralizing and protecting himself from and indifferent environment. By turning materials into an object it becomes something known. (Graves, "Sculpture - A Definition").
Sources
Graves, Bradford. "Sculpture - A Definition." Bradford Graves: A Legacy Carved in Stone. Accessed April 30, 2017. http://www.bradfordgraves.com/Sculpture-ADefinition.html.

Nathanson, Jeff. "Bradford Graves: This Mirror Can Crack a Stone." Bradford Graves: A Legacy Carved in Stone. September 2007. Accessed April 30, 2017. http://www.bradfordgraves.com/Biography.html.

O'Connor, Rosemary. "Outdoor Art and Sculpture Parks in the Hudson Valley, Upstate NY." Hudson Valley. April 24, 2012. Accessed April 30, 2017. http://www.hvmag.com/Hudson-Valley-Magazine/May-2012/Outdoor-Art-and-Sculpture-Parks-in-the-Hudson-V....

"Sculpture Park." Bradford Graves: A Legacy Carved in Stone. Accessed April 30, 2017. http://www.bradfordgraves.com/SculpturePark.html.



Additional Information