McElroy Octagon House
Introduction
The McElroy Octagon House was originally built in 1861, just across the street from where is stands today. Also known as the Colonial Dames Octagon House, the historic building sits at 2645 Gough Street in the Cow Hollow neighborhood of San Francisco. It eventually fell vacant and became neglected until 1951 when it was bought by the National Society of the Colonial Dames of America in California and moved across the street. They worked to restore the historic building and in 1971 it became San Francisco Landmark 17. On February 23, 1972, it was added to the National Register of Historic Places.
Images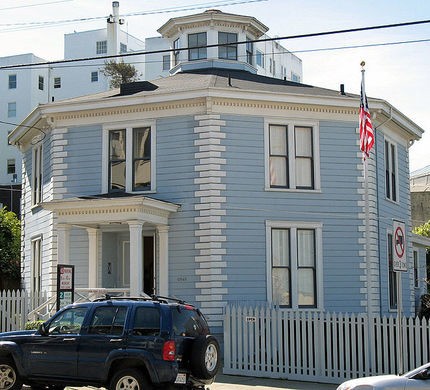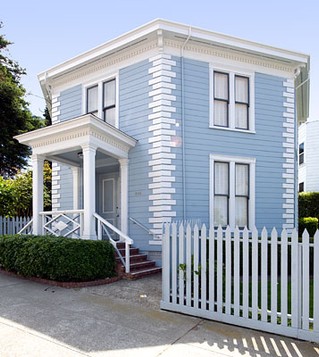 Backstory and Context
Little was known about the history of the house until an electrician working on the property found a time capsule in 1953. The capsule was left by the original owners, William Carroll McElroy and his wife Harriet Shober McElroy. The time capsule contained newspaper clippings, an ambrotype photograph of the original family, and a letter written by William C. McElroy on July 14, 1861. The letter confirmed that the Octagon House was built and owned by the McElroys as their "privet Residence."

The McElroys built their Octagon House in 1861 on the east side of Gough Street, on a lot that ran from Presidio Road (today's Union Street) to Vallejo Street in Cow Hollow. The earliest known photograph of the Octagon House, taken in the 1870s after over a decade of development had begun to transform Cow Hollow, shows both Washerwoman's Lagoon and the sand dunes.

Octagonal houses were quite the fad at this time, after first being popularized by an 1848 book titled A Home For All. Written and self-published by an amateur New York architect named Orson S. Fowler, the book advocated the building of multi-story eight-sided homes with windows on all sides. At least five other octagonal homes are also known to have been built in San Francisco during the mid-nineteenth century. The McElroys may have taken the inspiration for the floor plan of their approximately 1,620- square-foot two-story home from a plan published in the 1853 edition of Fowler's book.

Sources
San Francisco Landmark #17 McElroy Octagon House. Noe Hill. http://noehill.com/sf/landmarks/sf017.asp.

McElroy Octagon House. Atlas Obscura. Accessed April 30, 2017. http://www.atlasobscura.com/places/octagon-house.

Horne, Janis. CELEBRATING 150 YEARS OF HISTORY AT OCTAGON HOUSE: 1861–2011. The Argonaut. Accessed April 30, 2017. http://nscda-ca.org/wp/wp-content/uploads/2014/01/Argonaut_Octagon_House_History.pdf.