"The Student Body" Sculpture
Introduction
Tucked away behind Hamilton Hall, the "Student Body" sculpture by Julia Balk depicts diligent students toting books and backpacks, a familiar sight on campus. The sculpture originally appeared in a more prominent position in front of Davis Library in 1990, a gift from the class of 1985, but came under scrutiny for its stereotyped representations of race and gender. The piece was vandalized multiple times. In response to the public controversy, university officials relocated the piece to its new, less visible location. They later removed two of the figures: an African-American man with a basketball and an Asian-American woman with a violin. You can read Julia Balk's full 4-page letter explaining her intentions and defending her work at the links below, as well as watch Professor Tim McMillan's discussion of the controversy in the broader context of North Carolina's history.
Images
"The Student Body" today (Black and Blue Tour)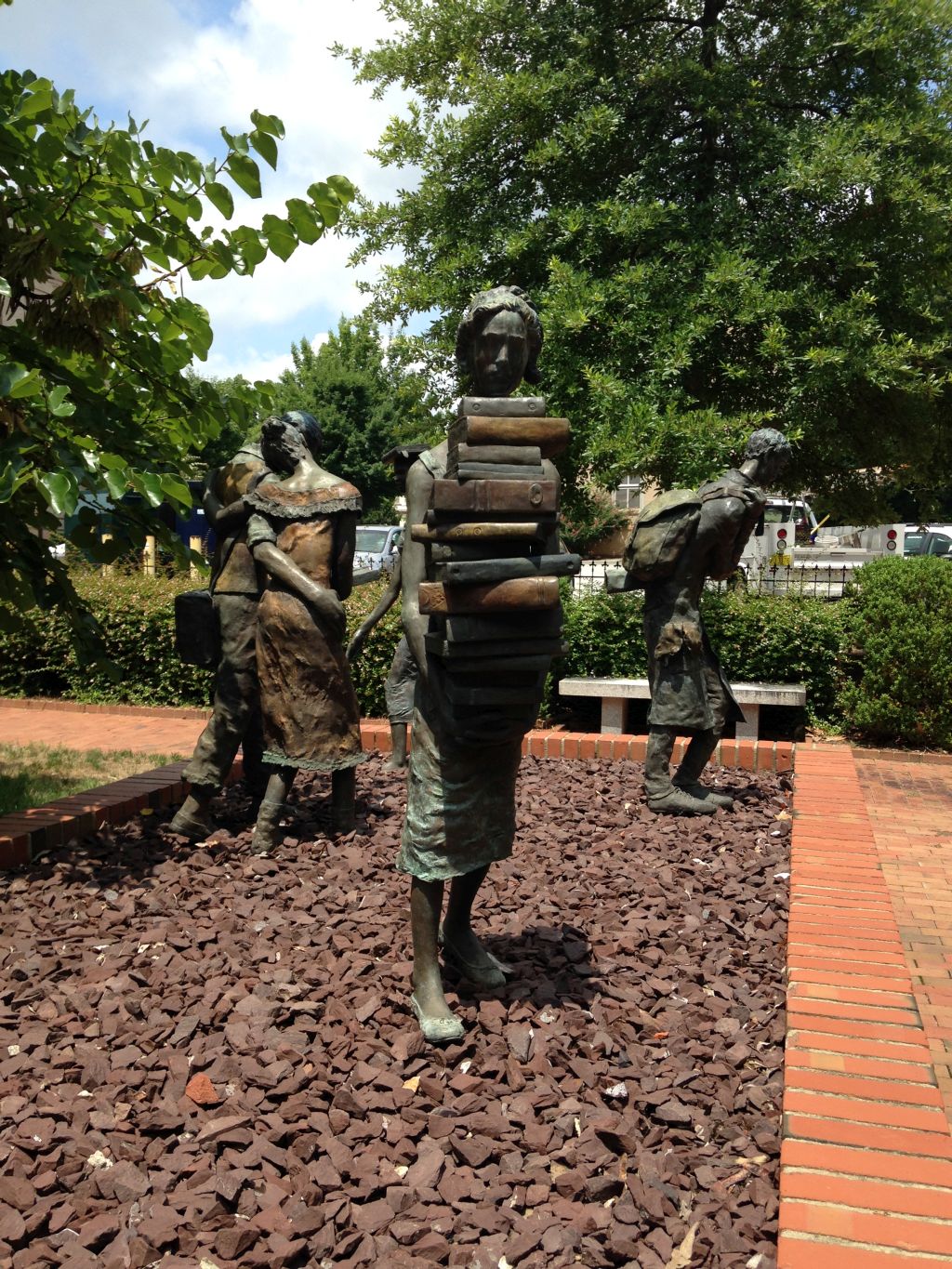 "The Student Body" in its original location outside Davis Library, with all of its figures present (Black and Blue Tour)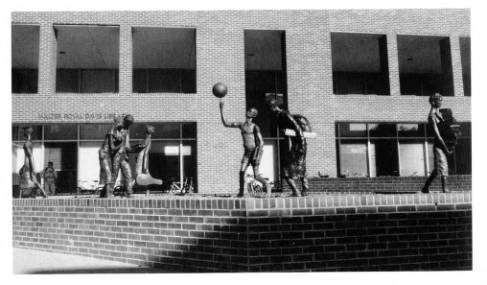 Backstory and Context
The seven bronze figures in the original sculpture include:
- an African-American woman with a book balancing on her head
- a white man reading a book
- a white woman holding an apple and leaning her head on his shoulder
- a female student carrying an enormous stack of books
- a male student with a backback
- (removed) an African-American man twirling a basketball on his finger
- (removed) an Asian-American woman holding a violin
Critics of the sculpture noted harmful depictions of race and gender, such as the portrayal of the white man with his open book as a serious intellectual, while the female "Eve" tempts him with an apple. They further pointed out that the Asian- and African-American students were engaged in stereotypical activities. During this time, the Community Against Offensive Statues (CAOS) formed to petition against the sculpture, while the Black Student Movement held a study-in around it.
In the months following the sculpture's installation, various vandals knocked over the basketball player and removed his ball, covered the work in mud, and placed a traffic cone over each figure's head. Soon afterward, the sculpture was moved to its current location. The basketball player and violinist were later removed, leaving only five figures, with no comment from university officials.
In a letter defending the piece, artist Julia Balk writes:
As its creator, I cannot help but respond to the debate that has arisen over my sculpture, "The Student Body." Although I believe a work of art should speak for itself, in this case, unfortunately, my voice is not being heard. Nor is my sculpture being seen for what it is—seven students co-existing in a harmonious group [. . . .]
I would like to take this opportunity to discuss the four figures which have been the focal point of discussion. First, the basketball player [. . . .] The figure is rendered as an African American because it has been made with reverence for the talent of an extraordinary athlete. It is neither racist nor stereotypical. If I had made him a white male, I might just as easily have been criticized for ignoring the contribution made by African American Athletes to the University [. . . .] (Quoted in Williams, full citation below).
As historian Tim McMillan points out, this sculpture appeared at a time of increased racial tension in North Carolina due to the 1990 U.S. Senate race between Republican Jesse Helms, who had already served three Senate terms, and Democrat Harvey Gantt, an African-American architect and the first Black mayor of Charlotte. The acrimonious race is famous for Helms's "Hands" ad, which you can watch below. The ad shows a pair of white hands crumpling up a rejection letter with the voice-over: "You needed that job, and you were the best qualified, but they had to give it to a minority, because of a racial quota. Is that really fair? Harvey Gantt says it is. Gantt supports Ted Kennedy's racial quota law that makes the color of your skin more important than your qualifications." Black UNC students who supported Gantt reported harassment and vandalism of their posters and fliers. The timing of the "Student Body" thus coincided with statewide events, likely contributing to the intensity of the backlash.

Sources
"Campus Life: North Carolina; All Student Body Not Entirely Fond Of 'Student Body'." New York Times, October 28, 1990. http://www.nytimes.com/1990/10/28/nyregion/campus-life-north-carolina-all-student-body-not-entirely-....

Dellinger, Hampton. "The Tar Heel Top 5: North Carolina's Most Notable Campaigns." The Atlantic. September 03, 2012. Accessed April 30, 2017. https://www.theatlantic.com/politics/archive/2012/09/the-tar-heel-top-5-north-carolinas-most-notable....

Letter by Julia Balk, from the Office of Chancellor of the University of North Carolina at Chapel Hill: Paul Hardin Records #40025 University Archives, The Wilson Library, University of North Carolina at Chapel Hill.

McMillan, Tim. "'The Student Body' Controversy." Black and Blue Tour. Accessed April 30, 2017. http://Blackandblue.web.unc.edu/stops-on-the-tour/student-body-controversy/.

"The Student Body, UNC (Chapel Hill)." Commemorative Landscapes. Accessed April 30, 2017. http://docsouth.unc.edu/commland/monument/229/.

Williams, Megan. "'The Student Body' Public Art Controversy." November 19, 2012. Accessed April 30, 2017. http://blogs.lib.unc.edu/uarms/index.php/2012/11/the-student-body-public-art-controversy/.


Additional Information