The Josiah Grinnell House
Introduction
Minister and abolitionist Josiah B. Grinnell founded the city that now bears his name. His home was originally located here, just across from Grinnell's Central Park. Reverend Grinnell assisted enslaved persons by allowing them to stay in his cellar and providing food and supplies. The community soon earned a reputation as home to abolitionists and others who opposed slavery and were willing to assist and defend formerly enslaved persons as they traveled from the South to Canada or other places where they might be in less danger from slave catchers. Grinnell's home was located here until 1914, when part of the home was moved to this location on Broad Street. The home was not well-preserved and the structure was demolished in 1984.
Images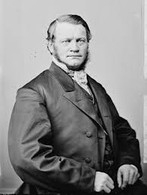 The Grinnell House was located at 4th and Park at the time the minister used his home to assist fugitives to freedom via the Underground Railroad.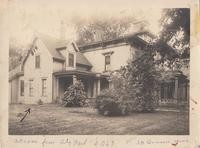 Backstory and Context
Favored by mild winter weather, John Brown & his crew continued east to Grinnell, Iowa, on February 20, 1859. They stayed two days, and Brown developed his plan to attack the US Arsenal at Harpers Ferry during his time with town founder Josiah B. Grinnell (see photo). Grinnell was a Vermont native, a Congregationalist minister and part of the strong anti-slavery movement in town. Grinnellians gave John Brown $25 and provisions for several days.

Grinnell later served in the Iowa Senate and US House of Representatives (where he was physically assaulted by Congressman Lovell Rosseau for insulting his home state of Kentucky). He was a benefactor for Grinnell College and later become the Director of the Rock Island Railroad. Grinnell passed away in 1891 and is buried at Hazelwood Cemetery in Grinnell.
Sources
Iowa and the Underground Railroad
https://iowaculture.gov/sites/default/files/History%20-%20Education%20-%20Lifelong%20Learning%20-%20Iowa%20Underground%20Railroad%20(PDF).pdf
Additional Information