211 Willey Street - Former Freemason Lodge
Introduction
The building at 211 Willey Street, now christened the Wubbie Building, is a Romanesque Revival/Industrial style building built of red brick and terracotta veneer. It was built in 1916 to much fanfare. Historically, the building was known for being the lodge building for Morgantown's Masonic Order.
Images
211 Willey as it appears today.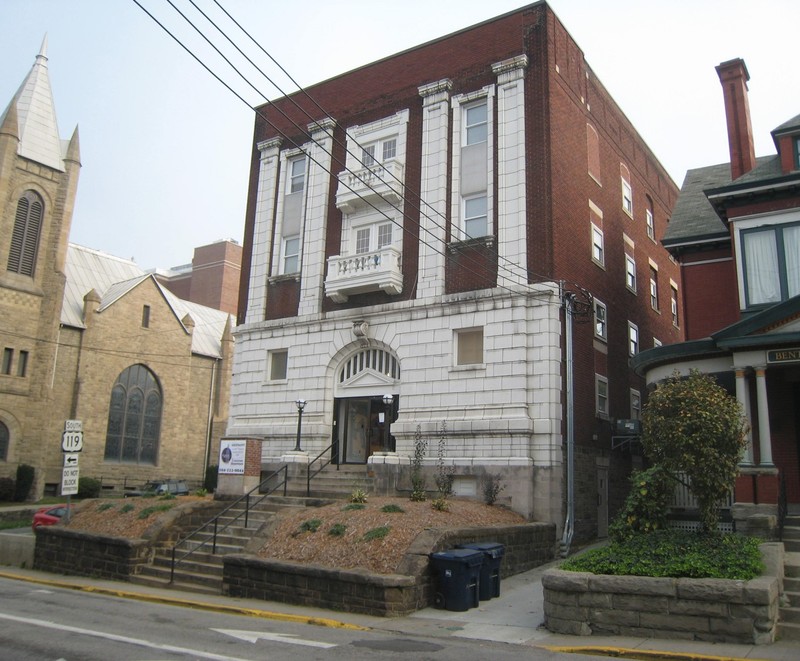 The building after completion-circa 1921. Notice the top terracotta section has since fallen or been removed.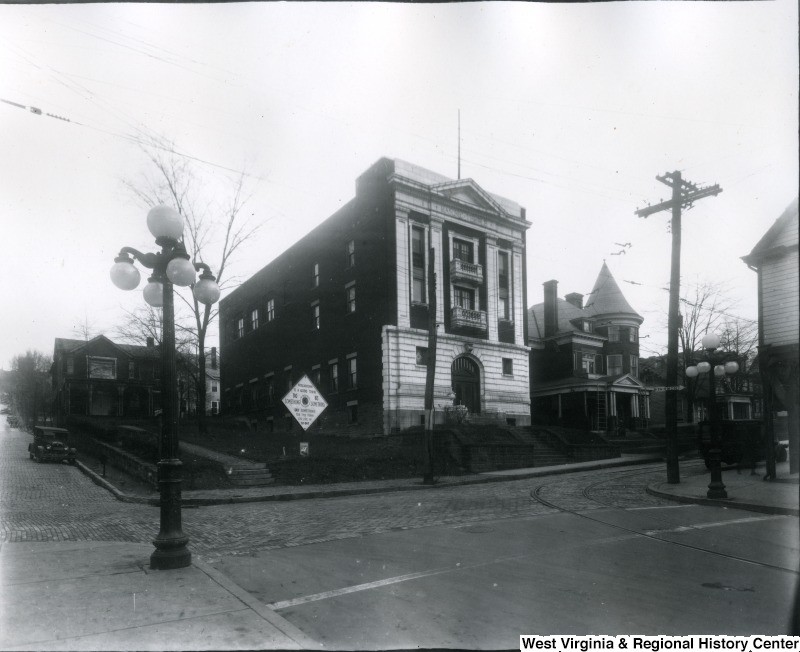 An Armistice Day parade in 1919 marching through downtown. US Navy soldiers pass 211 Willey; the white building in the far background.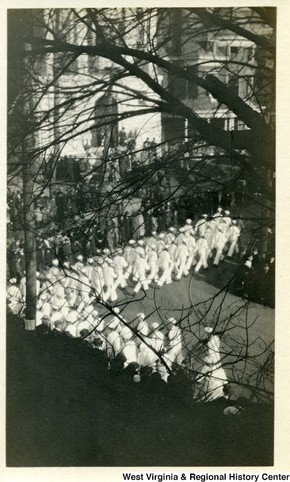 Backstory and Context
211 Willey Street, sometimes known as 211 High, and now redeveloped under the name the Wubbie Building, is a four-story brick building designed in the architectural styles of industrial and some neoclassical influence (the marble-style terracotta). This building was the Masonic Lodge for Morgantown Union no. 4 for 85 years, being replaced by a new lodge in 2001.
Construction began on the 22nd of July 1915 when the cornerstone was laid. Cornerstone laying is an important Freemason ritual, and is only performed on buildings of particular note. Construction was finished in less than 7 months. A formal opening ceremony was held in March 1916 where a parade of over 600 Masonic Order members and band celebrated the opening of their new lodge.
The white "marble" veneer is actually glazed terracotta, giving the appearance of white marble without the cost ($3.20 in 1915, $78.80 today). Replacing marble with terracotta was a popular decision in 1915. A steady decrease in quality beginning in 1913 and continuing through 1924 saw marble price plummet. Terracotta was still cheaper, but sacrificed long-term sustainability. It is important to note that the terracotta on 211 Willey has aged remarkably well. It has only greyed/yellowed slightly and is almost totally complete.
The architect is a subject of debate. Many believe the building was designed and built by Elmer F. Jacobs. Jacobs was a famous Morgantown architect known for fireproof factory buildings in Pittsburgh and the "modern" High Street renovations into its well-known industrial style. It is also likely The Masonic Order commissioned a lesser known architect to parrot existing style on High Street with masonic flair, and the myth has persisted that Jacobs drew the blueprints.
The Masonic Order's charters in West Virginia are often older than the state itself, as they are usually holdovers from before the Civil War and the creation of the state. The Morgantown Order; Union Lodge No. 4 is one such, as their charter began in 1812. The Morgantown Order relocated to the corner of Burroughs Street and Windsor Street in 2001. Between 2001 and 2008, the building was left in decay following a brief occupation by Chestnut Ridge Church. It has recently been developed into residential apartments. The developer, Wubbie Development Group leasing the building through DC LLC Management has modified the interior layout to follow property requirements. Exterior modifications have been kept to a minimum.
Sources
Morgantown Union No. 4. Accessed April 06, 2017. http://morgantownunion.com/index.html.

USA. Morgantown City Council. MORGANTOWN BOARD OF ZONING APPEALS. City of Morgantown. February 21, 2007. Accessed February 6, 2017. http://www.morgantownwv.gov/wp-content/uploads/BZA_02-21-07_APPROVED.pdf


"Architectural Styles." Landmark Society of Homer NY. 2015. Accessed April 01, 2017. http://landmarkhomerny.org/architectural-styles-romanesque.htm.

"Masonic Temple." Photo. History on View. West Virginia and Regional History Center. WVU Libraries. http://wvhistoryonview.org/catalog/wvulibraries:9254

"Armistice Day Parade." Photo. ca. 1918. History on View. West Virginia and Regional History Center. WVU Libraries. http://wvhistoryonview.org/catalog/wvulibraries:22257

U.S. Government Printing Office, Mineral Resources of the United States, part II. 1917. Accessed April 7, 2017. https://play.google.com/store/books/details?id=LEkeAQAAIAAJ&rdid=book-LEkeAQAAIAAJ&rdot=1

"Masonic Lodge." Main Street Morgantown. https://mainstreetmorgantown.wordpress.com/masonic-lodge/