George E. Pickett House
Introduction
The Pickett House is the oldest house standing in the city of Bellingham and the oldest, documented wooden structure on its original site in the state of Washington. Listed on the National Register of Historic Places, the house was built in 1856 by West Point graduate Captain George Edward Pickett (1825-1870) of Company D, 9th U.S. Infantry. Pickett later became a major general of the Confederate Army during the Civil War (1861-1865). He is best known for his role in the failed Confederate assault called "Pickett's Charge" during the Battle of Gettysburg, which was the turning point of the war. The local chapter of Daughters of the Pioneers of Washington has maintained this historic treasure since 1936 and conducts tours for the public.
Images
The Pickett House, built in 1856, is the oldest home on its original site in Washington.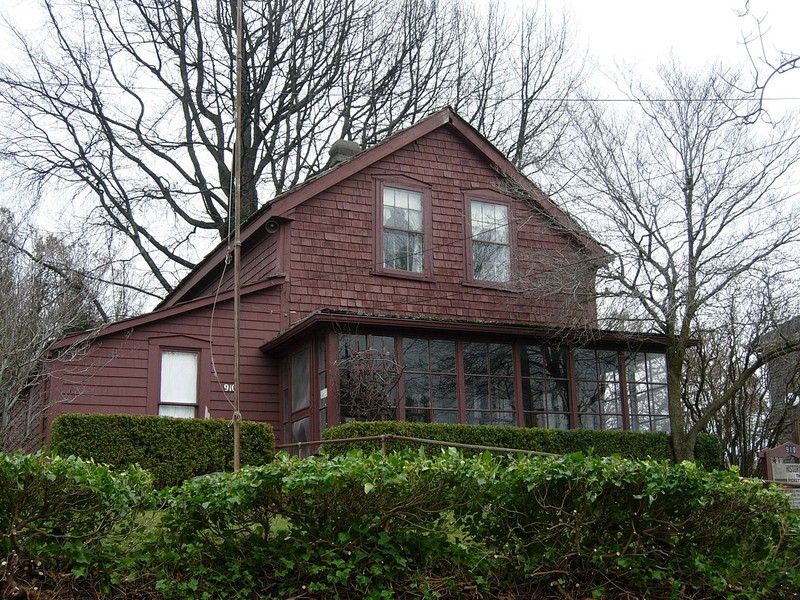 Backstory and Context
In 1856, West Point graduate and Captain George E. Pickett and Company D of the Ninth Infantry were dispatched to Bellingham Bay to build Fort Bellingham for the security of early Bellingham Bay settlers, and to build a Military Road from Fort Steilacoom to Fort Bellingham. They built a stockade three miles west of Whatcom Creek where at night the settlers would crowd together when northern Indian raiders were in the area.
The Pickett House was a simple two story construction with undressed planks. The main section measured only only 15 feet wide and 25 feet deep. The first floor has two rooms and the second floor, originally reached only by a ladder on the wall, had two rooms. Cooking was done outside under a lean-to on the west side of the house. A fireplace made of stick and mud heated the house. Pickett's bedroom later became the present dining room. The front room was was Pickett's study, where he conducted much of his official U.S. Army business.
During his stay, Picket married an Indian woman, thought to be Kaigani Haida, whom he met at Semiahmoo Bay (near Blaine, WA) during a surveying expedition. His young wife who gave birth December 31, 1857 to their son, James Tilton Pickett. The mother died when shortly thereafter due to complications from childbirth. For four years after his mother's death it appears that local women cared for James when Captain Pickett performed his military duties. At this time, Pickett was busy attending to his duties at the Garrison in Bellingham and with the Pig War on San Juan Island. As a result, the house stood mostly vacant.
Captain Pickett left in 1861 to his home state of Virginia to accept a commission in the Confederate Army as a Major General. He sent his son, James to live with good friends Catherine and William Collins who were childless. James was raised in Mason County near Olympia. James became a well-known artist with many of his paintings available to view at several museums. Pickett never returned to see his son but did provide financial support and gifts for his upraising.
The Pickett House has changed ownership many times. Hattie Strother, who lived there from 1889 until her death in 1936, deeded it to the Washington State Historical Society and all her furniture to the local chapter of Daughters of the Pioneers of Washington. After her death the house became a historical monument, was designated a museum in 1941, listed on the Washington Heritage Register of historic places, and in 1971 was placed on the National Register of Historical Places.
While numerous changes have been made to the Pickett House, much of it remains in its original state. Most of the improvements have made the house more livable, including electricity, plumbing, and addition of an indoor kitchen. Prior to 1891 a portion of the lean-to was converted into an extra room and the front study became a living room. A narrow stairway has replaced the ladder to the second floor. Other modification are the glassed-in front porch and shingled exterior. The Pickett house serves as an excellent example of early architecture in Bellingham.
Sources
Kramer, Lauren. "Pickett House is a Historical Treasure in Bellingham." Bellingham Whatcom County Tourism. January 2, 2017.
Schneider, Charlotte V. "Pickett House." National Park Service - National Register of Historic Places Nomination Form. December 13, 1971. https://npgallery.nps.gov/GetAsset/ab61e467-4b73-41ed-970b-9eb4feba5233.
Image Sources
Wikimedia Commons: https://commons.wikimedia.org/wiki/Category:Pickett_House_(Bellingham,_Washington)

Additional Information