John Mercer Langston's Birthplace.
Introduction
This historical marker commemorates Louisa as the birthplace of John Mercer Langston. The son of an enslaved woman and the man who owned his mother, Langston would go on to become the first African American lawyer in the state of Ohio. Langston also became the first African American Congressman from the state of Virginia and the first president of what is now Virginia State University.
Images
John Mercer Langston (1829-1897)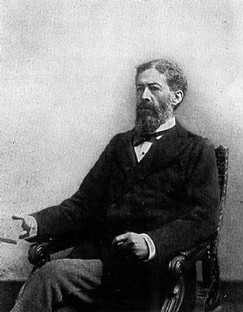 Historical Marker Noting Langston's birthplace.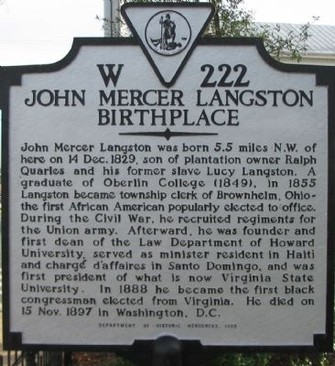 Street view of the Langston marker.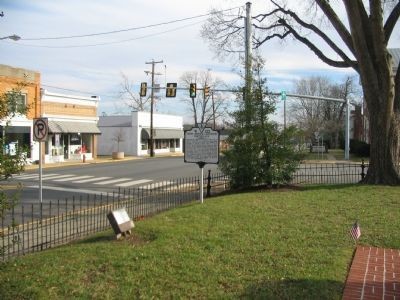 Backstory and Context
Both of Langston's parents died while he was a child. The orphaned son of a slave and slave master, Langston received an inheritance that allowed him to attend Oberlin College where he earned a bachelors and masters degree. After being rejected from law schools owing to his race, Langston studied and passed the bar exam in 1857.
Langston was the first African American to win an election when he became the town clerk of Brownhelm, Ohio in 1854. Langston previously established a law office in Brownheim which accounts for his success in the election. Langston moved to Oberlin, Ohio in 1856, where he served on city council and the board of education.
Before the Civil War, Langston worked to support abolitionists supporting the Underground Railroad, a network of people and safehouses that helped African Americans escape slavery. Once the war broke out, Langston helped recruit Black men to serve on the most famous Black military units, the 54th Massachusetts.
In 1877, President Hayes appointed Langston as the Minister for Haiti, a role he took on for seven years. In 1888 Langston ran as a Republican and was elected as the first African American Congressman from the state of Virginia. His race was fiercely divisive along racial and party lines. His seat was contested for two years, he was not seated until 1890, he would only serve until 1891. Langston died on November 15th 1897 in Washington D.C.
Sources
John Mercer Langston. Biography.com. April 02, 2014. Accessed April 27, 2017. http://www.biography.com/people/john-mercer-langston-9373265.

Historical Marker Database
Additional Information