Anna Maria Island Historical Society
Introduction
The Anna Maria Island Historical Society museum building was constructed in 1920 as an icehouse. The building then went on to serve as an automotive garage, a public administration building, and a sea turtle hatchery. The historical society started renting the building in 1992, from the city of Anna Maria to be used as a museum.
Images
Outside of Anna Maria Island historical society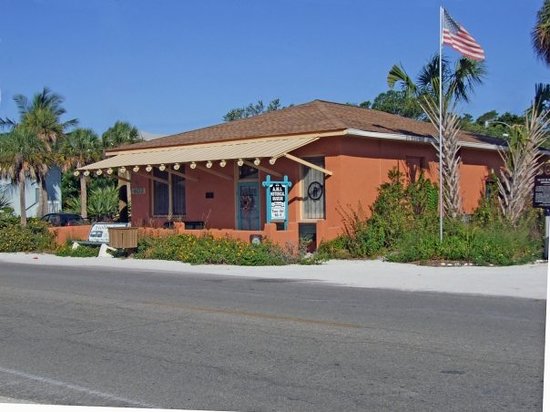 Out back of Anna Maria Island historical society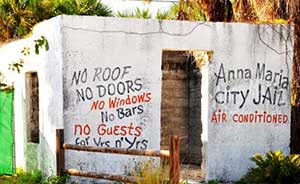 Backstory and Context
The Anna Maria Island Historical Society was founded in 1990 by Carolyne Norwood and Pat Copeland to preserve the Island's unique story. The Historical Society opened the museum in 1992 and continues to manage it today.
The Historical Society museum displays artifacts, photographs, and maps that show the Island's history from its earliest times as an Indian fishing camp, to the Island's roaring twenties culture, to the first homesteader in 1893, to the baseball players who once wintered here in the 1950s-70s. The historical building features the original City Jail, the Belle Haven cottage that once sat on the City Pier, and a garden of plants from Anna Maria Island's history.
Each exhibit in the museum has its own history ranging from the first settlers and their legacy to the history of the island's fishing and baseball. A person can also dig into their own history or another person's with the ability to see records and newspapers.
Out back of the Anna Maria Island Historical Society, the "old jail" can be found. The jail now offers a place where visitors take pictures with family and friends. However, when the jail was built in 1927 it originally handled late night disturbances for a new bar on the West end of Pine Avenue. Anna Maria City needed a spot to hold the tavern goers when they had disturbances and needed time to cool off. The jail had a wooden roof with bars that left jail goers open to mosquito swarms and plenty of bites all night. The jail caught on fire during a wind storm in the 1940s and ever sine the jail had been used as a popular Anna Maria city photo opportunity.
Carolyne Norwood, the founder of The Historical Society, was the author or the book named "The early Days." This book is offered by The Historical Society to provide more fascinating facts about the Anna Maria Journey from 1893-1940.
Sources
Castillo, Amaris. Anna Maria Island Historical Society at center of renovation plans. Bradenton Herald. July 12, 2015. Accessed April 27, 2017. http://www.bradenton.com/entertainment/article34913775.html.
Anna Maria Island Historical Society Museum. Costal Cottages AMI. Accessed April 26, 2017. http://coastalcottagesami.com/anna-maria-island-historical-society-museum.php.
About the Museum. Anna Maria Island Historical Society. Accessed April 26, 2017. https://www.amihs.org/.



Additional Information