Holderby's Landing
Introduction
1800-1840 Ohio River Landing and the western terminus of Virginia's James River and Kanawha Turnpike. Holderby's Landing was on the Virginia side of the Ohio River and about one and a half miles west of the community of Guyandotte. It was also about a quarter mile up stream from the mouth of Symmes Creek, an Ohio stream that lead north to the free community of Poke Patch in northern Lawrence County, OH.
Images
An artist's conception of Holderby's Landing- Artwork by Margaret Gripshover in Ralph Turner, Marshall Memories, p. 8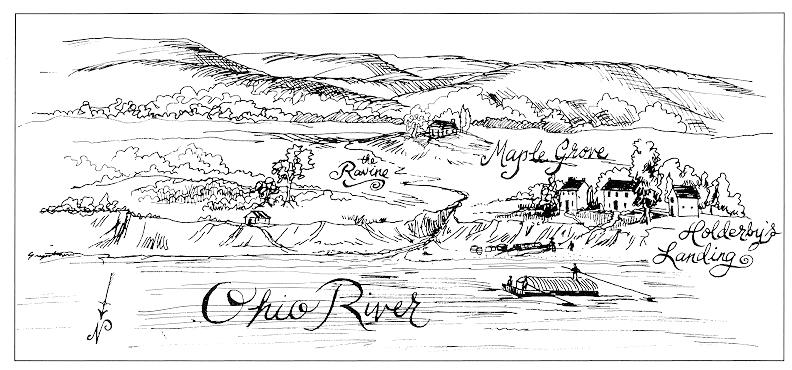 Virginia shore @ 1850 looking south from Ohio - Holderby's Landing to left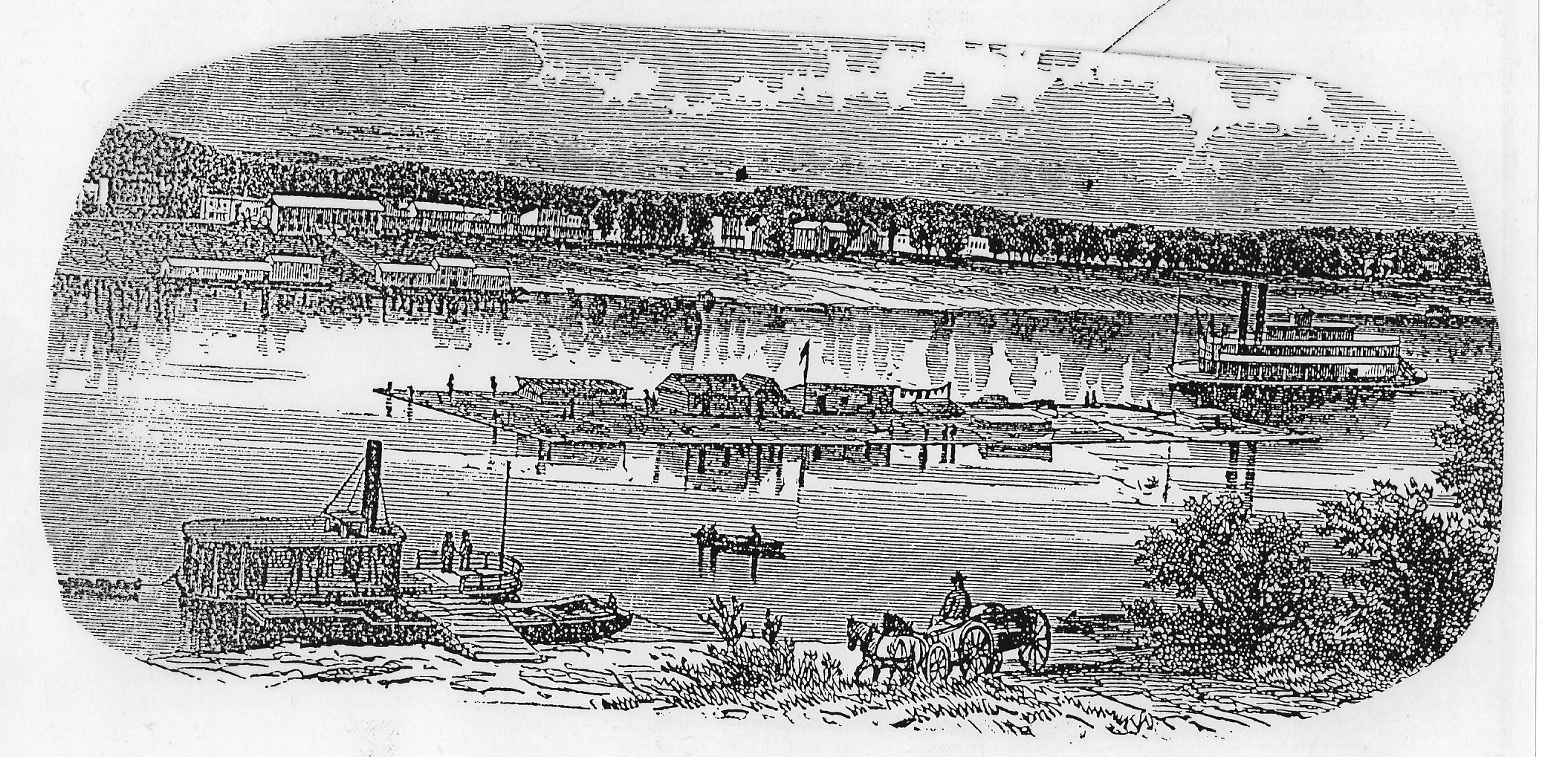 Backstory and Context
The James River and Kanawha Turnpike, connected Richmond, VA to the Ohio River at this location (16th Street and the Ohio River, now in Huntington, WV). James Holderby purchased parts of lots 38 and 39 of the Savage Grant about 1821.He either built or continued a river boat landing at the site where the Turnpike came over 20th Street Hill to the Ohio River. The Turnpike joined McCoy Road (8th Street Road which lead to Trouts Hill now Wayne) and another section continued to Lexington, KY. as US 60.. During the Nineteenth Century, riverboats landed here to reach Marshall Academy. Today, the location at the northwest corner of Marshall University holds a steel plant and there is no access to the river.
Before the Civil War there was another use for Holderby's Landing that few knew about. The site allowed access down the steep banks of the Ohio River which was only a few feet deep and a half mile away to guaranteed freedom provided the Northwest Ordinance. The landing was east and above the mouth of Symmes Creek on the Ohio side of the river. That stream offered any runaway slave a direct, though winding, route northward to an area which provided assistance for the extended trip to Northern Ohio or Canada.
The free community of Poke Patch, near the junction of Lawrence, Gallia and Jackson counties, lay along Dirty Face Creek, one of the northwest tributaries which formed the head waters of Symmes Creek. If the runaway could cross the Ohio River by way of Holderby's Landing or several other points, they had a chance to outrun the slave catchers who would not search the entire forty miles to Poke Patch.
Sources
Cabell County Annals and Families
Eldridge, Carrie: Freedom Lies Across the River
History of the C & O Railway
Turner, Ralph: Marshall Memories
Image Sources
Turner: Marshall Memories

History of the C & O Railway

Additional Information