76 High Street
Introduction
Located in downtown Morgantown, West Virginia, 76 High Street is a Queen Anne Revival that was built in 1895 as a home for the West Virginia University dean of the School of Engineering. With the exception of an addition on the back of the building, it has retained its original facade. The building is currently home to Bel-Cross Properties, a property management and real estate firm. Beginning in the fall of 2001 and lasting through June 30, 2016 the building was the location of Cafe Bacchus, a local restaurant that was known to host a Titanic dinner in honor of former resident, Lucian Philip Smith, who died during the sinking of the RMS Titanic. Before that, it was home to the Demanielis—descendants of Greek immigrants to Morgantown—who had decided to transform their home into The Flame Steakhouse, a restaurant that operated for over 30 years.
Images
76 High Street as Bel-Cross Properties (April 2017)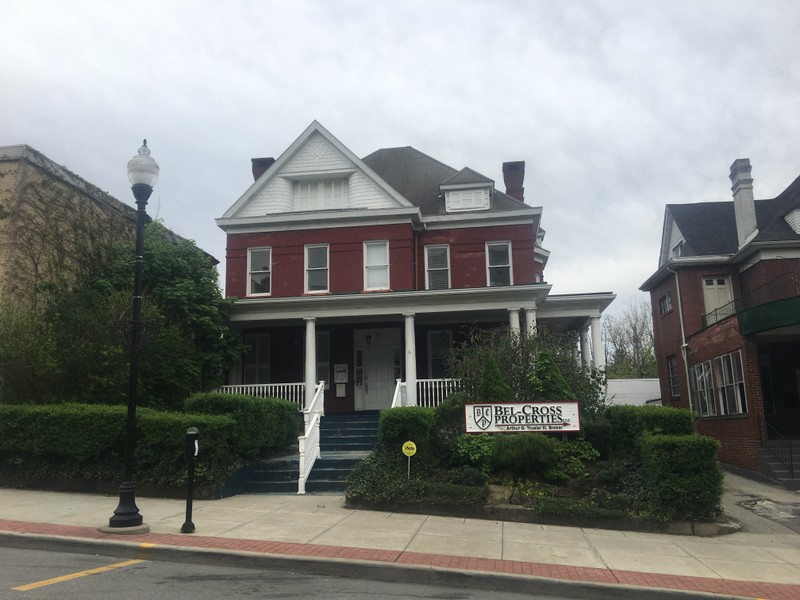 Mrs. L. Philip Smith (1912)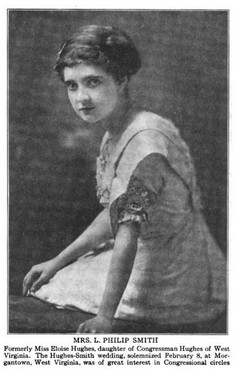 Central Christ Church in Huntington, WV where Lucian and Eloise were married in 1912 (April 2017)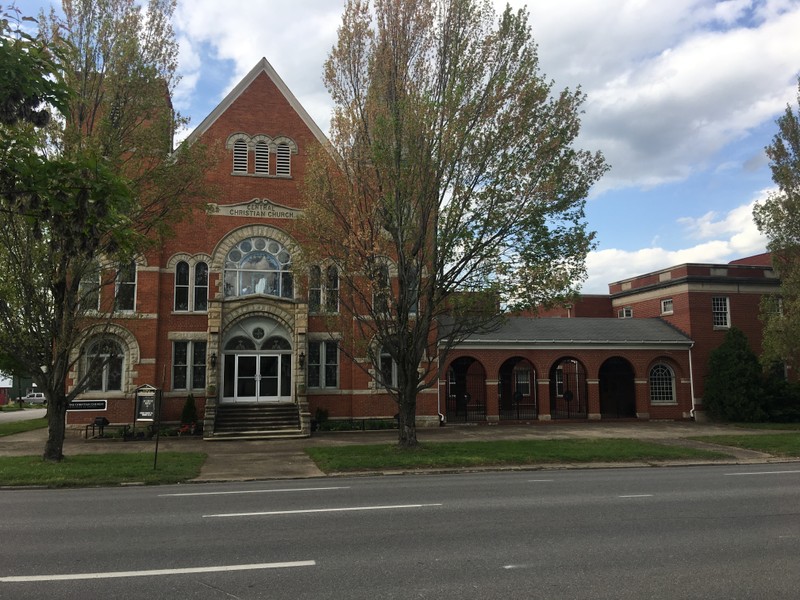 Eloise Hughes Smith and Lucian Philip Smith II (Undated)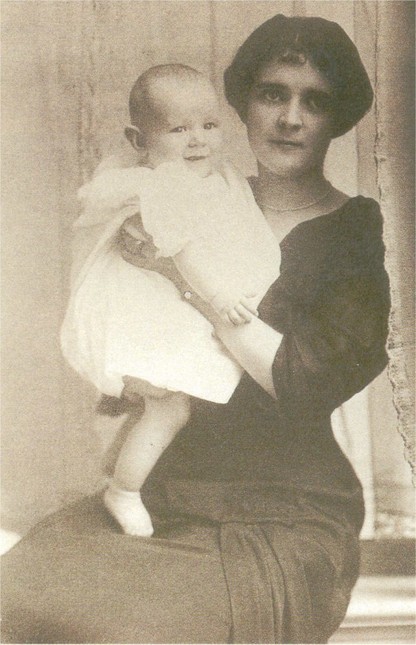 Portrait of Lucian Philip Smith hanging in the waiting room of Bel-Cross Properties in 76 High Street (April 2017)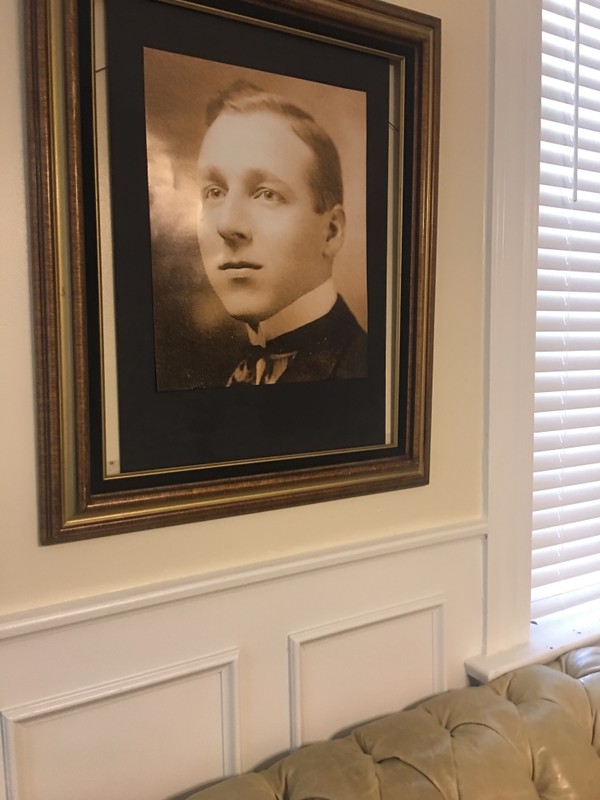 The grave of Eloise Hughes Smith in Spring Hill Cemetery, Huntington, WV (April 2017)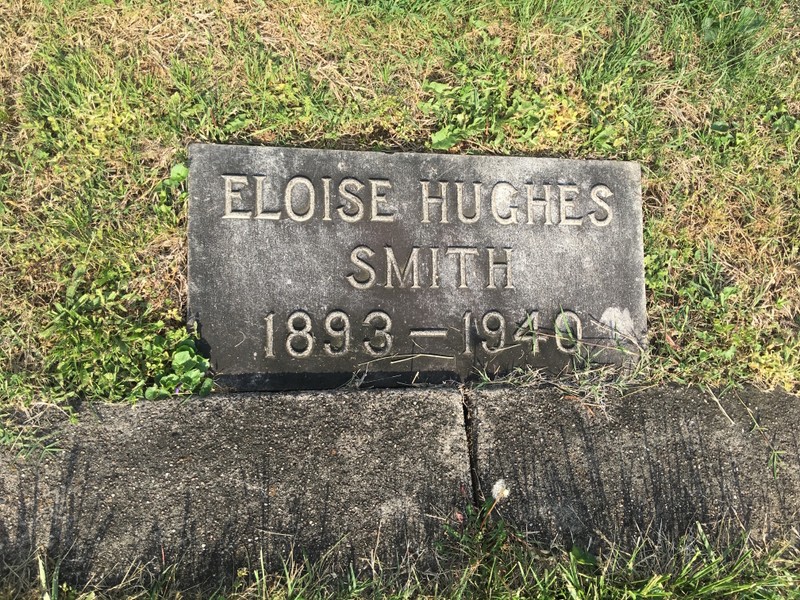 Lucian Philip Smith and Eloise Hughes Smith in The New York Times following the sinking (1912)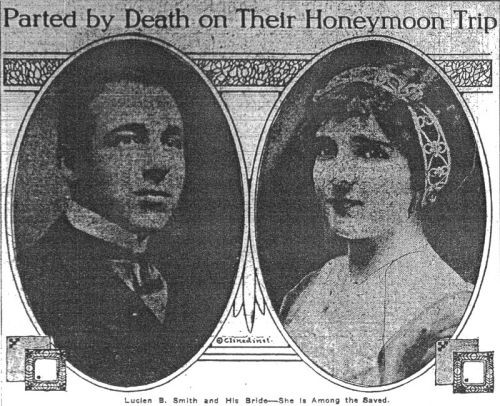 Backstory and Context
Lucian Philip Smith was born on August 14, 1887 in Dawson, Pennsylvania to Norval Preston Smith—a former Union private who had served in the 3rd Regiment, Maryland Infantry, Potomac Home Brigade during the Civil War—and Anne Houston Smith (née Cochran), whose family had been heavily invested in the coke industry of Fayette County, Pennsylvania. Additionally, Lucian had two siblings. Together the family moved to Morgantown, West Virginia where Lucian spent his childhood.
According to his 1909 passport application, Lucian stood at 5'7'', had blue eyes with brown hair and was a student at West Virginia University. He attended the school from Fall 1904 to Spring 1906 and studied music. He was also a member of the school's Pennsylvania Club. By 1912, Lucian was living at 76 High Street with his sister, brother-in-law, their child and two servants.
Sometime in early January 1912, 24-year-old Lucian heard about 18-year-old Mary Eloise Hughes, a Huntington, West Virginia socialite and the daughter West Virginia congressman James A. Hughes, who was being presented to Washington society after having just returned to the country following a year spent in Europe. Following a whirlwind courtship, their wedding was set for Thursday, February 8 at Central Christian Church in Huntington with a reception to follow at the Hotel Frederick. The wedding was described by a local newspaper as "one of the most brilliant wedding functions" ever held in the city. They departed for their honeymoon across Europe onboard the White Star Line's Olympic manned by Captain Edward John Smith. By early April, however, the couple was yearning to return home to West Virginia.
In a letter written to her parents Eloise said:
'Lucian is getting so anxious to get home and drive the car and fool around on the farm....We leave here Sunday....By boat to Brindisi [Italy], by rail to Nice and Monte Carlo, then to Paris and via Cherbourg either on the Lusitania or the new Titanic….'
The Smith's decided upon booking a first class ticket (#13695) on the RMS Titanic's maiden voyage. They boarded the ship in Cherbourg, France on Wednesday, April 10 and stayed in cabin C-31 on the starboard side.
On the night of April 14, Eloise Hughes Smith left her husband with some friends outside of the Cafe Parisian before returning to her cabin around 10:30. When the ship struck the iceberg at 11:40 p.m., Lucian had been playing a game of bridge with three Frenchmen: Alfred Omont, Pierre Maréchal, and Paul Chevré. He quickly went to wake his wife but found her already awake and curious as to why it seemed the ship had stopped. He calmly informed her:
"We are in the north and have struck an iceberg: It does not amount to anything, but probably delay us a day getting into New York. However, as a matter of form, the captain has ordered all ladies on deck."
Not aware of the danger, Eloise took her time getting dressed. Once on deck the couple noticed that there was no commotion, nor panic and no one seemed to be "particularly frightened", only interested in the unusual occurrence of the ship's North Atlantic crossing. In fact, when the first lifeboat was lowered on the port side of the Titanic Eloise refused to leave her husband behind, and no one particularly urged her to get in. The second lifeboat to leave the ship had a friend of Eloise's in it and Lucian attempted to convince his wife to join her. Once again, however, Eloise refused unless her husband would go with her.
Captain Edward John Smith—the same man who had been the captain onboard the Olympic at the beginning of the couple's honeymoon—was standing on deck nearby holding a megaphone. Eloise approached him and asked if Lucian might accompany her as she was all alone. The captain ignored her personally, but shouted into his megaphone:
"Women and children first."
Lucian responded with,
"Never mind, captain, about that; I will see she gets in the boat."
He then turned to his wife and said,
"I never expected to ask you to obey, but this is one time you must; it is only a matter of form to have women and children first. The boat is thoroughly equipped, and everyone on her will be saved."
He truly believed it and was then able to convince Eloise to get into lifeboat number 6 under the command of Quartermaster Robert Hitchens. As the lifeboat was being lowered Lucian yelled to his wife:
"Keep your hands in your pockets, it is very cold weather."
That was the last she saw of him.
In a lifeboat built to hold 65 people but only filled with 24—including one Margaret Brown who would come to be known as the "Unsinkable Molly Brown"—Eloise watched as the ship slipped beneath the water at 2:20 a.m. She assumed the cries for help coming from the water were from the officers or possibly steerage passengers who had overslept. Unaware that her husband and friends had still been onboard the ship when it foundered, she looked into the nearby lifeboats for any sign of him.
During the early morning hours of Monday, April 15, 1912, the survivors were first spotted by the Cunard Line's RMS Carpathia. A woman on board was kind enough to give up her own berth for Eloise. In her affidavit read by Congressman Hughes on the eighteenth day of the United States Senate Inquiry into the disaster, Eloise stated that it was shameful how many women had been relegated to sleeping on the floor in the Carpathia's dining saloon while J. Bruce Ismay, chairman of the White Star Line, was given the "best room" in the center of the ship with a sign on the door saying, "Please do not knock." She also mentioned that "the whole thing seemed to have been a monied accident" by the White Star Line company.
Early newspaper reports stated that the couple had been saved and family members traveled to New York to meet Lucian and Eloise when the Carpathia docked. Eloise returned home to Huntington by train a week later with her parents where hundreds of residents awaited her arrival. Due to the size of the crowd, five policemen had to escort the family to Westmoreland where Eloise's grandmother lived. Meanwhile, James Smith travelled to Halifax, Nova Scotia in search of his brother's body in the makeshift morgues that had been set up for recovered bodies. Eloise, hopeful that Lucian's body would be found, had been planning a lavish mausoleum for her husband, but gave up hope when it became known that Lucian's body was either unidentifiable or simply had never been recovered.
Ironically, the friends Lucian had been playing bridge with the night of the sinking had all survived by leaving the ship in Lifeboat No. 7, which had been the very first lifeboat to leave the ship and held men and women occupants.
A memorial service for Lucian was held on Sunday, May 12, 1912 at 3 o'clock in the afternoon in Huntington's Central Christian Church—the same church the couple had been married in two months prior—and was overflowing with mourners. One of the hymns sung at the service was 'Nearer My God To Thee', a song that numerous survivors reported the Titanic's orchestra to have played during the ship's last hours. Following the funeral, Eloise and her brother-in-law traveled to Morgantown where the settlement of Lucian's estate was held.
On November 29, 1912, Eloise gave birth to Lucian's son, Lucian Philip Smith II, in Cincinnati, Ohio. If she knew about her pregnancy at the time of the sinking, she never mentioned it.
Eloise married again twice before her death at the age 46 of a heart attack in a Cincinnati sanitarium. One of those men was Robert W. Daniel, another Titanic survivor who had been standing with Lucian at the rail watching lifeboats pull away from the ship and was the last to see him alive. He claimed that as the ship went under, a great wave rolled over the railing knocking Lucian back onto the deck while Daniel dove into the water. Before her death she once again took Lucian's name and was interred with her father and mother in Huntington's Spring Hill Cemetery as Eloise Hughes Smith.
Sources
1. National Archives and Records Administration, Passport Application, May 7, 1909
2. National Register of Historic Places Continuation Sheet, Downtown Morgantown Historic District, Morgantown, Monongalia County, West Virginia, National Register #9600041

3. "Soldier Details." National Parks Service. Accessed April 05, 2017. https://nps.gov/civilwar/search-soldiers-detail.htm?soldierId=0B07F1D2-DC7A-DF11-BF36-B8AC6F5D926A.

4. Deuschle, Keely. "Fayette County Genealogy Project." John Cochran Biography (part 1). Accessed April 05, 2017.

5. West Virginia Monongalia County. 1900 U.S. Census. Digital image. Ancestry.com. Accessed April 4, 2017. https://ancestry.com

6. National Archives and Records Administration, Passport Application, May 7, 1909

7. West Virginia University. WVU Catalogue/Announcements. N.p: U, 1904. Print.

8. West Virginia University. WVU Catalogue/Announcements. N.p: U, 1905. Print.

9. West Virginia University. The Monticola. 1906. Print.

10. Carpathia the only vessel bearing Titanic's survivors. The New Dominion. April 22, 1912.

11. West Virginia. Monongalia County. 1910 U.S. Census. Digital image. Ancestry.com. Accessed April 4, 2017. https://ancestry.com

12. "Mary Eloise Smith: Titanic Survivor | Mrs Mary Eloise Smith." Encyclopedia Titanica. August 01, 2015. Accessed April 05, 2017. https://www.encyclopedia-titanica.org/titanic-survivor/mary-eloise-smith.html.

13. Earle, Rosalie. "3 from W.Va. were on ill-fated 'unsinkable' ship." Charleston Gazette-Mail. Accessed April 05, 2017.

14. "Lucian Philip Smith : Titanic Victim | Mr Lucian Philip Smith." Encyclopedia Titanica. February 23, 2013. Accessed April 05, 2017. https://www.encyclopedia-titanica.org/titanic-victim/lucian-philip-smith.html.

15. Clarkson, Andrew. "Titanic Cabin Number C-31." Titanic Cabin No. C-31. Accessed April 05, 2017. http://www.titanic-titanic.com/titanic_cabin_c31.shtml.
16. "Titanic Lifeboat 7." Titanic Lifeboat 7 - Titanic Pages - Titanic History Website. Accessed April 05, 2017. http://www.titanicpages.com/lifeboat/7.
17. "United States Senate Inquiry." TIP | United States Senate Inquiry | Day 18 | Statement of Mrs. Lucian P. Smith (First Class Passenger, SS Titanic). Accessed April 05, 2017. http://www.titanicinquiry.org/USInq/AmInq18Smith01.php.
18. [Photograph] Eloise Hughes Smith and Lucian Philip Smith II. In Association Française Du Titanic. Accessed April 26, 2017. http://aftitanic.free.fr/titanic/passagers/smith_meh.html.

19. [Photograph] White, K. Mrs. L. Philip Smith. In Find A Grave. Accessed April 26, 2017. https://www.findagrave.com/cgi-bin/fg.cgi?page=gr&GRid=98712505.
20. (1912) Parted by Death on Their Honeymoon Trip New York Times (ref: #5422, accessed 26th April 2017 03:30:34 AM) URL : https://www.encyclopedia-titanica.org/parted-death-their-honeymoon-trip.html