Laura Ingalls Wilder Park and Museum
Introduction
Visitors can tour the original house where the Wilder family lived when they left the farm and came to the town of Burr Oak in 1876 with nine-year-old, Laura.
Images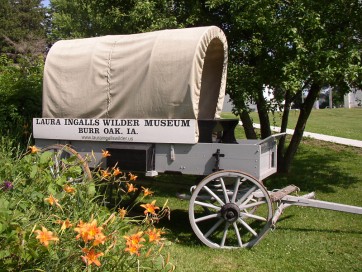 Backstory and Context
Laura Elizabeth Ingalls Wilder was a well known American author who wrote the Little House series of childrens' books. The books are based on her childhood experiences of the pioneer life. The popular television series 'The Little House on the Prairie" aired from September 11, 1974,to May 10, 1982 and helped bring worldwide attention to the author.
Early in her childhood, Laura's father, Charles Phillip Ingalls, settled on land near Independence, Kansas in Indian Territory. These experiences were the primary inspiration for the Little House on the Prairie book published in 1935. Over the course of a few years, the family moved around to various situations and locations including a claim in Walnut Grove, Minnesota, living with relatives near South Troy, Minnesota, and helping to run the Masters hotel in Burr Oak, Iowa.
Sources
http://www.lauraingallswilder.us/laura/
Additional Information