Capt. Daniel S. Lee Mansion
Introduction
The Capt. Daniel S. and Fannie L. (Brooks) Lee Mansion located in the 800 block of First Street East in Independence, Iowa, is a classic example of the Italianate Style and is locally significant. Its simple square form and symmetrical proportions speak of a formal, yet gracious, style of living. The Italianate Style is well represented in Independence but the surviving structures are usually constructed of wood and are also more elaborate in design. Only the Lee Mansion and the residence section of the Seeland Brewery exhibit brick construction in a symmetrical square plan. The Lee Mansion was built in 1867 using soft brick laid in a running bond style on a native limestone block foundation. A course of smooth cut limestone separates the foundation from the brick walls. All doors and windows feature sills and arched lintels of this same cut and smoothed limestone. Each lintel is composed of two half arch pieces and a projecting keystone. The two story walls are capped with a medium pitched simple hipped roof and a belvedere. Three chimneys protrude from the roof but interior evidence indicates there were originally four. A heavily bracketed soffit completely surrounds the top of the brick walls and the top of the belvedere.
Images
Additions constructed in 1923, 1930, 1950, and 1957 connected to and completely covered the west face of the Lee Mansion. These additions have been demolished by the City of Independence, the current owner of that portion of the property.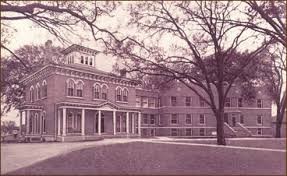 Backstory and Context
In 1917 the house became the home of the Peoples Memorial Hospital.