Try Street Terminal
Introduction
Situated at the far southeast corner of Pittsburgh's "Golden Triangle" or central business district, the Try Street Terminal has served the area as a warehouse, freight depot, commercial building, and office space for almost a century. It was built in 1921 by Rea and Company, a pork packing company. By the late 20th century it had fallen into disrepair, but went through a $26 million restoration from 2005-2007 and now serves as student housing (Shannon Hall) for the Art Institute of Pittsburgh and offers retail space on its first floor. It was added to the National Register of Historic Places in 2007.
Images
The 1st Ave entrance to the renovated Try Street Terminal that now serves as student housing for the Art Institute of Pittsburgh.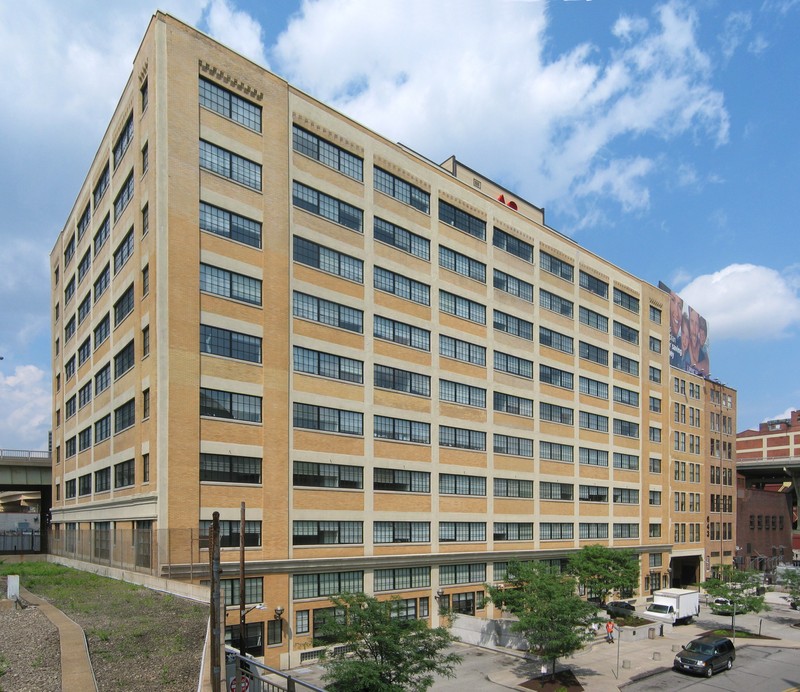 The lobby of Shannon Hall features rotating student art exhibits and its original concrete mushroom columns.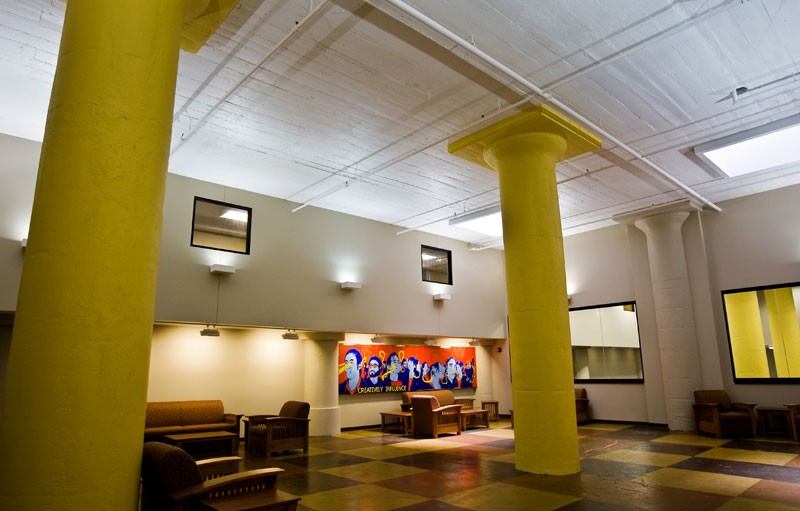 A 1927 image of the Try Street Terminal. It's the building in the background with the two water tanks sitting atop it.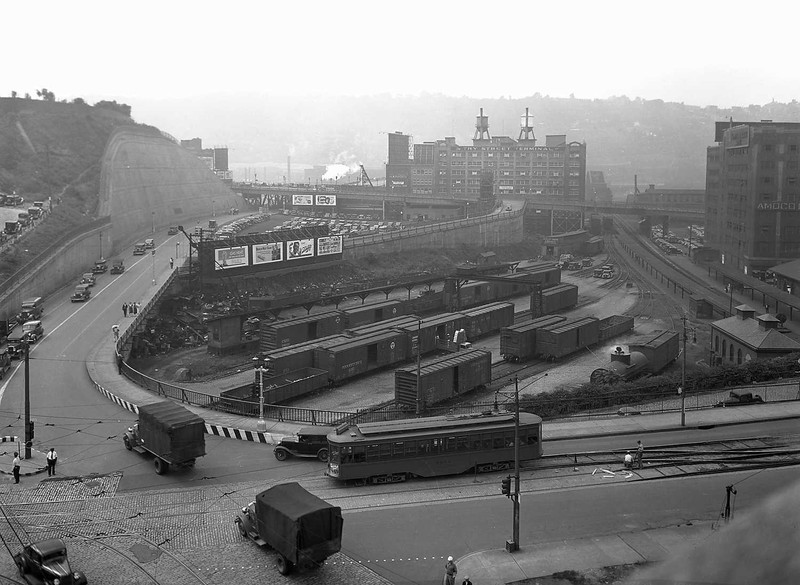 The Try Street Terminal during its 2005-2007 renovations. Notice the missing windows.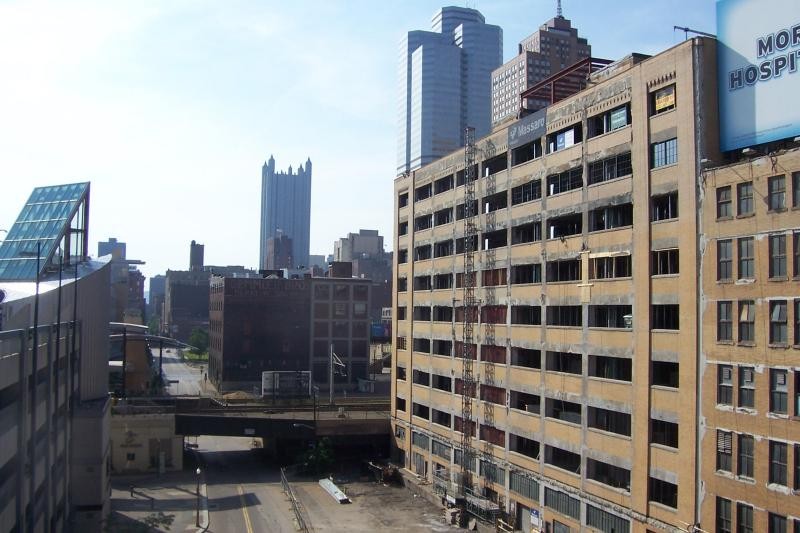 The terminal building as it sat in disrepair prior to being renovated.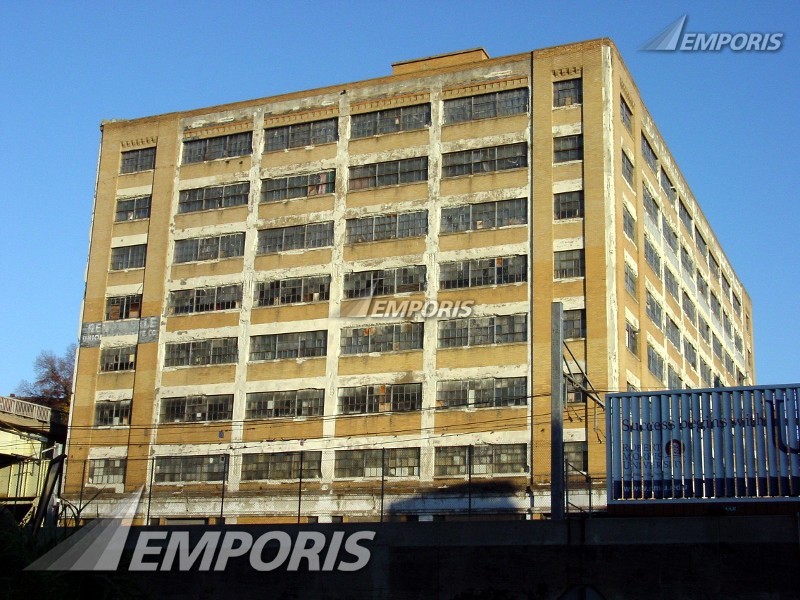 Backstory and Context
The land on which the Try Street Terminal now sits was first purchased by the Rea brothers in the 1890s and they promptly built a complex for their pork packing business along 2nd Avenue and the Monongahela River. The hogs arrived via railcars, were slaughtered in the company's abattoir and then the meat was packed in nearby buildings. The operation expanded in 1899, but as the city's business district grew, certain companies, such as slaughterhouses, were put under pressure to relocate. Due to that pressure, Rea and Company solicited bids for a new warehouse to replace their existing complex that would straddle Gasoline Street and sit near the Panhandle Railroad Bridge in 1919.
The seven and nine story building was designed by little known architect Bernard Prack and the rectangular brick building was constructed with a series of large windows in a grid pattern. The 230,000-square foot building's interior features reinforced concrete floors (a novel concept for the time) and concrete mushroom columnns. The building was built at a time when the city was in desperate need of warehouses in order to store arriving goods. Its primary tenant was the Keystone Grocery and Tea Company. Hence, for a time, it was known as the Keystone Grocery Building and is still referred to as such even today. However, Keystone Grocery, which was an early American chain store, floundered during the Great Depression and the building was renamed the Try Street Terminal in 1934.
The building, which originally faced 2nd Avenue, became hemmed in and partially obscured by the construction of the Boulevard of the Allies in 1926 and the Liberty Bridge/Crosstown Boulevard in 1928. It continued leasing space through World War II as most of its freight began to arrive by truck rather than railcars. After the war it became the headquarters of mechanical engineering firms which began to redesign Pittsburgh's central business district. It also became home to numerous small businesses and a records storage facility. After it was slowly abandoned as the years passed it was finally acquired by Pittsburgh's Urban Redevelopment Authority in 1990 and sold to private ownership as a new county jail and courts building went up next door.
The terminal was then reimagined as student housing in 2007 and is now known as the Art Institute of Pittsburgh's Shannon Hall, a 140 unit, 650 bed facility. During the renovations its entire interior was gutted, its façade fully restored, 9,000-square feet of retail space updated, and hundreds of new windows installed. Also added was an exercise room, a 200-seat performance theater, a student lounge, computer lab and meeting rooms. It also currently houses the Gasoline Street Coffee Company.
Sources
Uhl, Charles. "National Register of Historic Places Nomination Form." United States Department of the Interior/National Park Service. October, 2007. Accessed April 24, 2017. http://www.dot7.state.pa.us/CRGIS_Attachments/SiteResource/H005031_01H.pdf
Faulds, Erin. "The Try Street Terminal Building." Penn State University Engineering. 2007. Accessed April 24, 2017. https://www.engr.psu.edu/ae/thesis/portfolios/2007/EMF172/Faulds_Presentation.pdf
"Shannon Hall." Emporis. Accessed April 24, 2017. https://www.emporis.com/buildings/211246/shannon-hall-pittsburgh-pa-usa
"Try Street Terminal -- Art Institute of Pittsburgh, Shannon Hall." Massaro Properties. Accessed April 24, 2017. http://www.massaroproperties.com/dev_case_study/try-street-terminal-art-institute-of-pittsburgh-shan...
Additional Information