Battle of Dandrige
Introduction
The Battle of Dandridge was a skirmish that occurred near this location between Union and Confederate forces on January 17th, 1864. During this battle, Union infantry and cavalry were assaulted by a Confederate force supported by artillery. After a bitter fight, the Union soldiers were forced to withdraw fom the area. Even though this was battle represented a victory for the Confederacy, the Southern troops failed to capture or destroy the Union forces, and the skirmish did not reverse the tide of Union control over Tennessee.
Images
Historical marker with a short account of the battle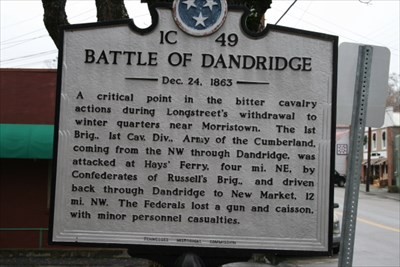 Backstory and Context
The Battle of Dandridge was one of several confrontations between Union and Confederate forces in 1864. Union forces, under the command of Brigadier General Samuel D. Sturgis, were attacked by Confederate soldiers under the command of Lieutenant General James Longstreet. The forces that met on the field were the Cavalry Corps, Army of the Ohio, and the IV Army Corps for the North and the Department of East Tennessee for the Confederates.
In his attempt to control Kimbrough's Crossroads, Brigadier General Sturgis advanced his cavalry towards the Confederate position but found that Confederate infantry and artillery already controlled the area. Sturgis decided to attack but failed to wrest control of Kimbrough's Crossroads and was forced to withdraw the center of Dandridge. The following day, Longstreet decided to press the attack. Having received warning that the Confederates were preparing for an assault, General Sturgis formed a defensive line.
At 4:00pm on January 17th, the Confederate assault commenced and lasted until after sundown. Union forces neither gained nor gave ground to the enemy until sundown when they were forced to withdraw to the safety of New Market and Strawberry Plains. Confederate forces were unable to pursue the Federals due to lack of supplies, ammunition, and artillery cover. The battle resulted in one hundred and fifty Union casualties and an unknown number of Confederate dead and wounded but did not alter the strategic balance of power in the region nor the outcome of the war.
Sources
1. ABPP. Battle of Dandridge. CWSAC. Accessed 04/20/2017. https://www.nps.gov/abpp/battles/tn028.htm.

2. King, Spurgeon. The Tennessee Encyclopedia of History and Culture. Battle of Dandridge (January 16-17, 1863). 01/04/2010. Accessed 4/20. http://www.legendsofamerica.com/tn-civilwarbattles8.html.

3. Legends of America. Tennesse Civil War Battles Page-8. Accessed 04/20/2017. http://www.legendsofamerica.com/tn-civilwarbattles8.html.


Additional Information