Charles Young Buffalo Soldiers National Monument
Introduction
The historic house of Charles Young, the highest ranking African American officer in World War I, is now home to the Charles Young Buffalo Soldiers National Monument operated by the National Park Service. Young was born into slavery in Kentucky in 1864 and grew up in Ohio. He attended West Point where he graduated and accepted a commission in the U.S. Army. Early in his military career, Young was sent to Wilberforce University where he taught the courses in military science to African American cadets and students. This house was located on the outskirts of the university and it became a place where Black leaders and military members met during the era of segregation. Young had a very successful military career and is best known for riding his horse from Ohio to Washington DC after white military officials attempted to keep him from active service in World War I. In response, the War Department appointed Young to lead the officer training school for Black cadets.
Images
Charles Young lived in this house, which he named Youngsholm, from 1907 until his death in 1922. It was constructed sometime in the 1830s.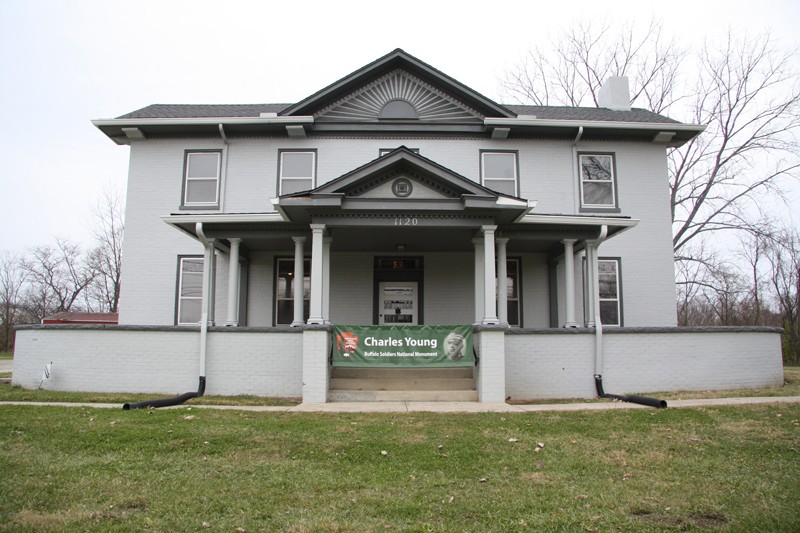 A picture of Charles Young before leaving for his assignment in Sequoia National Park in 1903.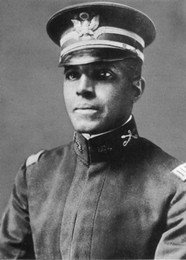 Backstory and Context
Charles Young was born into slavery on March 12, 1864 at Mays Lick, Kentucky. A few years after he was born, Young and his family moved north across the river to Ripley, Ohio. Ripley had been a center of abolitionist activity which is why the family selected this community. Young's mother had also learned to read while enslaved and passed her knowledge and passion for learning to her son. While attending school in Ripley, Young excelled in academics and music.
Charles Young's father was also a strong influence on his life and encouraged his son to take an examination for admission to West Point. Out of the 12 men that took the exam, Young had the second highest score. Despite this, he was denied admission until the following year when the cadet that had scored higher dropped out. Young was the ninth African American granted admission to the academy. After his first year at West Point, he was dismissed because of his poor performance in mathematics. Young studied math and retook the test and was readmitted and repeated his plebe year.
Despite his early struggles in mathematics, Young's greatest challenge was the racism of his classmates and instructors. The white cadets verbally assaulted Young with racial slurs but the worst part of the experience was the occasional physical abuse and constant social isolation. Academically, Young had a successful four years at the academy until his last semester. He was on the edge of failing an engineering class, but his instructor worked with him and tutored him. The instructor allowed Young to take the exam again, and he passed. In the summer of 1889, Charles Young became the third African American to receive his diploma and commission from West Point Military Academy.
His first assignment was with the "Buffalo Soldiers" of the 10th and 9th Calvary in Nebraska and Utah. A few years after his first assignment, in the fall of 1894, Young was given a detached service assignment that sent him to Wilberforce University. Young's time at Wilberforce saw him grow the program to over 100 cadets. Young also worked to establish the university's marching band.
After his father passed away, Young took in his aging mother and purchased this home. Young became the first African American National Park superintendent while he and his troops were tasked with managing Sequoia National Park in northern California. At the time in 1904, Young was a captain and served as the first Military Attaché in Haiti and the Dominican Republic. From 1912-1916, he was the Military Attaché in Liberia. During his time as military attaché in Liberia, he was honored with two promotions, major and then lieutenant colonel.
In 1917, Young was forced to medically retire. To show that he was fit for duty he rode on his horseback from Wilberforce, Ohio to Washington, D.C. over 500 miles and petitioned to be reinstated. He was officially reinstated and promoted to colonel, not given an assignment in Europe but returned to Liberia as the military attaché. Colonel Charles Young died in a British hospital while traveling in Nigeria from a kidney infection on January 8, 1922.
Sources
"Colonel Charles Young." National Park Service. Accessed April 20, 2017. https://www.nps.gov/chyo/learn/historyculture/colonel-charles-young.htm.

Davis, Stanford. "Colonel Charles Young." Buffalo Solider.net. 2000. Accessed April 20, 2017. https://www.buffalosoldier.net/CharlesYoung.htm.

Greenlee, Marcia. "Colonel Charles Young." National Register of Historic Places Nomination Form. March 30, 1974. https://npgallery.nps.gov/GetAsset/614b1533-6fca-44b0-b945-7a369a7918f8.

Additional Information