Little Haiti Caribbean Marketplace
Introduction
Also known as Mache Ayisyen, the nine thousand square foot Caribbean Marketplace is the largest space within the Little Haiti Cultural Complex. The Little Haiti area in Miami is a neighborhood which embodies a rich history concerning Haitian immigration to Florida. Museums and murals alike seek to develop new narratives about the transnational nature of the small neighborhood. The religious institutions have a history of activism and continue to participate in social justice programs that enhance the livelihood of their constituents.
Images
The Little Haiti Cultural Center and the Liberi Ma Pou bookstore serve special significance in bringing Haitian artists, speakers and authors to the neighborhood. Kote sa yo sèvi siyifikasyon espesyal nan pote atis ayisyen, etudient otè nan ti amitya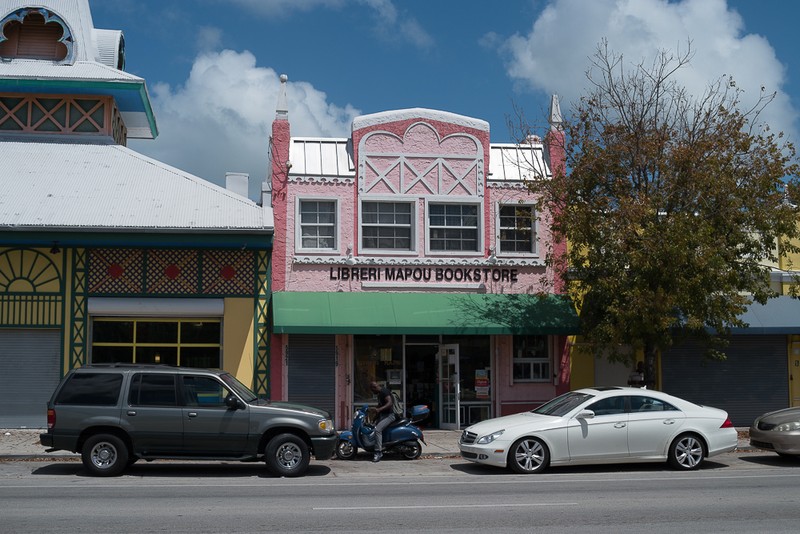 This mural explores ideas of identity within the diaspora. Miral sa a eksplore lide ki montre idantite ou nan dyaspora a.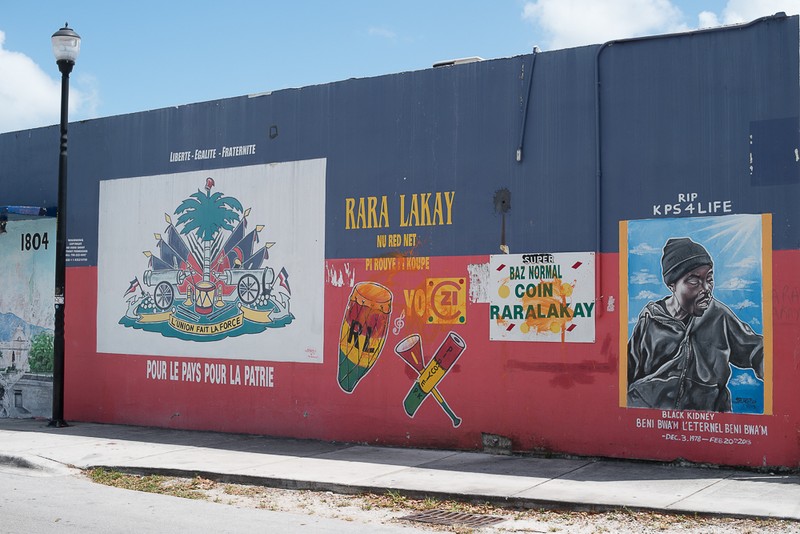 Notre Dame D'Haiti Catholic Church is centered in the creation story of Little Haiti due to the activism of Father Gérard Jean-Juste, who helped refugees gain legal status. aktivis nan Gérard Jean-Juste, ki moun ki te ede refijye jwenn estati legal.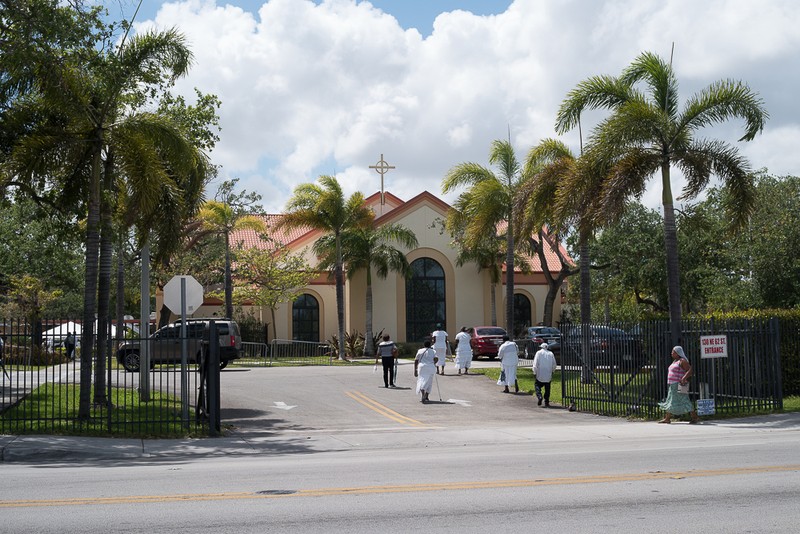 Mural of Ezili further elaborates on the theme of religious diversity in the Haitian diaspora and Miami's immigrant population. Ezili li tèm nan divèsite relijye nan dyaspora ayisyen an ak popilasyon imigran Miami an.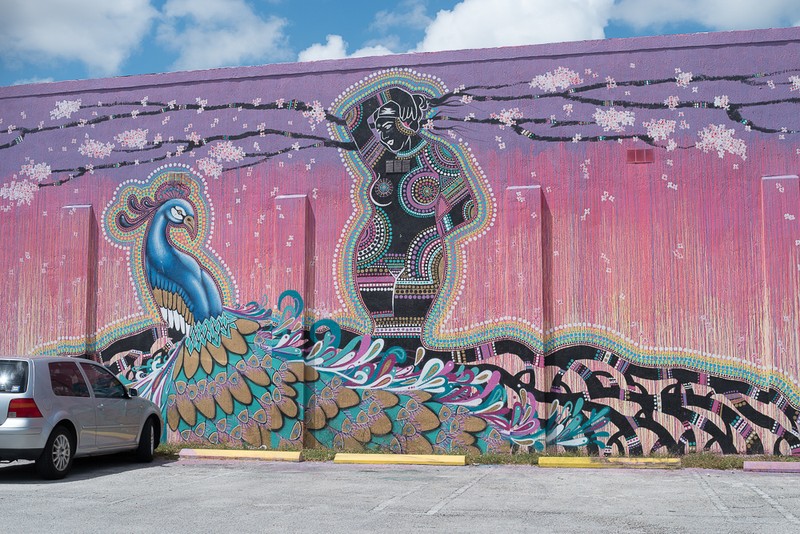 Daleus Museum & Art gives the opportunity for young artists in Miami to study with a treasured folklore artist Joseph Wilfred Daleus. Li bay opòtinite pou pou atis jenn nan Miami fè etidye ak yon atis tradisyon trezò Jozèf Wilfred Daleus.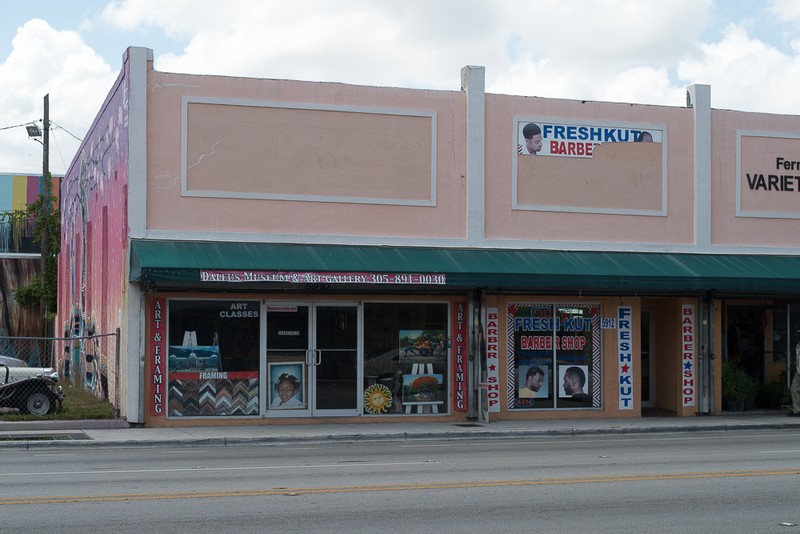 The Neg Mawon symbolizes the struggle against bondage and institutional racism. In this context, it gains different purposes in a population of Black immigrants. lit kont esklavaj ak rasis. Li ta genyen rezon diferan nan yon popilasyon de imigran nwa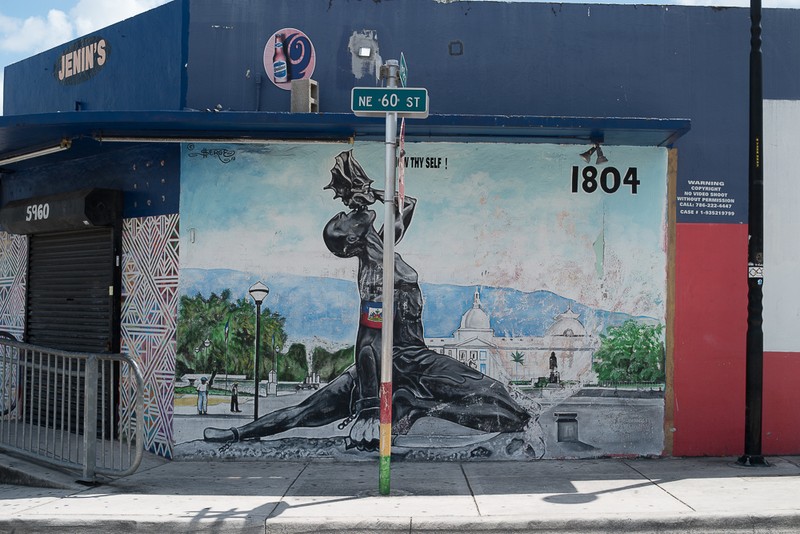 The botanicas create a space for the practice of vodou in South Florida while educating younger generations on the purpose and history of the African based religious system. Edike pi piti jenerasyon sou bi pou ak istwa nan sistèm baz an Afriken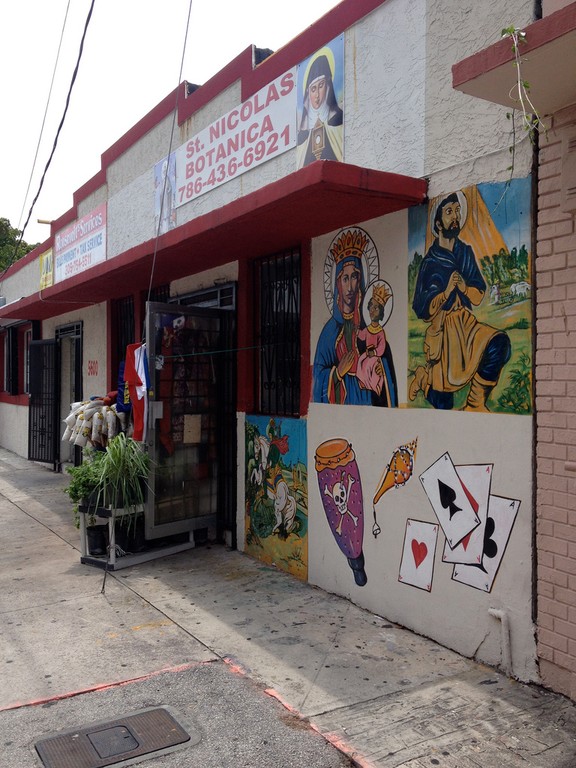 Caribbean Marketplace within the Little Haiti Cultural Complex
Backstory and Context
English: The Little Haiti neighborhood is located in the City of Miami's 5th district and embodies the creation of new spaces of intersectionality. Here, class, race, ethnicity and imperialism meet to generate new narratives and enrich our understandings of what it means to be Haitian-American in Miami and across the US. Furthermore, this neighborhood embodies the transnational routes present in the Atlantic and give us insight into the political involvement of Haitians in the diaspora and the homeland. The buildings, architecture and murals seek to express this unique identities in new and evolving fashion. Together, they form an aesthetic that can't be duplicated or refashioned due to their unique history and public memory. Sites in Little Haiti continue to challenge boundaries of time and seek to tell their stories in less linear models while continuing to repurpose symbolism from the homeland (and the original homeland of Africa) to maintain connections while forming communities in new spaces. The sites can be broadly categorized into four different groups: religious, secular, murals and public art.
Creole: se katye a Little Ayiti sitiye nan vil la nan distri 5yèm Miami an ak defini kreyasyon an nan espas nouvo sou intersectionality. Isit la, klas, ras, gwoup etnik ak enperyalis satisfè jenere nouvo narasyon ak anrichi konpreyansyon nou nan sa li vle di yo dwe ayisyen-Ameriken nan Konte Miami ak atravè tout Etazini an. Anplis de sa, katye sa a defini wout yo transnasyonal prezan nan Atlantik la ak ban nou insight nan patisipasyon politik la nan Ayisyen nan dyaspora a ak peyi a. bilding, achitekti a ak epitou travay chèche eksprime sa yo panse sa a idantite inik nan nouvo ak en mòd. Ansanm, yo fòme yon ayestetik ki pa ka double oswa refashioned akòz istwa inik yo ak memwa piblik la. Sit nan Little Ayiti kontinye defi limit nan tan ak chache rakonte istwa yo nan mwens modèl lineyè pandan y ap kontinye repurpose Symbolism soti nan peyi a (ak peyi a orijinal la nan Lafrik) yo kenbe koneksyon pandan y ap fòme kominote yo nan espas nouvo.
Sources
Laguerre, M. S. (2005). Homeland political crisis, the virtual diasporic public sphere, and diasporic politics. Journal of Latin American and Caribbean Anthropology, 10(1), 206-225.
Additional Information