Marsh Hall (Othniel C. Marsh House)
Introduction
This house belonged to Othniel Charles Marsh, a paleontologist and Yale professor during the 19th century who became famous for his skeletal reconstructions and studies of vertebrate fossils. The brontosaurus in the Peabody Museum (Brontosaurus Excelsus Marsh) was named after him. He hired J. Cleveland Cady to design the house, which was built between 1875 and 1880 at a cost of $30,000. Cady was a well-known architect in New Haven and also designed numerous buildings for Yale (many of which no longer survive). Marsh lived here until his 1899 death. Yale now owns the building, which is used by the School of Forestry and Environmental Studies.
Images
View of Marsh Hall, which now contains offices for the School of Forestry and Environmental Studies. A new lecture hall named for Marsh is currently under construction. (Manuscripts & Archives, Yale University Library)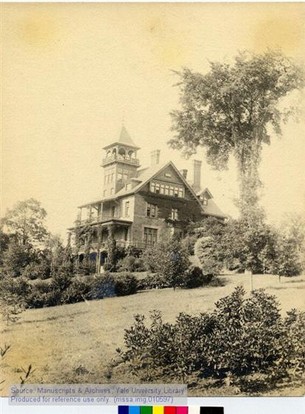 Othniel C. Marsh, pictured sometime between 1865 and 1880 (Library of Congress)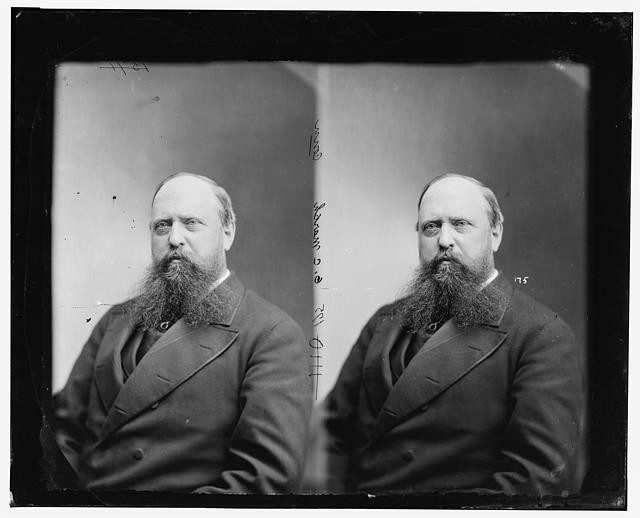 Backstory and Context
Setting and Exterior of the House
The house is made of red sandstone. Its exterior features varied textures and an asymmetrical layout, as is typical of Queen Anne and early Jacobean revival style. It sits atop a hill with an almost fortress-like silhouette, thanks to its brick chimneys, colored tile roof, arches, towers, porches, and turrets.

Blanche Schroer describes the house's setting in its nomination to the National Register of Historic Places: "The Marsh house was one of the city's fine mansions in its day. With its neighbors around it, notably the house across Prospect Street that is now the Culinary Institute, it crowned the hill at the edge of the then fashionable part of town. The Marsh house, built of beautifully cut red sandstone, rests solidly on a sloping hill, overlooking a wide lawn and in the midst of large trees and abundant plantings" (Schroer, p. 2, full citation below). The trees and shrubs surrounding the house give it considerable privacy, shielding it from the surrounding streets and buildings.

Interior of the House
The house has three stories and eighteen rooms, including an octagonal reception room. Its decorative details include carved fireplaces, corner cupboards, and high-quality woodwork.

Othniel C. Marsh
Born in 1831, Marsh began collecting fossils and minerals at a young age. He studied at Yale and spent his summer vacations looking for fossils. He was then hired as professor of Paleontology at Yale. Marsh is known both for his academic accomplishments and for his stubbornness and preference for working on his own, which led to a rivalry with paleontologist Edward Drinker Cope. As Schroer writes, "The two resolute specialists, like embattled dinosaurs, fought each other fiercely, to their discredit and the disadvantage of science" (Schroer, 3).

Marsh was nonetheless deeply devoted to paleontology, investing his own money in his scientific work, and convincing his uncle George Peabody to found the Yale Peabody Museum. He traveled on fossil digs and amassed a vast collection of specimens. He described numerous species and greatly expanded both public and specialist knowledge of dinosaurs and fossils. His work also supported Darwin's theory of evolution. He found, for example, remains of cretaceous birds that indicated a genetic relationship between birds and reptiles. He also had an impressive collection of horse fossils that demonstrated how the horse's size evolved over time.

Legacy at Yale
A new Yale lecture hall under construction on Science Hill will be named the O.C. Marsh Lecture Hall in his honor, at the request of donor Edward Bass (class of '67). In Bass's words:

O.C. Marsh is widely remembered for his spectacular dinosaur discoveries in the 19th century, including many fossils on display at the Peabody, and his name is inextricably linked with the museum. The O.C. Marsh Lecture Hall will be located a stone's throw from the Peabody and, among other functions, it will be an important resource for the museum, hosting Peabody programs, events, teaching, and outreach. There will be Peabody displays and interpretative materials in the lobby. I want, through the O.C. Marsh name, for people to recognize the connection between the lecture hall and the Peabody. (quoted in Yale News).
Sources
"Ed Bass names new lecture hall for Yale's O.C. Marsh." Yale News. May 25, 2017. Accessed May 26, 2017. http://news.yale.edu/2017/05/25/ed-bass-names-new-lecture-hall-yale-s-oc-marsh.

"Othniel Charles Marsh." University of California Museum of Paleontology. Accessed April 17, 2017. http://www.ucmp.berkeley.edu/history/marsh.html.

"Othniel Charles Marsh." Yale Peabody Museum of Natural History. Accessed April 17, 2017. http://peabody.yale.edu/collections/archives/biography/othniel-charles-marsh.

Schroer, Blanche Higgins. "National Register of Historic Places Inventory--Nomination Form: Othniel C. Marsh House, Marsh Hall." U.S. Dept. of the Interior, National Park Service. December 04, 1974. Accessed April 17, 2017. https://npgallery.nps.gov/pdfhost/docs/NHLS/Text/66000875.pdf.


Additional Information