John L. Clem Statue, Newark Ohio
Introduction
This statue commemorates John Clem, perhaps the youngest member to ever serve in the US military. Clem ran away from home at the age of nine and served as the drummer boy for the 22nd Michigan Volunteer Infantry, Co. C. In his later life, Clem had a distinguished military career and rose to the rank of Brigadier General by his retirement in 1915. This statue was dedicated in his honor and stands at the entrance to Veterans' Park.
Images
Drummer boy Clem during the American Civil War. (Credits: Public Domain)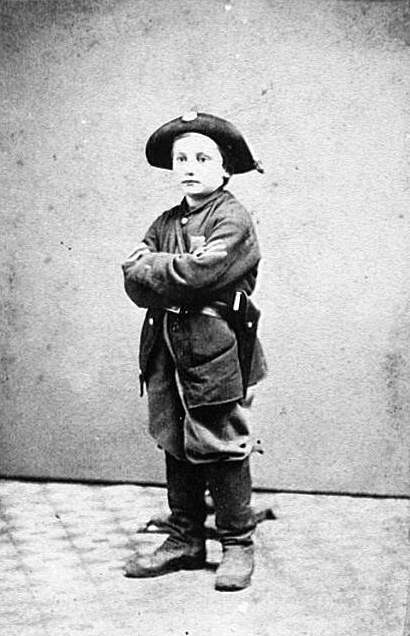 Statue of America's Youngest Soldier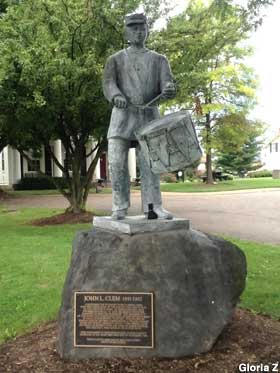 Backstory and Context
Newark was established in 1802 and this small farming community later experienced growth as resources in silica, iron, oil, and glass helped spur industrial development as companies such as Owens Corning Fiberglass opened factories in the area. Currently, Newark boasts a population of almost 48,000 people and the city and surrounding area provides a plethora of many activities to explore and enjoy.
Veterans' Park is located on North 6th Street and West Main Street and is run by the Licking County Historical Society. The society oversees the Buckingham House, the Sherwood Davidson House, the National Heisey Glass Museum, and the Veterans Walk of Honor. The six-foot statue of John Lincoln Clem, as a drummer boy, stands at the entrance to the park. It was created by sculptor Mike Major and was dedicated in 1999.
Born in Newark, Ohio on August 13, 1851, John L. Clem left his home at the age of nine and attempted to enlist into the 3rd Ohio Volunteer Infantry. The 3rd Ohio rejected him because of his young age. After being rejected, he soon joined the 22nd Michigan Volunteer Infantry by following the unit on their deployments. The 22nd Michigan eventually adopted him as their mascot and made him their drummer boy. Some stories have the 22nd Michigan at the Battle of Shiloh, but the unit had not been mustered into service at the time of the battle. Clem, most likely, was a member of the 24th Ohio, as told by his sister. During the Battle of Shiloh, Clem had his drum destroyed by a Confederate shell. He was given the nickname "Johnny Shiloh" after the battle. During the Battle of Chickamauga on September 19-20, 1863, Clem got separated from his unit. A mounted Confederate Colonel attempted to capture the young Union drummer. Clem, armed with a sawed off musket, shot and killed the Colonel. Upon returning to his unit, he was promoted to Sergeant, becoming the youngest to ever achieve noncommissioned officer status in the U.S. Army. Clem was given the moniker "Drummer Boy of Chickamauga." In late 1863, Clem was captured by Confederate forces, but was later part of a prisoner exchange. After his release, Clem served under General George Thomas and fought in the Army of the Cumberland until the end of the war. At age fourteen, Clem mustered out of the Union Army on June 26, 1865.

By 1870, Clem was unsuccessful multiple times in his attempt to enter West Point. Even though he never made it into West Point, in 1871 President Ulysses Grant commissioned Clem a Second Lieutenant. By 1874 Clem was promoted to First Lieutenant. In 1875, he graduated from artillery school and was stationed in Texas where he fought against American Indians and Mexican outlaws. Clem continued to be promoted throughout his military career. In 1901, Clem achieved the rank of Lieutenant Colonel. He was sent overseas to serve as the Chief Quartermaster of the Philippines from 1903 to 1905. In August 1903, Clem was promoted to the full rank of Colonel. Clem served as the Chief Quartermaster of the Department of the Lakes starting in 1911 until the mandatory retirement age of sixty-four in 1915. Upon his retirement, Clem was promoted to Brigadier General. During his military career, Clem first married Anita Rosetta French. She was the daughter of Major General William H. French, who for several months was the commander of the 3rd Army Corps during the Civil War. Their marriage produced one child, John L. Clem, Jr. Mrs. Clem passed away in 1899 after twenty-four years of marriage. John Clem's second wife was Elizabeth Sullivan whom he married in 1903. This marriage produced a daughter, Anne Elizabeth, in 1906. Anne would later become a nun and helped establish the Carmel of Reno. She was the Mother Superior of the Carmel of Reno in 1967 at the time of her mother's death. After retiring in 1915, John Clem returned to Texas to live out his days. On May 13, 1937, he died at the age of eighty-five. He is buried in Arlington National Cemetery.
Sources
"John Clem." Civil War Trust. Accessed April 19, 2017. http://www.civilwar.org/education/history/biographies/john-clem.html.
John Lincoln Clem, Sr (1851 - 1937) - Find A Grave Memorial. Accessed April 19, 2017. https://www.findagrave.com/cgi-bin/fg.cgi?page=gr&GRid=2284.
Patterson, Michael Robert. John Lincoln Clem, Major General, United States Army. Accessed April 19, 2017. http://www.arlingtoncemetery.net/jlclem.htm.
"John L. Clem." Ohio Civil War Central. Accessed April 19, 2017. http://www.ohiocivilwarcentral.com/entry.php?rec=1547.
Magazine, Argunners. "John L. Clem was 12 years old when he became a Civil War hero." Argunners. April 07, 2016. Accessed April 19, 2017. http://argunners.com/john-l-clem-was-12-years-old-when-he-became-a-civil-war-hero/#prettyPhoto.
Additional Information