The Rotunda, Oakland
Introduction
Built in 1879, the remarkable structure now known as The Rotunda was originally Kahn's Department Store. After changing ownership numerous times over the years, the building suffered considerable damage from the Loma Prieta earthquake. The building underwent a $50 million restoration beginning in 1999, and has since reopened as The Rotunda.
Images
Exterior of Kahn's Department Store, circa 1909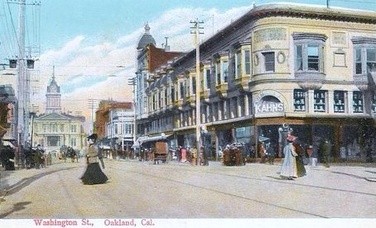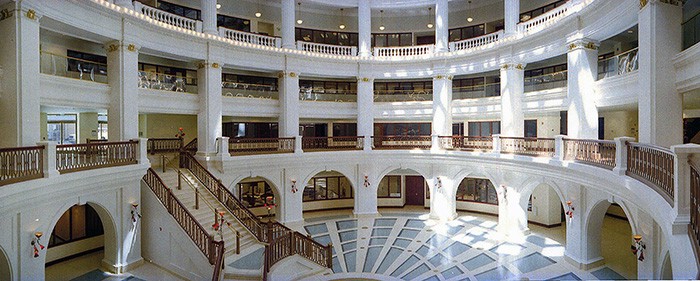 An interior view of the Rotunda's dome
Backstory and Context
The late 1800s were years of explosive growth for Oakland. These were also years of tremendous growth for department stores, when they were built to essentially be palaces of retail. One of Oakland's finest department stores was Kahn's, which opened in 1879. After several years of growth, Israel Kahn's department store moved into a new building in 1912. The new building was designed by architect Charles W. Dickey.

The original 1912 building was a Y-shaped structure with a large dome crowning the intersection of the three legs. An addition in 1923 transformed the building into a somewhat irregular L shape. The dome, which sat directly on the flat roof of the building, was thirty-six feet tall.

In 1960, the store was rebranded as Rhodes Department Store, and in the 1970s it became one of a few Liberty House Department Stores on the mainland United States. The Liberty House store closed in the mid-1980s and was still empty when it was damaged in the 1989 Loma Prieta earthquake.

It would be a decade before a full restoration of the property was undertaken. Rotunda Partners bought the property in 1999 and began a $50 million total restoration and modernization of the building. The renovation was largely the work of developer Phil Tagami, who gained notoriety during the Occupy Oakland protests when he faced down protesters outside the Rotunda with a shotgun. The renovation took three years to complete, and the Rotunda reopened in 2001, offering seven stories of office and retail space. Because of its striking, classically-inspired interior, the Rotunda is also used as an events venue.

The Rotunda was named an Oakland Landmark in 2002 and was added to the National Register of Historic Places in 1989.
Sources
"History and Renovation." rotundaoakland.wordpress.com. Retrieved 16 April 2017.
Additional Information