Riverside Cemetery
Introduction
Riverside Cemetery lies behind Oneonta's First Presbyterian Church. Frederick Brown provided the land for the church, cemetery, and parsonage in 1805. At the time, the cemetery was indeed "riverside," situated alongside the Susquehanna River, but the river was rerouted in 1815. Since 1860, the church and cemetery have operated independently. The cemetery hosts numerous prominent members from Oneonta's history, as well as 100+ veterans, some from the Revolutionary War.
Images
First Presbyterian Church, in front of the cemetery (Greater Oneonta Historical Society)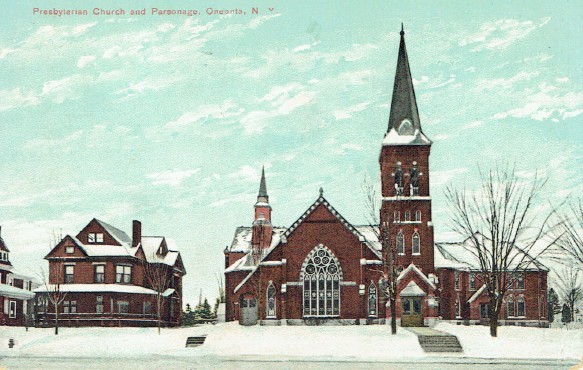 Sources
Brzozowski, Bob, et al. "Historic Main Street Walking Tour." Greater Oneonta Historical Society. 2016. Accessed April 15, 2017. http://www.oneontahistory.org/DigitalMainStreetTourBrochure.pdf.


Additional Information