Gatorland
Introduction
Founded in 1949, Gatorland, also known as the "Alligator Capital of the World," is a theme park and national reserve in Orlando, Florida. Covering 110 acres, this theme park and national reserve is filled with hundreds of alligators, crocodiles, and other animals and reptiles, too. The park provides a fun family attraction for all ages.
Images
Original entrance of Gatorland,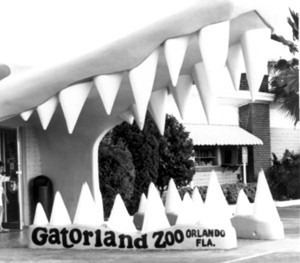 A view of some of the alligators within the reserve in the 1970s.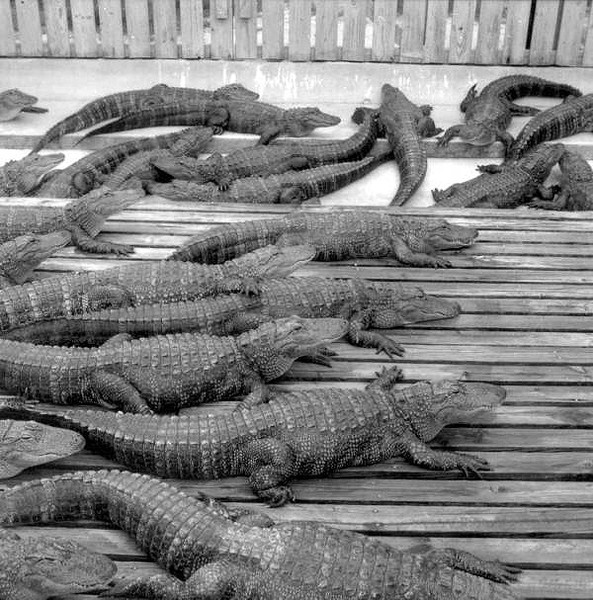 Tourists observing the Alligators in 1979.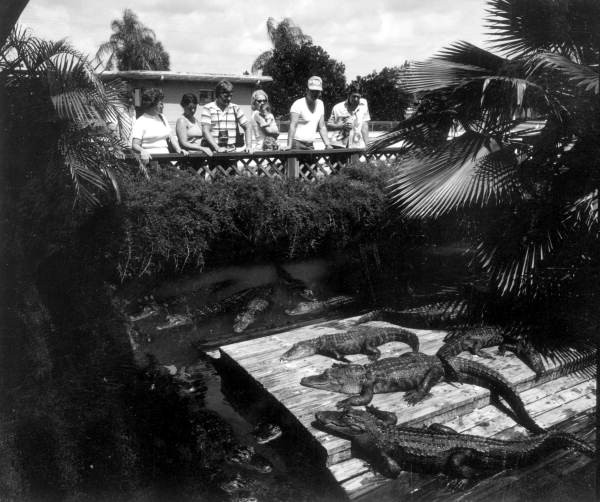 The first steam engine train to run through the park.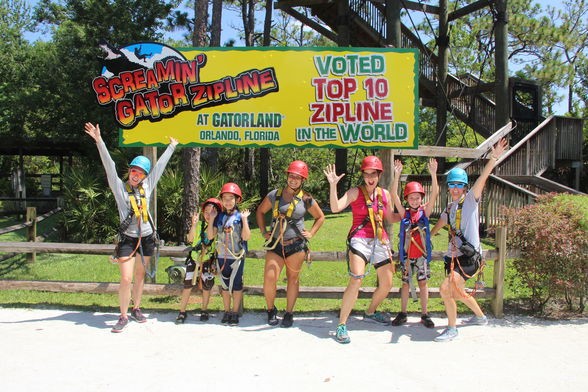 Recent photo of a show Gatorland provides for visitors.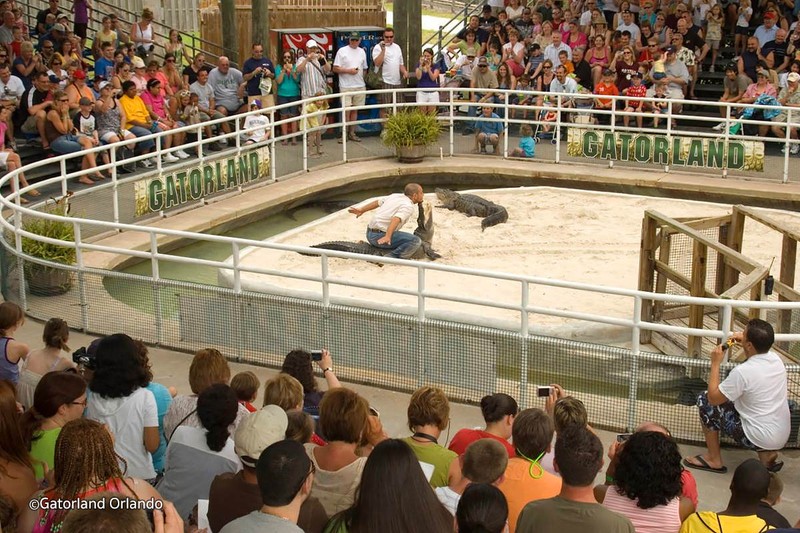 Backstory and Context
Gatorland is located at 14501 S Orange Blossom Trail, in Orlando, Florida, 32837. It is a theme park and a wild life preserve for thousands of alligators and crocodiles. and displays many different reptiles and animals living in Florida. Gatorland has 110 acres where you can pet and feed different reptiles and animals, learn about the swamps in Florida, and learn why alligators/crocodiles live inside of them. The park also provides many educational programs for anyone wanting to learn more about Florida and its distinct species. Gatorland provides sanctuary to alligators and crocodiles that have been hurt or injured so they can be rehabilitated. Gatorland is known to also take in or purchase animals that are being hunted to be killed for their skin and meat. Half of the park is water, providing areas for the alligators, crocodiles, amphibians, and reptiles to live. A huge two-mile-long boardwalk is placed in the center of the park, so you can view species up close. There is also a strip of stores and show houses displayed inside the park with easy access.
Gatorland was founded by Owen Godwin and his family and opened to the public in 1949. Today, the park and preserve are still run by his continued family. Owen Godwin was born in 1905 in Sebring, Florida and lived with his uncle on the Kissimmee River in a plot of land known as "Kissimmee Island." Godwin was interested in alligators and crocodiles at an early age and even built an alligator pit in his backyard home in Sebring. Owen Godwin eventually married Pearl, a woman who was also fond of alligators and would even sell alligator necklaces, belts, keychains, and other assorted crafts. Pearl and Owen Godwin both shared the dream to open an attraction for people to view, learn, and love alligators and crocodiles, instead of fearing or hurting them. Eventually, their dream became a reality with the opening ofGatorland.
This theme park and wildlife preserve was opened during the time of the Korean War. Many people were moving to central Florida after World War II during a time known as "the second wave of tourism" for Florida. This wave of tourism brought a lot of business and tourists to Gatorland in its' early years, and also brought several who were looking into moving into the Orlando area. With such large numbers of migrants and tourists moving to Florida, a lot of social change and desegregation occurred alongside it. With the second wave of people coming to Florida, this ensured theme parks (like Gatorland) to last.
Over the years, Gatorland became a theme park and wild life preserve visited by millions of people annually. The park eventually opened exhibits to varied species of animals including zebras, hawks, aquatic nesting birds, snakes, llamas, goats, lambs, ducks, turkeys, the beloved Judy the bear, and many more. In 1965, Gatorland opened a steam engine to be taken around the park and was used for many tours but, unfortunately, was retired in 2000. In 2002, however, the Gatorland express was re-built and a brand-new train began running through the park and behind the scenes of the wildlife preserve. Throughout the park's history, Gatorland was named the "Alligator Capital of the World." In 1999, Gatorland opened educational programs for children all over Florida to visit on school field trips. In 2006, a devastating fire broke loose inside Gatorland, sadly killing a few of the park's reptiles and destroying a gift shop and executive office in the process. But all was restored in nearly two years and has been running successfully and efficiently ever since. In 2011, Gatorland installed five zip lines around the park that cost $1.8 million dollars to complete. It has been one of the favorite tourist attractions of the park and was voted onto a list of "Top 10 Zip Lines in the World."
Tourists and locals visit Gatorland to learn about Florida, its many different animals and reptiles, and for the pure fun and enjoyment of the park. Gatorland is open to the public and will be for the foreseeable future.
Sources
"Gatorland." Gatorland. N.p., n.d. Web. 02 Mar. 2017.
Godwin, Owen. Snakes of Florida. Kissimmee, FL: Gatorland Zoo, 1981. Print.
Hagaman, Carole. Orlando: Never Outgrow the Magic (Visiting Orlando Florida). PSA Journal. 1998. Vol. 64. 16. Print.
Additional Information