Louis Bank of Commerce
Introduction
Long considered the historic Gaslamp District's "Jewel," this building of two towers was completed in 1888. The Bank of Commerce until 1893 when one, Isidor Louis purchased the building. Louis opened an oyster bar here that is said to have been a favorite of Wyatt Earp's when he retired to the area. With the bar on the ground floor, the upper floors became a brothel, named the Golden Poppy Hotel. Until 2014 the building was operated as an historic stop of Wyatt Earp history.
Images
Closer look the building's two towers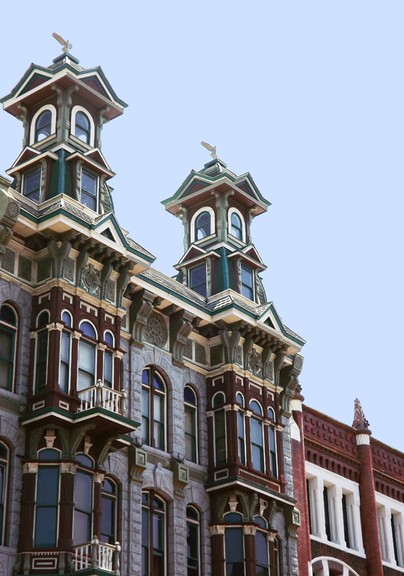 Historic plaque found on the building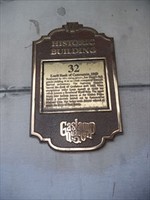 Entranceway when it was Wyatt Earp's Historic Gambling Hall and Saloon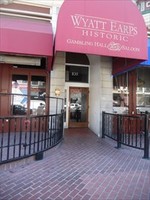 The Louis Bank of Commerce around 2012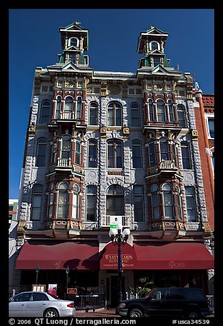 Backstory and Context
According to the Gaslamp Foundation:
"This building is San Diego's first granite building that was pre-built on the east coast and sent around Cape Horn to San Diego.
This is the great example of Baroque Revival Architecture. The four story building housed the Bank of Commerce till 1893 when Isidor Louis opened an oyster bar that became a favorite of Wyatt Earp.
The upper floors later became the Golden Poppy Hotel, a notorious brothel run by fortune teller and early marketing genius, Madame Cora. Her ladies would parade through the streets by day and hand colored marbles that matched the color of their dresses to potential clients. At night, the 'gentlemen' would bring their colored marble and be directed to a room of the same color to meet their colorful 'lady.'"
While living in and utilizing the oyster bar, Earp is said to have won a horse as one his many winnings at the gambling tables found within the bar.
Additional Information