Liberty Hall (Marcus Garvey Building)
Introduction
The building at 1483-1485 8th Street in Oakland is today a relatively unassuming building. Originally built as a store and a residence, there is little to suggest the part the building played in Oakland's African-American community. For much of the first half of the twentieth century, the building was home to the Universal Negro Improvement Association, and later, the International Peace Mission movement.
Images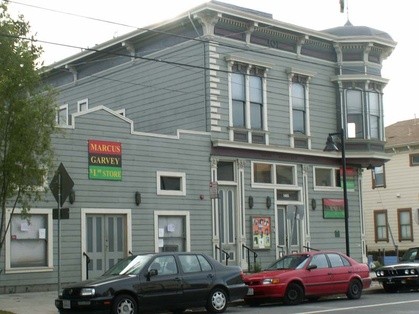 Backstory and Context
The building on 8th Street began humbly enough as a home and a store in 1877. In 1925, however, the building was purchased by Local 188 of the Universal Negro Improvement Association, the organization founded by Marcus Garvey in 1914. Following his travels through the Americas and England, Garvey became convinced that the only way that African-Americans would ever improve their circumstances was by uniting them. He created the UNIA with the intention of bringing together the African diaspora into one "grand racial hierarchy." The organization grew rapidly and established meeting halls, known as Liberty Halls, throughout the United States.

In the West, UNIA chapters comparatively sparse, but Oakland's Local 188 was an active one, and the largest in northern California, with a membership of over 500. In 1925, the chapter bought the 8th Street building for its headquarters, and renamed it Liberty Hall. Until the mid-1930s, the building was used for many of the chapter's events, such as speeches, meetings, and observations of Garvey Day and Lincoln's birthday. The Oakland chapter was active until the building was damaged by a fire in 1931, when their activism in the city began to decline. The chapter sold the building in 1933.

Following the departure of the UNIA, the building was purchased by the International Peace Mission movement. The movement was founded in New York City in the 1910s, by Father Divine, an African-American minister who claimed to be God. Father Divine eventually moved the mission's headquarters to Philadelphia, but the movement established more than one hundred missions across the country. The movement's peak came during the Great Depression, when it hosted meals and banquets. Though the movement's activities declined following World War II, the Oakland mission was active at the 8th Street address into the mid-1950s.

After the Oakland Peace Mission closed, the building was occupied by several African-American churches until the 1970s. At that point, it was abandoned for a number of years and was nearly demolished in the mid-1980s. Because of the efforts of numerous community groups, the building was spared and was named an Oakland Landmark in 1987.

In 1989, the building, which is also known as the Western Market Building and the Marcus Garvey Building, was added to the National Register of Historic Places.
Sources
Moore, Shirley Ann Wilson Moore. To Place Our Deeds: The African American Community in Richmond, California, 1910-1963. pg. 34.
Additional Information