George P. Marston House and Museum
Introduction
The George W. Marston House, or George Marston House and Gardens, also referred to as the George and Anna Marston House or the Marston House, is a museum and historic landmark located in San Diego and maintained by Save Our Heritage Organisation (SOHO). Marston is San Diego's "First Citizen," due to his philanthropy for the city and his role in the establishment of Balboa Park, the San Diego Public Library system, and San Diego Presidio Park. He was also a politician and department-store owner. The house is preserved to showcase Marston, San Diego history, and the home's architecture and gardens.
Images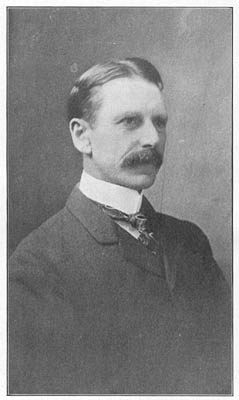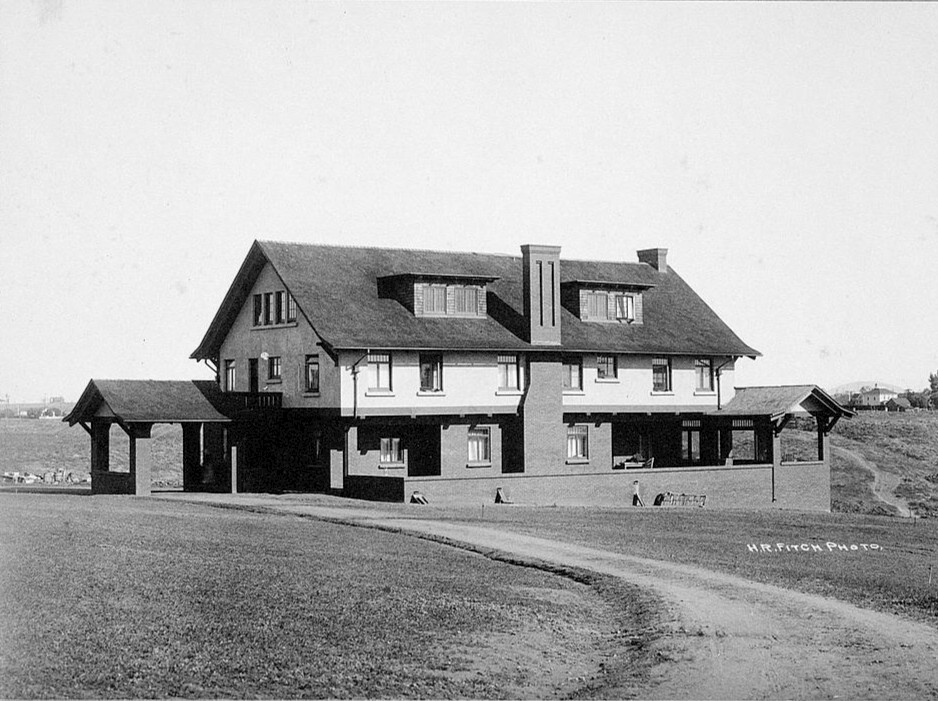 Marston House and Museum as it looks today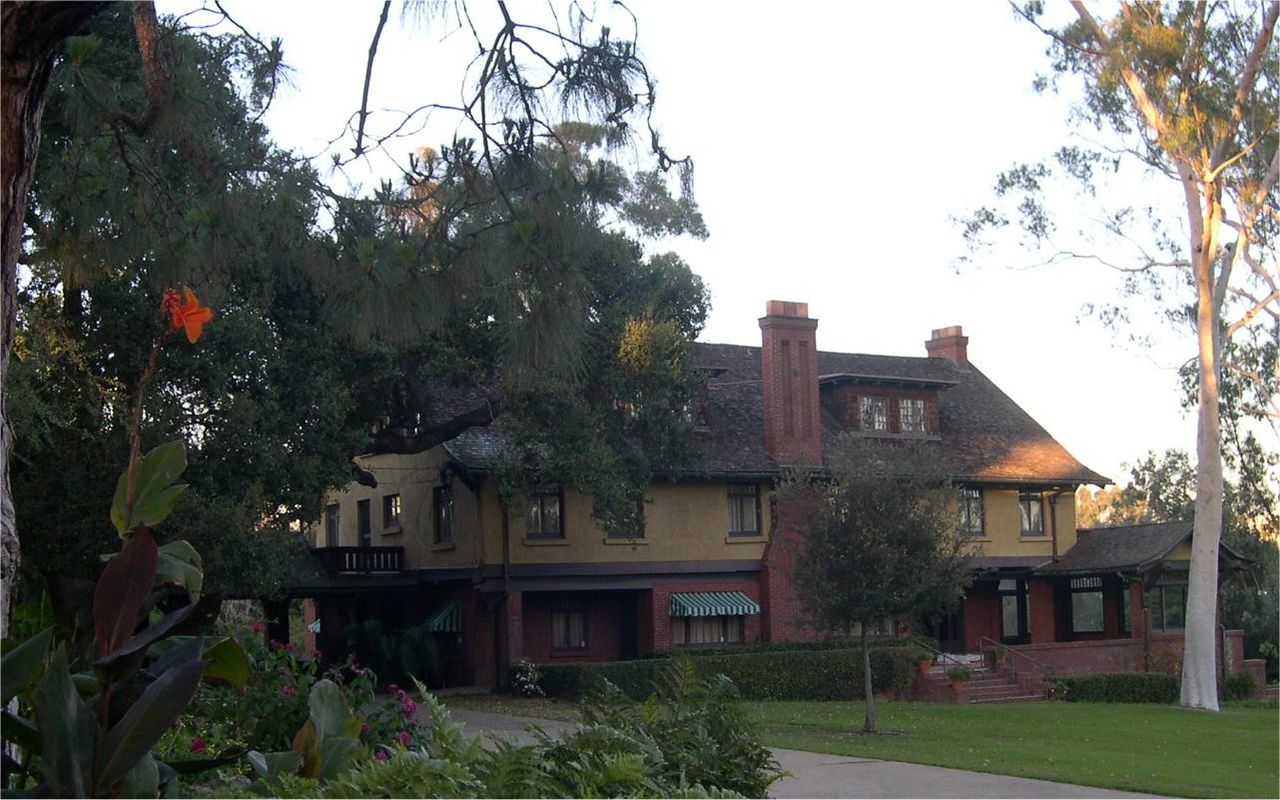 Fountain found in the gardens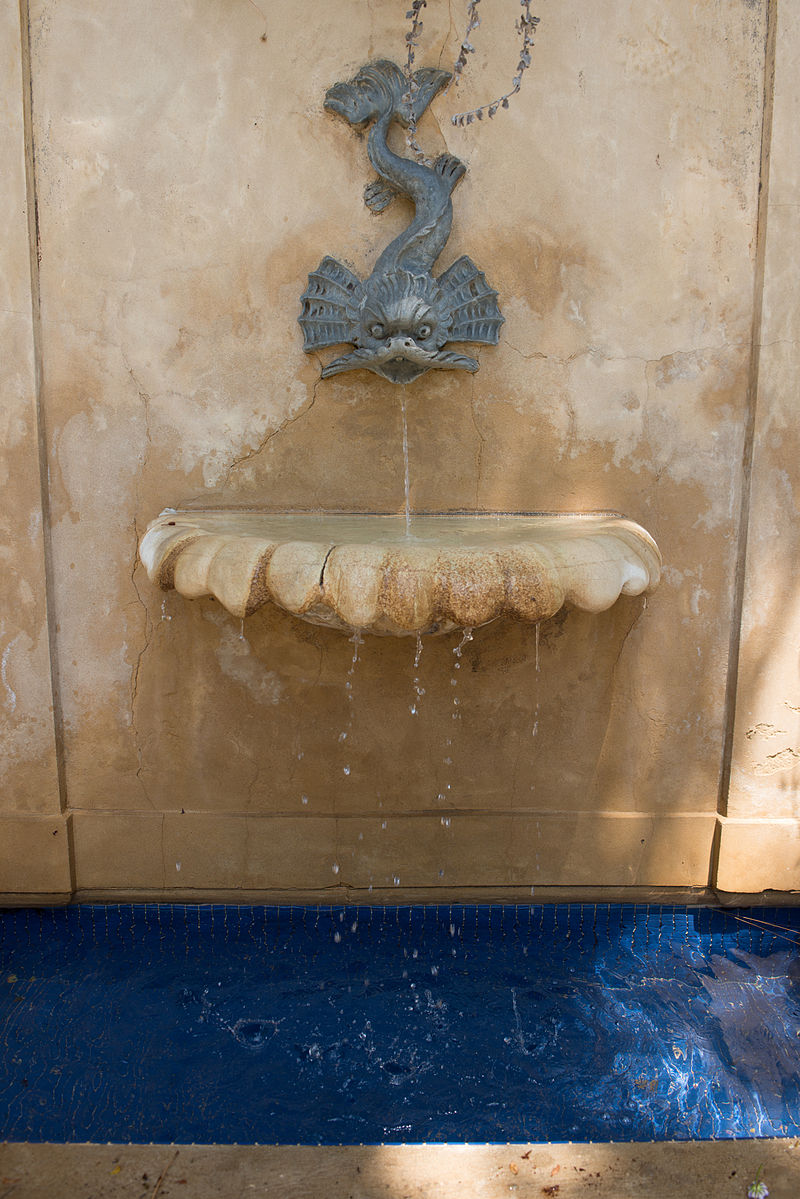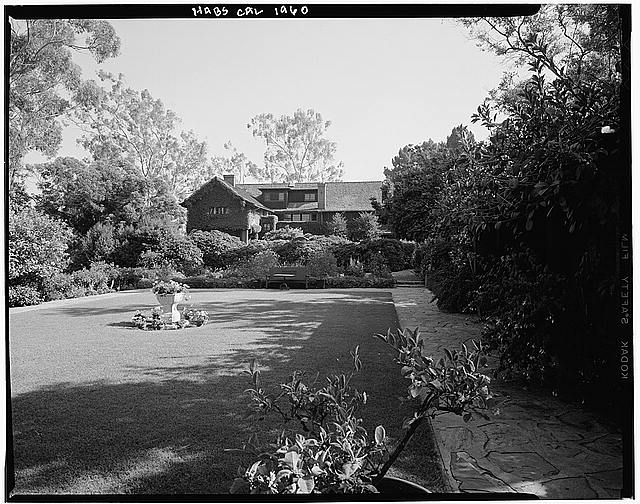 George and Ann Marston, in either their garden or at Balboa Park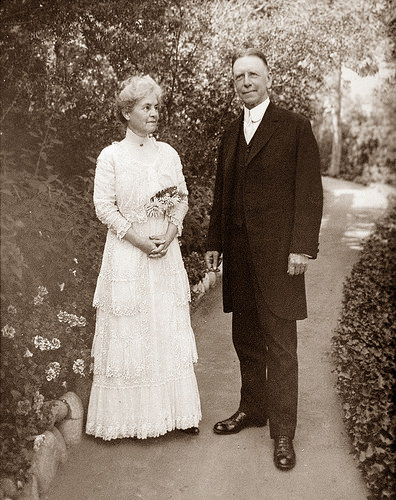 Backstory and Context
George P. Marston:
Marston was born in Fort Atkinson, Wisconsin. As a boy, Marston learned to ice skate, which he continued to enjoy throughout his life. His father had a chronic respiratory ailment and wanted to live in a better climate for his health, so the family moved to San Diego in 1870.
Marston was initially a clerk in the Horton House Hotel, then entered the mercantile business as a bookkeeper with the firm of Aaron Pauly & Sons general merchandise store and warehouse merchants. Pauly was the founder of the San Diego Chamber of Commerce. Marston was its secretary and later its president.
In 1872, Marston clerked for storekeeper Joseph Nash. He and partner Charles Hamilton bought Nash out and ran the store. After Marston's marriage, he split the store business with his partner Hamilton, with Hamilton taking the grocery side and Marston taking the dry goods. The Marston Company became the only major department store in San Diego, and was located downtown. Its success was due to exclusive business arrangements Marston made with several suppliers. He became quite wealthy and was a generous philanthropist in the city. The Marston department store, at 548 C Street (at 5th Avenue and C Street), was owned by the family until they sold it in 1961 to Broadway. It has since closed.
His business trips took him to major cities such as San Francisco and New York City, where he saw great urban parks. This developed a desire to see San Diego's Balboa Park become as great. As a result of his efforts in park development and planning, Marston helped make Balboa Park a local landmark. Marston hired architect John Nolen to develop the first plan for the park in 1908 and a more-detailed plan in 1926.
Marston served as chairman of the Buildings and Grounds Committee for the 1915 Panama–California Exposition in Balboa Park. The Exposition established an infrastructure of museums and attractions for the park that still exists today.
Marston was active politically and called himself an "independent". He was raised a Republican, but swung back and forth between Democrat and Republican, supporting the party or person most likely to push for reform. He supported California's reform-oriented Progressive Party in the 1910s and early 1920s.
Marston ran for mayor unsuccessfully in 1913 (against Charles F. O'Neall) and again in 1917 (against Louis J. Wilde). The 1917 race in particular was a classic growth-vs.-beautification debate. Marston argued for better city planning with more open space and grand boulevards; Wilde argued for more business development. Wilde called his opponent "Geranium George", painting Marston as unfriendly to business. Wilde's campaign slogan was "More Smokestacks", and during the campaign he drew a great smokestack belching smoke on a truck through the city streets. The phrase "smokestacks vs. geraniums" is still used in San Diego to characterize this type of debate. Local horticulturalist Jim Zemcik has produced a "Geranium George" series of geranium varieties in Marston's honor, including one variety named for his wife Anna Gunn Marston, who was an avid gardener.

in 1878, he married Anna Lee Gunn (May 20, 1853–October 7, 1940), a teacher. They had five children. Her brother Douglas Gunn was the owner and editor of San Diego Union and served as Mayor of San Diego from 1889 to 1891. George Marston died at age 95 at his home in San Diego. He is interred in Mount Hope Cemetery.
In 1907, Marston bought Presidio Hill with the intent of preserving the old Presidio of San Diego, the first European settlement in present-day California, which had fallen into ruins. He couldn't get anyone interested in the project, so he built Presidio Park in 1925 with his own funds, hiring Nolen to plan the park. He commissioned the building of the Serra Museum, designed by architect William Templeton Johnson, in Presidio Park. He donated the park to the city in 1929. Presidio Park, still a city-owned historic park, is now listed on the National Register of Historic Places.
Marston served on the first board of trustees for the San Diego Public Library in 1882 and founded the San Diego YMCA, serving as its president for 22 years. He was on the city council from 1887–1889. In 1928 he founded the San Diego Historical Society (now the San Diego History Center) and served as its first president. Marston also raised funds and donated his own money to buy land for present-day Torrey Pines State Reserve and Anza-Borrego Desert State Park.

George Marston's house was designed by Irving Gill and William S. Hebbard architects in 1904/1905. The residence initially was planned to be built in English Tudor style, but was completed in the Arts and Crafts style, which was becoming in vogue. The property, dubbed the George W. Marston House and Gardens, was donated to the City of San Diego by Marston's daughter Mary in 1987 and is now a museum at the northwest corner of Balboa Park. Save Our Heritage Organisation (SOHO) took over operation of the property in July 2009 and is in the process of restoring the gardens and furnishing the home in appropriate period style.

George P. Marston House and Museum:
The home spans 8,500 square feet and is surrounded by five acres of lawns and gardens. Completed in 1905, the house is considered a prime example of architecture from the Arts and Crafts Movement. Home to George White Marston (1850–1946) and his wife, Anna Gunn Marston (1853–1940), the three-story house and gardens were a lively family home, where two of the five Marston children were married and the eldest lived out her life. The house was designed and built by renowned architects William Sterling Hebbard and Irving Gill. Inside the house, the rooms are furnished with a variety of different pieces designed by renowned Gustav Stickley, L. & J.G. Stickley, and Charles Limbert. Other notable furnishings are the Gill, Mead & Requa furniture and the plein air art exhibit featuring paintings by artists Alfred Mitchell, Maurice Braun and Charles Fries. Many of the family's original items are still on display at the museum.
The Marston House was converted into a museum in 1987 after the Marston family gave the house to the City of San Diego. It is currently maintained by Save Our Heritage Organisation (SOHO), which runs the museum and the shop located in the carriage house on the property.

The Marston house gardens were initially designed in 1905 by landscape gardener George Cooke. The house and gardens were upgraded during the late 1920s. Hale Walker, from the landscape architectural firm of John Nolen Cambridge, Mass., redesigned the grounds and in particular the rear formal garden which coincided with the Marstons' 50th wedding anniversary. The garden spans over 5 acres with lush exotic and native trees, shrubs, vines and flowers. The Marston's also acquired plants and landscaping ideas from their friend noted pioneer horticulturist Kate O. Sessions, as well as local San Diego nurserymen. Some of the plants found in the garden at its prime and still extant today are: Pinus canariensis Canary Island Pines, Eucalyptus, and Quercus agrifolia California Oaks, Ceanothus leucodermis, wild lilacs, Solandra guttata Mexican Cup of Gold vines and Queen Elizabeth roses, daughter Mary Marston's favorite. Many of the original plants survive and Save Our Heritage Organisation is restoring other features of the garden as well. The geranium, a flower considered to represent the legacy of George Marson and the Marston House, also makes an appearance in the garden.

Sources
George White Marston: A Family Chronicle (1956), compiled by his daughter Mary Gilman Marston.

George White Marston and the San Diego Progressives, 1913-1917, San Diego State University thesis, 1976, by Uldis A. Ports.

City Planning, Progressivism, and the Development of San Diego, 1908–1926, San Diego State University thesis, 1977 by Gregg R. Hennessey.

George White Marston Collection, Papers and records, 1870–1946, MS 219, San Diego Historical Society.

McCoy, Esther (1960). Five California Architects. New York: Reinhold Publishing Corporation.

Showley, Roger M. (1999). Balboa Park: A Millennium History. Heritage Media Corp.

George White Marston biography

"George White & Anna Gunn Marston: A Sketch", The Journal of San Diego History 36:2 & 3 (Spring/Summer 1990) by Gregg R. Hennessey

The Journal of San Diego History 15:3 (Summer 1969) contains articles on Presidio Park, Junípero Serra Museum and Library, including Marston's role: "Part II - A Young Man Comes to Town", by Wilmer Shields, and "Part VII - San Diego Acquires a Park and Museum"

"George White Marston and Conservative Reform in San Diego", The Journal of San Diego History 32:4 (Fall 1986) by Gregg R. Hennessey

"Geraniums vs. Smokestacks: San Diego's Mayoralty Campaign of 1917", The Journal of San Diego History 21:3 (Summer 1975) by Uldis Ports

"'My Dear Lilla': Marston Family Letters from 1870s San Diego", The Journal of San Diego History 47:3 (Summer 1987) by George P. Marston and Harriett Marston

"Junípero Serra Museum Architectural, Cultural, and Urban Landmark", The Journal of San Diego History 25:3 (Summer 1979) by Gregg R. Hennessey

May, Vonn Marie (Summer 1990). "The Marston Garden: The Southwest Interprets English Romantic". The Journal of San Diego History. 36 (2 & 3).

Ports, Uldis (Summer 1975). "Geraniums vs. Smokestacks: San Diego's mayoralty campaign of 1917". The Journal of San Diego History. 21 (3).




Additional Information