Thalian Hall
Introduction
Since its construction from 1855-1858 Thalian Hall has served as city hall and community cultural center. As a result, Thalian Hall has been at the center of many key moments in the city's history, perhaps none more important than those preceding the 1898 Race Riot. Thalian Hall shows up repeatedly in literature depicting the events surrounding the 1898 coup d'etat and demonstrates the immense role it played in what transpired. Prejudicial laws were drafted and angry mobs of white citizens were rallied all under the same roof of Thalian Hall.
Images
Photo of Thalain Hall stage taken from the first balcony. http://www.thalianhall.org/image-gallery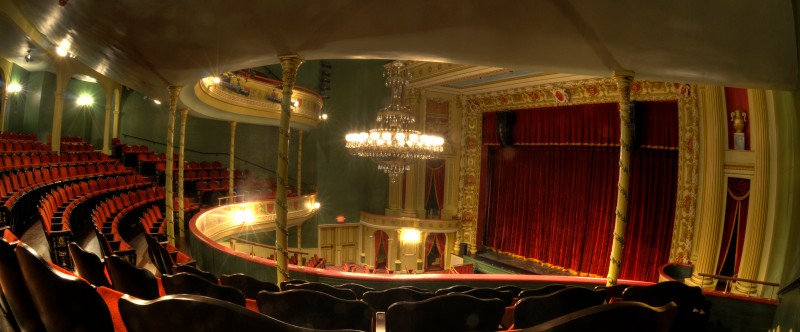 Entrances to Thalian Hall and City Hall. Photo credit: Clayton Thomas.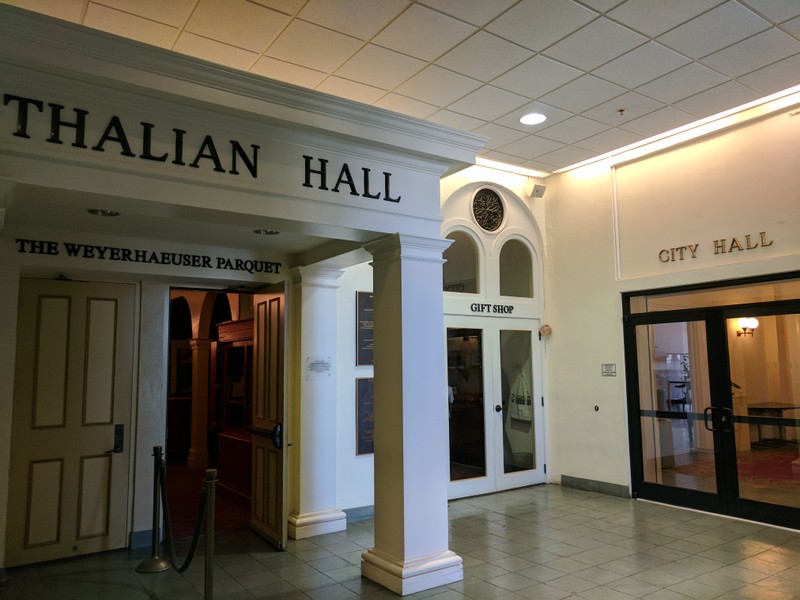 Portrait of Colonel Alfred Moore Waddell. http://northcarolinahistory.org/encyclopedia/alfred-moore-waddell-1834-1912/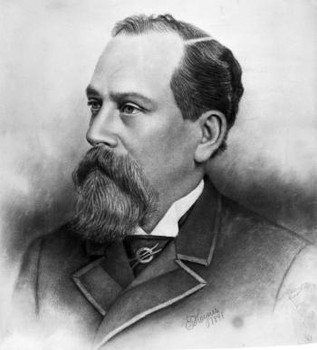 Backstory and Context
One of the only buildings to serve as both city hall and community cultural center, Thalian Hall has been at the center of many of Wilmington's most important historical moments (1). One such moment in the city's history is the 1898 Wilmington Race Riot. The Race Riot was the culmination of a white supremacy campaign that resulted in the massacre of an unknown number of African American men on November 10, 1898. The memory of this infamous day is preserved in historical documents and literary works recounting the events. It is in these pieces of literature that one can see the integral role that Thalian Hall played.
Just as Thalian Hall played two key roles in Wilmington, it also played two critical roles throughout the events of the coup. Prior to the riots, Colonel Alfred Moore Waddell gave an incendiary speech to a group of white citizens at Thalian Hall to rally them to vote and win the election by any means necessary, claiming that whites would "choke the Cape Fear with [Black] carcasses" in order to do so (3). Following the riot, under the same roof that he delivered his speech, Waddell and his associates forced the residing politicians to resign at gunpoint and then proceeded to swear themselves in. The details of the coup d'etat are documented in the official minutes of the council meeting that took place on November 10th, 1898. The former representatives were then exiled from Wilmington and forced to move out of town or face violence. The newly instated government, headed by Waddell, then passed a multitude of prejudicial laws to restrict the ability of African Americans to do business, vote, or maintain jobs in the city.
Philip Gerard's novel Cape Fear Rising fictionalizes these events. In his work of historical fiction he describes the atmosphere: "Thalian Hall was once again packed with white faces – mostly men." (2). Gerard changed the content of Waddell's famous speech slightly in his retelling yet keeps the chilling message. "Let every man go to the polls ready and willing to rule or die." (2). Waddell then seized his position as mayor by force amid the chaos of the riot.
Blurring the lines between fact and fiction is the treatment of the White Declaration of Independence in literature. The White Declaration of Independence was a document that called for the end of the so-called "negro domination" (4). In actuality the White Declaration of Independence was read at the Wilmington court house. However, in Philip Gerard's novel Cape Fear Rising the document is read to a crowd at Thalian Hall. One possible reason for this change in the fictionalization is to increase the document's exposure to the public by reading it to a large crowd at the city's cultural center. Thalian Hall was perhaps the most recognizable and most easily accessible building for large groups of people at the time which made it a more optimal setting.
Gerard effectively uses Thalian Hall as both a cultural center, where multiple integral speeches take place, as well as a political center where power is seized from the current government. Only at Thalian Hall could a politician finish drafting a law then later that day hold a meeting and give a speech to a crowd of up to one thousand people. It was because of this unique situation that Thalian Hall played such an important role in what took place on November 10, 1898 and the days leading up to it.
Sources
(1) A brief history of Thalian Hall. Retrieved from http://www.thalianhall.org/thalian-hall---a-brief-history.
(2) Gerard, P. (1994). Cape Fear rising. Winston-Salem, N.C.: John F. Blair.
(3) Umfleet, L. (2009). A day of blood: The 1898 Wilmington race riot. Raleigh, N.C: North Carolina Office of Archives and History.
(4) "White man's declaration of independence," 9 November 1898, Appletons' Annual Cyclopedia. Retrieved from http://sb.dhpress.org/wilmingtonraceriot/?attachment_id=2383.

Additional Information