Pavilion VIII
Introduction
Pavillion VIII is one of ten Pavilions located on the edge of the Lawn at the University of Virginia. It is recognizable by its classical Corinthian motif. Though Thomas Jefferson was the primary designer of the original structures within the Academical Village, his notebooks attribute Pavilion VIII's design to the architect Benjamin Henry Latrobe. The first resident of this building was Thomas Hewitt Key, Professor of Mathematics. Key, however, remained only two years before returning to his native England, reportedly upset by disorder amongst the students.
Images
Pavilion VIII on the U.Va Campus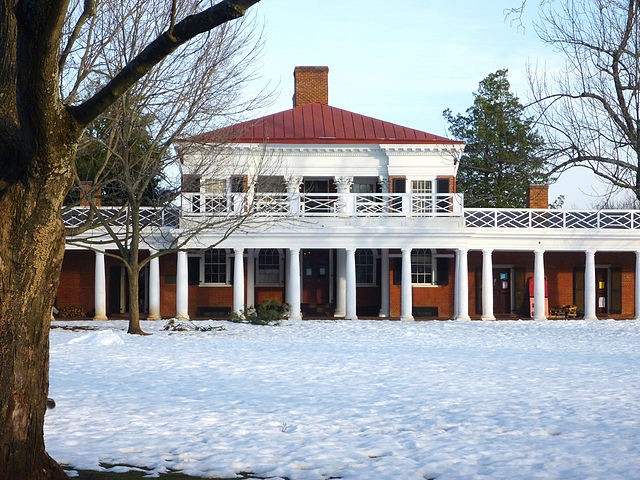 Backstory and Context
Ten Pavilions are situated along the east and west sides of the University of Virginia's Academical Village. Centered around the Lawn, the Academical Village was designed by Thomas Jefferson as a unique environment where students and faculty could live and study. Each pavilion represents an academic discipline as conceived by Jefferson, an order of ancient architecture, and was intended to be occupied by a professor of the "useful science" with which it was associated. No two are exactly alike. The Academical Village has been referred to as the "greatest surviving masterpiece of the classical revival in America."1

Jefferson designed all five of the Pavilions on the east Lawn, including Pavilion VIII, in fifteen days in June 1819. The appearance of the Pavilions was inspired by the classical orders as described in Andrea Palladio's Four books of Architecture and Freart de Chambray's Parallele de 1'Architecture. Pavilion VIII draws from the Corinthian order, adapted from Diocletian's Baths as illustrated by Chambray in the 1766 edition of Parallele.

Construction on this structure took place between April 1821 and September 1824 for a total cost of $10,786.86. Many of the contractors and workmen involved were already familiar to Jefferson. The lumber and carpentry were the responsibility of James Dinsmore and the bricks were supplied by John M. Perry and Abiah B. Thorn. Because the stone native to Charlottesville was too hard to carve into Corinthian capitals, Bernard Peyton sourced marble from Carrara, Italy. Artisans such as Edward Lawber of Philadelphia and W.J. Coffee worked on the glazing and ornamentation, respectively.

Many professors have lived and taught from Pavilion VIII. There are conflicting reports as to Pavilion VIII's first resident. Some sources give the distinction to Charles Bonnycastle, a lecturer on National Philosophy, others to Professor of Mathematics Thomas Hewitt Key. Each professor received a salary of $1,500 and an additional $25 for each student. By the mid-1800s, however, the Pavilions were no longer used for classes. University President Colgate Darden moved his office to Pavilion VIII in 1948.

After President Frank Hereford moved his offices to Madison Hall, restoration work began on Pavilion VIII. It had undergone several modifications since its construction, including expansions and painting. In 1985, restorations workers used surgical scalpels to remove layers of paint in order to determine the original colors. Individuals trained in "graining," a process of finishing pine to resemble mahogany, were also employed. Ultimately, the restoration helped return Pavilion VIII to a close approximation of its original appearance.

Sources
National Park Service. "Written Historical and Descriptive Data Reduced Copies of Measured Drawings." Historic American Buildings Survey: University of Virginia Pavilion VIII, January 1988. Accessed April 5, 2017. https://cdn.loc.gov/master/pnp/habshaer/va/va1400/va1467/data/va1467data.pdf.

"The Lawn." Wikipedia, the Free Encyclopedia. Accessed March 23, 2017. http://en.wikipedia.org/wiki/The_Lawn.

"U.Va. Web Map: Pavilion VIII." The University of Virginia. Accessed April 5, 2017. http://www.Virginia.edu/webmap/popPages/pavilion8.html.

Pavilion VIII; image via local louisville - photograph by Dana Buntrock, Flickr: Pavilion VIII @ U Va., CC BY 2.0, https://commons.wikimedia.org/w/index.php?curid=12879450.

Additional Information