Akron Civic Theatre
Introduction
Built in 1929 by Marcus Loew and designed by famed theater architect, John Eberson, the Akron Civic Theatre is one of five remaining atmospheric theatres left in the country where visitors can experience a star-lit sky as well as clouds moving across the horizon while sitting in the auditorium.
Images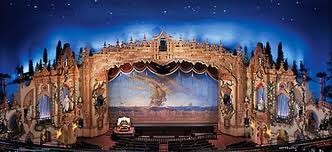 Backstory and Context
The theatre sits among other buildings downtown and aside from the marquee, the exterior looks like any other building. The inside though features Mediterranean d&eacute;cor and is fashioned after a Moorish castle. It also includes medieval carvings antiques from Europe and Italian alabaster sculptures. <br />
In June of 2001, the Civic Theatre closed to begin the most extensive and detailed restoration in the history of the theatre. It remained closed for the next sixteen months and around nineteen million dollars was spent restoring the seventy year old theatres infrastructure which was essentially failing. The reconstruction also brought the theatre up to modern performance and patron standards. The theatre finally reopened in November 2002 and remained a leader in the revitalization of downtown Akron which still continues today. <br />
The Akron Civic Theatre remains a main attraction in Akron and offers a variety of shows and performances. Comedians, musicians, theatre companies and ballets are among some of the various attractions that can be seen at the theatre throughout the year.
Since the theatre is located in downtown Akron it is also within walking distance of various other attractions in the city as well as nightlife and restaurants.
Additional Information