Pavilion VII
Introduction
Pavilion VII is the oldest building on the U.Va Lawn. Also called the Colonnade Club, this Pavilion houses a faculty club that features reception facilities and overnight guest rooms. As the first of ten, many architectural elements expressed by this structure carried over into the other Pavilions. James Monroe laid the cornerstone for Pavilion VII on October 6, 1817, during a ceremony attended by James Madison and Thomas Jefferson.
Images
Pavilion VII is also called the Colonnade Club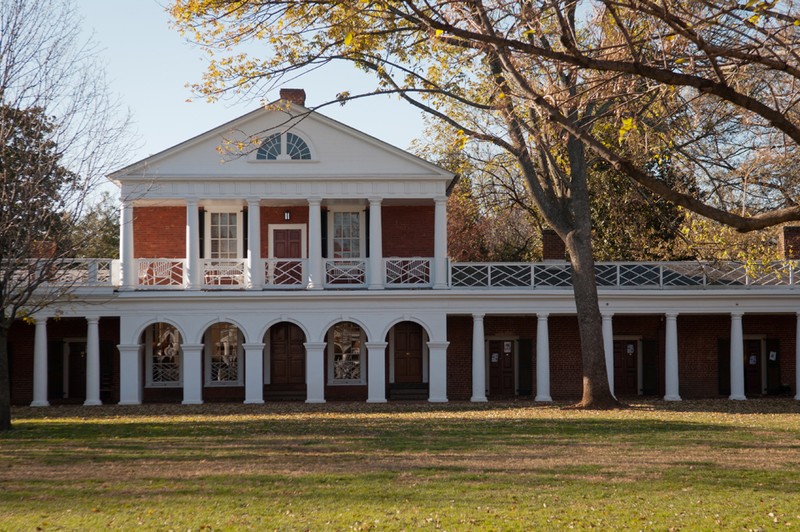 Backstory and Context
Ten Pavilions are situated along the east and west sides of the University of Virginia's Academical Village. Centered around the Lawn, the Academical Village was designed by Thomas Jefferson as a unique environment where students and faculty could live and study. Each pavilion represents an academic discipline as conceived by Jefferson, an order of ancient architecture, and was intended to be occupied by a professor of the "useful science" with which it was associated. No two are exactly alike.

Pavilion VII was the first of the ten to be constructed, with James Monroe laying the cornerstone in 1817. This brick structure features upper floor, one-story Doric portico tops and boasts an arcaded lower level. Other elements, such as the deep gallery, upper and lower center doors, triple-sash "walk-out" windows, and lattice railings were also used in the design of the later Pavilions.

The building has undergone several modifications since its initial construction. Once the smallest Pavilion, it became the largest after additions were added in 1855 and 1913. In between 1998 and 2001, it underwent significant restoration work. It has eight guest rooms, each with a private bath, and the public rooms may be rented for events. Pavilion VII now serves as a faculty club, called the Colonnade Club, which was founded in 1907 to "foster social, cultural, and intellectual interchange among its members and to promote the welfare of the University and its faculty."1

Pavilion VII's garden is the work of landscape architect Alden Hopkins, known for his work at Colonial Williamsburg and the Garden Club of Virginia. At U.Va, Hopkins restored the garden walls and designed a layout which incorporated both Jefferson's vision and his own.

Sources
1. "History & Mission." The Colonnade Club. Accessed April 4, 2017. http://www.colonnadeclubuva.com/history-mission/.

Sullivan, Mary Ann. "Images of The Lawn, University of Virginia, by Thomas Jefferson." Bluffton. Accessed April 4, 2017. https://www.bluffton.edu/homepages/facstaff/sullivanm/Virginia/charlottesville/uvalawn/lawn.html.

"Alden Hopkins." The Cultural Landscape Foundation. Accessed April 4, 2017. http://tclf.org/pioneer/alden-hopkins.

"The Lawn." Wikipedia, the Free Encyclopedia. Accessed March 23, 2017. http://en.wikipedia.org/wiki/The_Lawn.

"U.Va. Web Map: Pavilion VII." The University of Virginia. Accessed April 4, 2017. http://www.Virginia.edu/webmap/popPages/pavilion7.html.

Pavilion VI; image by Montesbradley - Own work, CC BY-SA 3.0, https://commons.wikimedia.org/w/index.php?curid=17273076.

Additional Information