Quinn Memorial African Methodist Episcopal (AME) Church, Steubenville
Introduction
Quinn Memorial African Methodist Episcopal dates back to the 1820s making this one of the first AME congregations west of the Allegheny Mountains. The members of the church assisted former slaves escape from the South, demonstrating the primary role of African Americans and Black churches in the Underground Railroad.
Images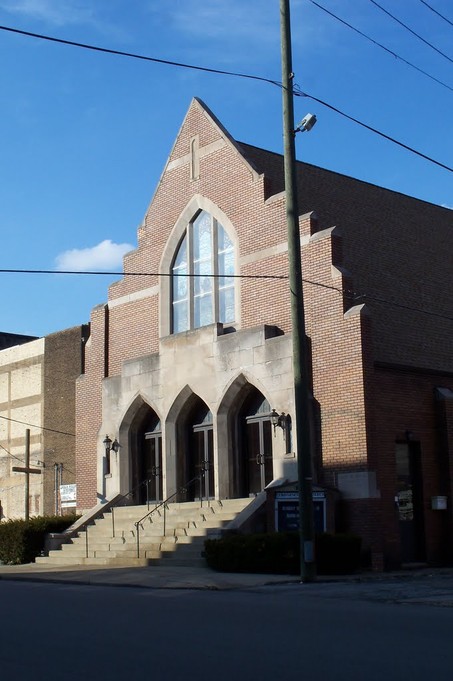 Backstory and Context
Quinn Memorial African American Methodist Episcopal Church was established in the 1820s by local residents and was likely named in Reverend William Paul Quinn, who worked to establish many congregations in the United States as a bishop of the African Methodist Episcopal church. The congregation held services in the home of Jacob Moore until 1824, when the small congregation acquired a small structure that was located on the north east of 5th and North street. At this time, Mr. Jacob Moore was the financial adviser for the church while they were at this property. In 1828 Mr. Moore passed away and the Quinn lost control of the property.
Two years later, the congregation acquired use of a two story, brick building on the corner of 3rd and South Street. Quinn Memorial soon became the center of activity for African Americans in the area, including religious, political, social, and educational meetings. The members also helped slaves as they traveled through Ohio.
In 1875, the building was no longer serviceable and plans were made for a new building. Disagreements about the effort to secure a new facility led a split in the church membership with half of the congregation forming Simpson United Methodist Church. One year later, the remaining members of the congregation purchased and remodeled a building on the corner of Fifth and Washington Street. The second floor of the building was not completed until 1893 and at this time the building was dedicated to The Late Bishop A. Payne. Under the leadership of Reverend R. E Hutchinson in 1929 the building was sold to the Ohio Power Company.
In 1930, a parsonage was purchased and maintained their final building at 515 North Street. In this church, there is a pipe organ that sits at the head. This was a gift from Steubenville natives and fellow church members Jennie B. Prentis and Mary K. Prentis. In 1989, the organ was completely rebuilt by the Humpe Organ Company of Richmond, Ohio. This organ is still played for every church service and/ or special event. Quinn has been through so many trying times but the church has always been a staple in the community.