Horton Grand Hotel
Introduction
Located near San Diego's historic Gaslamp District, the Horton Grand Hotel is actually a restoration of two hotels, the Grand Horton and the Brooklyn Kahle Saddlery. Still a working hotel, the Grand Horton was added to the National Register of Historic Places in 1980.
Images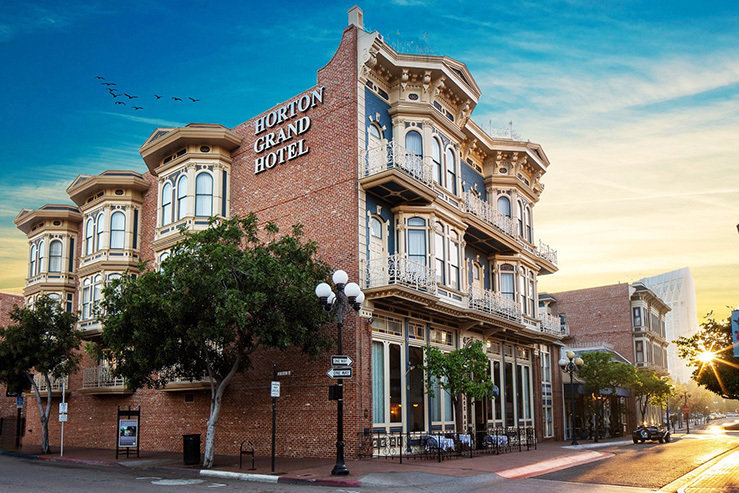 Backstory and Context
The Horton Grand Hotel was built in 1887 during San Diego's railroad-driven economic and real estate boom in the late 1800s. The hotel was built with obvious European influences, notably the Innsbruck Inn in Vienna, Austria. It is the oldest hotel in San Diego.

Both the hotel and the saddlery were located on F Street. But in the 1970s, when both buildings were scheduled for demolition, developer Dan Pearson saved the structures by having each one meticulously dismantled, cataloged and stored, and then rebuilt with painstaking precision in 1984 on Island Avenue.The new hotel reopened in 1986, on the hundredth anniversary of both of the original establishments.

Looking at the hotel today, there is a marked difference in their architecture. The original Grand Hotel, built by German immigrant Peter Mayerhofer, is an intricately detailed Italianate Victorian construction. The other structure, the former saddlery which once boasted Tom Mix and Roy Rogers as patrons, is a far less ornate building, combining a king of cowboy sensibility with a dose of Victorian Americana. In the building's lobby is a permanent relic of its time as a saddlery, a papier-maché horse called Sunshine. As if the building needs to further cement its cowboy past, it can claim to be the home of Wyatt Earp for six years in the 1880s and 1890s.

To add a final dash of character to the Horton Grand, the rebuilt structure was built on the site of a notorious house of ill repute, Ida Bailey's Canary Cottage, which was once one of the most well-known such establishment in the city's infamous Stingaree district.

The Horton Grand Hotel was added to the National Register of Historic Places in 1984.
Sources
Crawford, Richard W. San Diego Yesterday. pg. 10
Additional Information