Historical Marker: William de la Barre
Introduction
This marker tells the story of Austrian-born engineer William de la Barre (1849–1936), the man largely responsible for what St. Anthony Falls looks like today. He supervised the effort towards the end of the 19th century to build the Lower Dam and Lower Dam Hydro Plant to improve upon the hydroelectric output of the falls, increasing output by 10,000 horsepower. His achievements attracted the attention from other communities along the Mississippi River (and other states) and as a result he consulted on other dam and engineering projects. He worked for the remainder of his life, passing away at the age of 86 in Minneapolis.
Images
The marker is part of the St. Anthony Falls Heritage Trail series.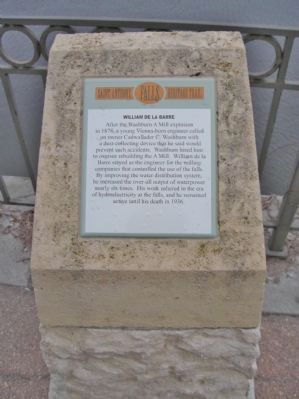 Backstory and Context
Barre studied at the Vienna Polytechnic Institute before his family immigrated to the Philadelphia in 1866. He continued his education at the
Polytechnic College in Philadelphia. He started to work as a gas engineer after graduation, eventually becoming an engineer at Brehmer Brothers Company. Tragedy struck Minneapolis when the Washburn A Mill exploded. Barre was sent to Minneapolis to discuss with the mill's owner about a new flour dust collection system the Brehmer Brothers Company invented. Barre installed three at the new mill. The owner was very impressed and bought more, and then offered a job to Barre, who accepted and moved his family to Minneapolis. In 1881 Barre became director of the newly created Minneapolis Mill Company and was in charge of all of the electricity produced at the falls. He made improvements (new canals, headraces, etc.) to west and east side of the river, and built the previously mentioned dam and power plant below the falls.
Sources
Huber, Molly. "De la Barre, William." MNopedia. June 6, 2011. (1849–1936). http://www.mnopedia.org/person/de-la-barre-william-1849-1936.

"William de la Barre." The Historical Marker Database. Accessed April 3, 2017. http://www.hmdb.org/marker.asp?marker=43664.

Photo: Keith L, via The Historical Marker Database.