The Magazine, Point Pleasant
Introduction
During the early period of colonial and American history, underground storage magazines such as this one were used to store gunpowder and other materials that needed to stay dry. Prior to abandoning this magazine, colonial soldiers removed gunpowder and other supplies and used the space as a place to bury soldiers who were killed in the Battle of Point Pleasant which occurred on October 11, 1774. Although the original storage structure is no longer at the site in Point Pleasant, similarly fortified storage units were created throughout West Virginia and Virginia. Colonel Charles Lewis is buried at this location alongside some of the soldiers he commanded.
Images
The Magazine; located near the Battle Monument at Tu-Endi-Wei.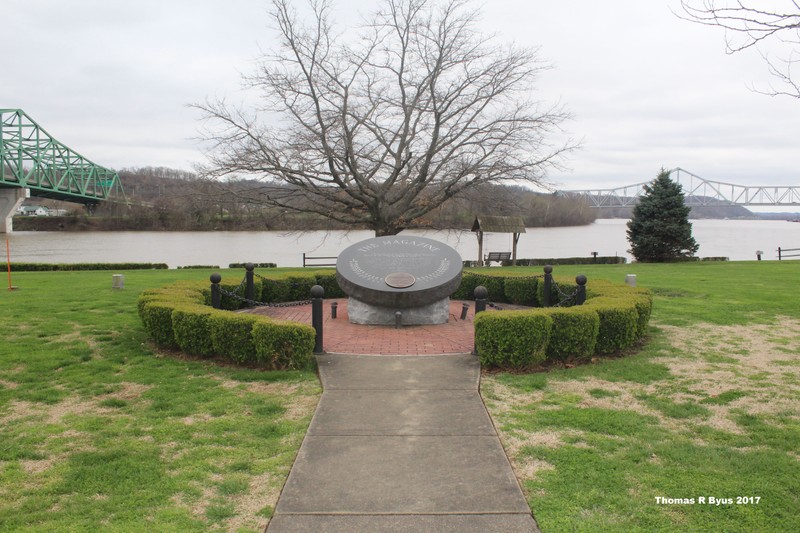 Image of the rear-side of The Magazine monument.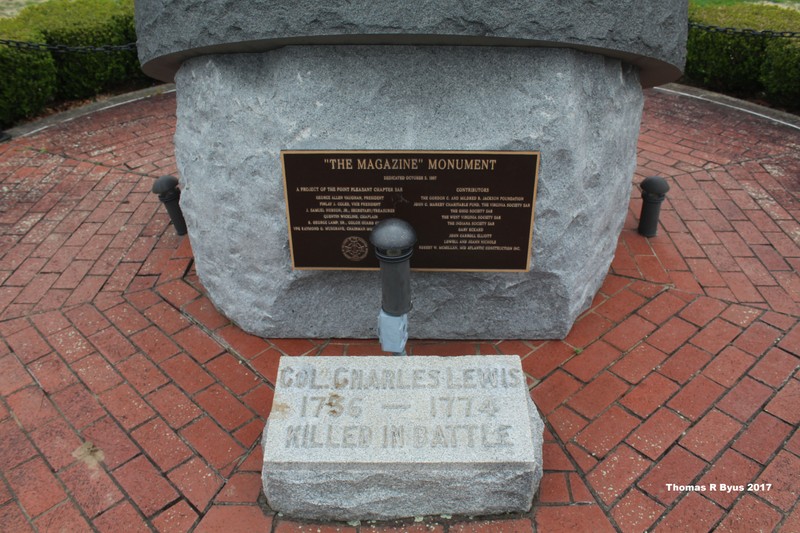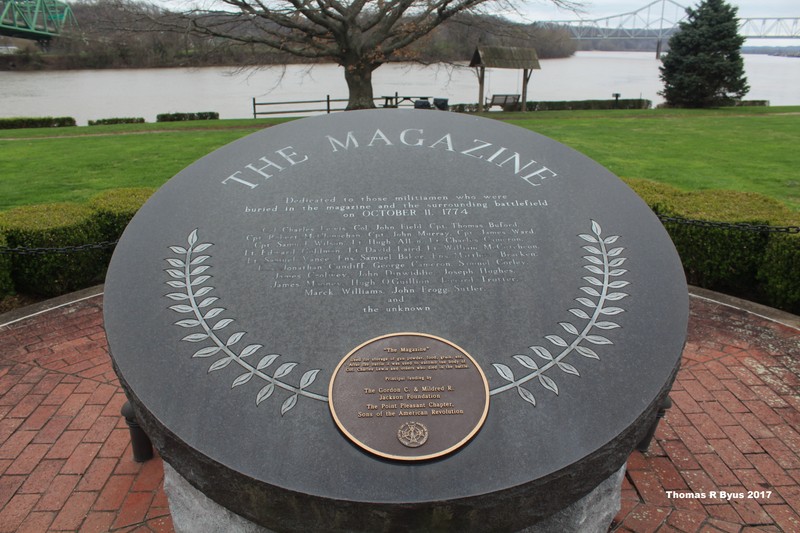 Image of The Magazine in Williamsburg, VA. The Magazine in Point Pleasant would have likely been a direct copy of this structure.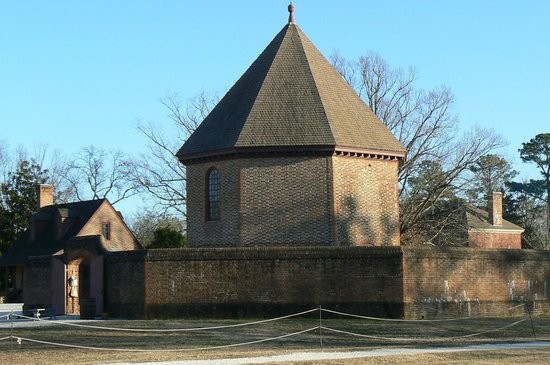 Backstory and Context
Although the original magazine of Point Pleasant, WV is no longer standing, one must look no further than other similar structures throughout West Virginia and Virginia in order to understand the importance of it during early American history. The Magazine would have been used to store items that needed to remain dry such as gunpowder, grain, and flour. Locations like The Magazine would have been points of confrontation between colonial Americans and their English leaders due to the value of the items stored within them.
A structure in Williamsburg, Virginia was built in 1715 as a result of various individual's powder kegs igniting from small sparks produced at random in their environment. After nearly sixty years of these incidents, Lt. Governor Spotswood mandated the construction of the Magazine. The structure reduced the rate at which children hurt/killed themselves/others with firearms as a result of their limited access to dangerous weapons. All-in-all the Magazine became an important staple to small settlements even after the Revolutionary War, often being repurposed as churches, community storage space, and even horse stables.
The Point Pleasant Magazine remains as a large monument dedicated to the resting place of Colonel Charles Lewis alongside twenty-seven named men as well as unknown soldiers buried around the area. Col. Charles Lewis is known for leading a militia of one hundred and fifty men into The Battle of Point Pleasant against Chief Cornstalk and his forces. Lewis was injured and died on October 10, 1774. Lewis' brother, Andrew Lewis, would later become a general in the Continental Army.
Sources
Opeto, Carl. "The Powder Magazine." Williamsburg - The Magazine. January 29, 2015. Accessed March 30, 2017. http://www.figuralminibottles.net/goedewaagen/Williamsburg/williamsburg_magazine.shtml.


"Colonial Williamsburg Magazine." Colonial Williamsburg Magazine. Accessed March 30, 2017. https://colonialghosts.com/colonial-williamsburg-magazine/.

"COL Charles Lewis (1736 - 1774) - Find A Grave Memorial." COL Charles Lewis . August 06, 2004. Accessed March 30, 2017. https://www.findagrave.com/cgi-bin/fg.cgi?page=gr&GRid=9277293.
Additional Information