Madison Park Healthcare (Foster Memorial Home)
Introduction
Foster Memorial Home for Aged Women was built in 1924 to serve as a home for elderly widows and single women. It served this purpose until the Foster Foundation opened Woodlands Retirement Community on August 19, 1996, to serve the needs of all of the elderly in the community. Today, the building operates as Madison Park Healthcare, a private 24-hour care facility for the elderly.
Images
Photo of Bradley Waters Foster, courtesy of Marshall University Special Collections Department.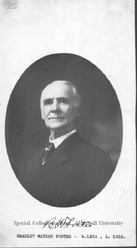 Photo of Bradley Waters Foster.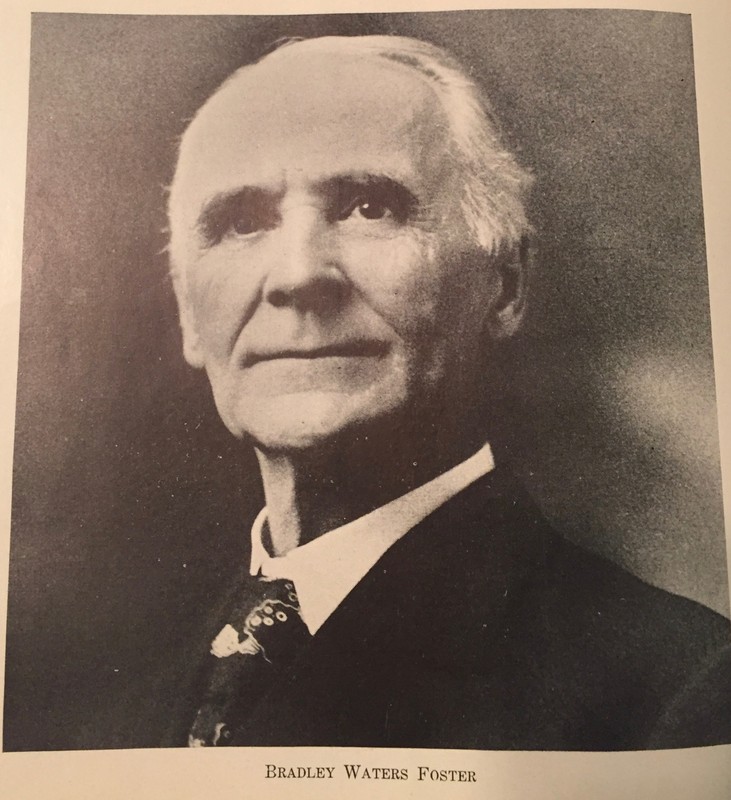 Old postcard depicting the Foster Memorial Home, courtesy of James E. Casto.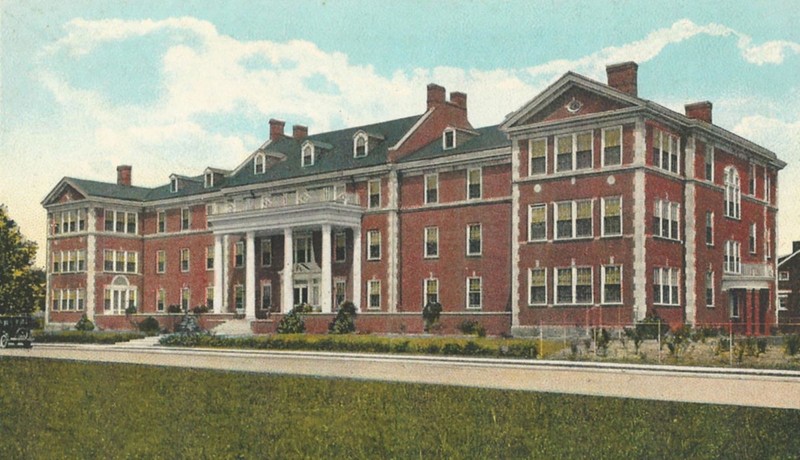 A blueprint showing heating and plumbing work for the Foster Memorial Building, from the Sidney Day collection in Marshall University Special Collections Department.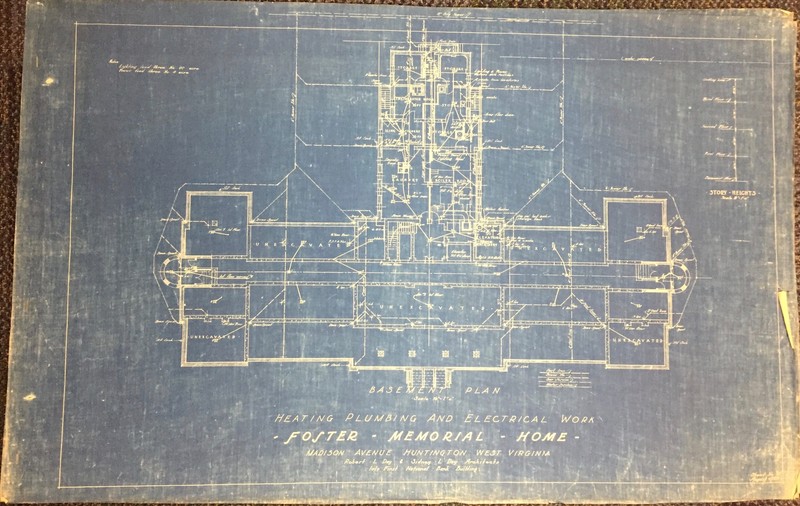 Backstory and Context
History of the Foster Memorial Home
Bradley Waters Foster was the son of Joseph and Sarah K. (Holman) Foster, born December 2, 1834, in Winslow, Maine. On June 2, 1864, in Oneonta, New York, he married Mary Lenora Huntington who was the niece of Collis P. Huntington. Sometime after their union, in 1871, they struck out for the newly formed village of Huntington, West Virginia, likely on the invite of Collis P. Huntington. The name 'Foster' quickly became synonymous with the town itself. B. W. Foster succeeded in his business pursuits - he was one of the organizers of the First National Bank (which became the First Huntington National Bank) and went on to become president of the Huntington Bank and Trust Company. He created the Foster Foundation, which was to be used for charitable causes. He participated in the City Council, and until he died, he was the president of the Huntington Land Company and the Foster-Thornburg Hardware Company, which he started when he came to the town in 1871. He utilized the hardware company as a training school of sorts for many men in the Huntington area who were interested in business pursuits, and many of them passed through the business before they went on to become prominent in their own ways. His moral character and integrity were regarded highly during his lifetime.
Mary Lenora preceded her husband in death on February 26, 1920. B.W. Foster himself became ill and took respite in Florida to escape the cold weather in Huntington. He hoped to return to Huntington after enduring an operation in Florida, but it was not to be. He ended up passing away in St. Petersburg, Florida, on March 22, 1922, at the age of eighty-seven. B.W. Foster and his wife left behind no heirs for their fortune. Upon his death, he bequeathed a sum of $800,000 to the Foster Foundation with the stipulation that the money would be used to build, maintain, and operate a home for aging widows and older, unmarried women.
The Foster Memorial Home
The Foster Memorial Home for Aged Women was built out of this venture, designed by well-known Huntingtonian architect Sidney L. Day. The home was built with $250,000, which was considered a fairly lavish sum in 1924. According to a pamphlet published around ten years after the home was built, the nursing home had a few conditions for residents they would accept. The women had to be over the age of sixty-five and either be widowed or unmarried. It stated that candidates must be of agreeable manners and a 'good disposition', of sound mind and 'fair average good health'. Even if a candidate was admitted to the Home, they were placed on 6 months probation and may either choose to leave the Home within this time or be removed as deemed fit by the Home itself, for whatever reason. If a mental condition arose within a resident that the Home no longer deemed her proper, then she was to be removed by her family and friends or 'sent to an asylum as is provided by law for such persons'. Dental and medical care were provided for the residents of the Home, and they maintained a small hospital for those needing medical care on site. Residents received an allowance of $1.50 per month for 'Pin Money'. All residents who passed away at the Home were interred in Spring Hill Cemetery in Huntington, West Virginia unless other arrangements were made by the resident's family. 
The Foster Memorial Home for Aged Women went on to care for multitudes of women over the years until the Foster Foundation began to reconsider the needs of all of the elderly in the community, not just specific women. In the 1980s, the Foster Foundation began to plan for a facility that could better care for the community, and the results came to fruition on August 19, 1996, when Woodlands Retirement Community opened with 111 apartments initially, eventually growing to 61 additional apartments and 23 cottages. Efforts by Mrs. Joan C. Edwards and the West Virginia Episcopal Diocese helped to increase their capacity to a further 88 units.
Madison Park Healthcare
When the Foster Foundation built the Woodlands Retirement Community, they put the former Foster Memorial Home building up for sale. The building was bought and renamed Madison Park Healthcare. The building is privately owned and continues to be operated as a senior living facility, vowing on their website to continue the 'tradition and standard of care' that was started by the Foster Memorial Foundation back in 1924.
Sources
Robert and Sidney Day Collection, Accession 2014/12.0823. Marshall University Special Collections Department.
Wallace, George Selden. Huntington Through Seventy-Five Years. Huntington, WV. 1947.
Casto, James E.. Lost Huntington: Foster Memorial Home. The Herald-Dispatch. September 26, 2016. Accessed April 02, 2017. http://www.herald-dispatch.com/special/lost_huntington/lost-huntington-foster-memorial-home/article_....
About Woodlands. Woodlands Retirement Community. Accessed April 02, 2017. http://www.woodlandswv.com/about-us.
Additional Information