David Crockett State Park
Introduction
David Crockett State Park features a thousand acres of campgrounds and walking trails as well as a small museum that includes interpretive exhibits related to the life of David Crockett. While living in Lawrence County Tennessee, Crockett established a powder mill, grist mill, and distillery. Crockett lost these structures during a flood in 1821, but the state park includes a replica that shows what Crockett's water-powered grist mill would have appeared. In addition to the museum and re-created grist-mill, visitors to can enjoy the on-site restaurant as well as the scenic views, trails, campgrounds as they experience one aspect of David Crockett's life.
Images
Entrance sign to David Crockett State Park.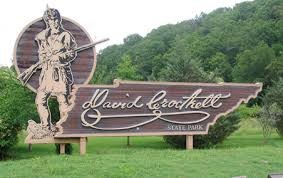 Beautiful water scenery of Shoal Creek inside David Crockett State Park.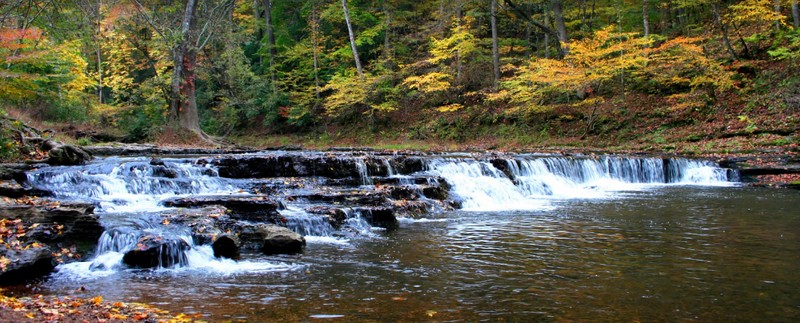 A map showing the layout of David Crockett State Park.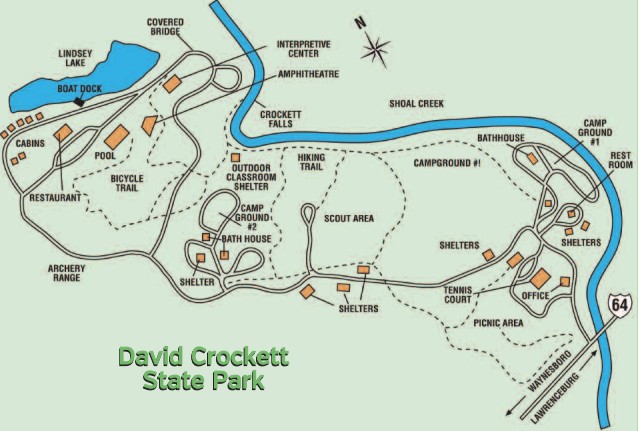 Backstory and Context
David Crockett was known as being a pioneer, soldier, and politician in his days. He was born and raised in a small town of Limestone, Tennessee in 1786. He was the 5th out of 9 children and at the age of 13 ran away from home. The reason for David leaving home was because he got into a scuffle with a bully at school and didn't want to confront his father over the incident. In 1813, David Crockett signed up to be a militia and fight in the Creek War during 1813 -1814. The Creek conflict allowed him to capitalize on the fame and make a name for himself.

In 1817, Crockett moved to Lawrence County Tennessee where he began his political career as a state representative and continued being a part of the militia. While he lived in Lawrence County Tennessee, he established a powder mill, a grist mill, and distillery along the banks of Shoal Creek. Unfortunately theses were all washed away during a flood in 1821. This disaster caused financial struggles and caused David Crockett to move to West Tennessee where he later was elected to Congress. He still continued to fight alongside militiamen against Indian and British forces when it came to the conflicts of the new American territory and settlers trying to gain their rights to the land. Many individuals may remember David Crockett by his famous nickname "King of the Wild Frontier."
David Crockett later became a State Representatives in Tennessee from 1821-1823. However, when Crockett ran in the 1835 Congressional election and lost, he became discouraged with politics and decided to join arms with Texans for Independence from Mexico. He later died in March 1836 while defending the Alamo in San Antonio, Texas during the Texan Revolution. Many historians and individuals believe David Crockett was one of the last men standing during the Battle of the Alamo.
Sources
Accessed April 01, 2017. http://tnstateparks.com/parks/about/david-crockett.

David Crockett Biography. Accessed April 01, 2017. http://www.biography.com/people/davy-crockett-9261693.

Allison, William T. Grey, Jeffrey. Valentine, Janet G. American Military History: A Survey from Colonial Times to the Present. 2013.

Davy Crockett. Accessed April 01, 0017. http://www.history.com/topics/davy-crockett
.


Additional Information