101st Ohio Infantry Regiment Monument
Introduction
This monument is a memorial to the 101st Ohio Infantry Regiment men who were killed and wounded during the Battle of Chickamauga in 1864. 13 soldiers were killed in the battle, 83 wounded, and 51 missing or captured. Two men were recognized with Medals of Honor. The 101st Ohio Infantry Regiment Monument is located by the intersection of Viniard Road and Lafayette Road in the Chickamauga National Battlefield Park, Georgia. It was constructed in 1894 and was designed by C.H. Niehaus.
Images
Inscription on the 101st Ohio Infantry Regiment Monument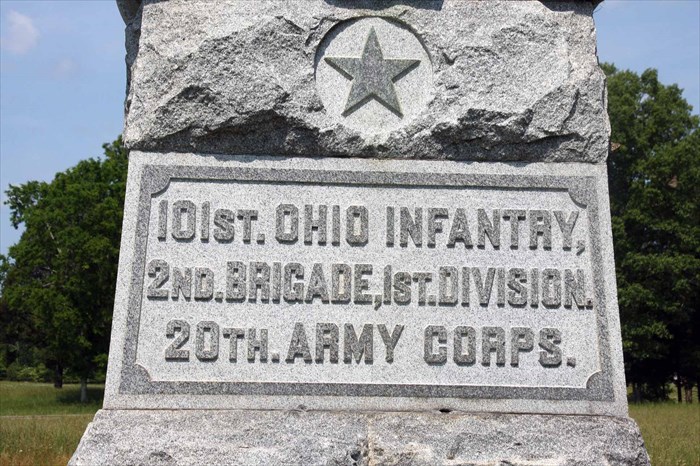 101st Ohio Infantry Regiment Monument in Georgia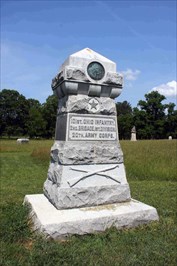 101st Ohio Infantry Regiment Monument in Georgia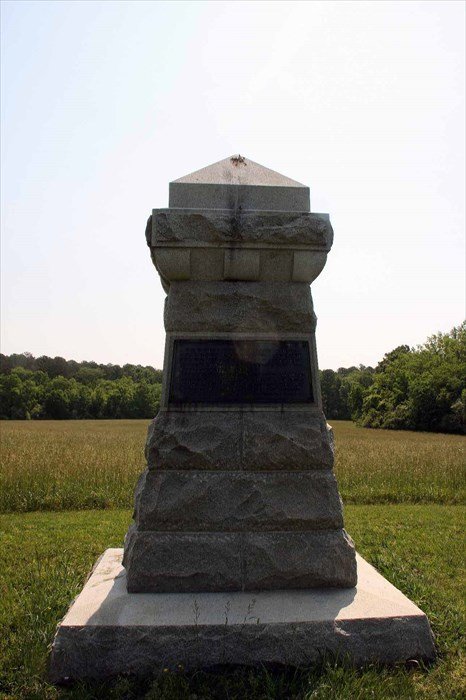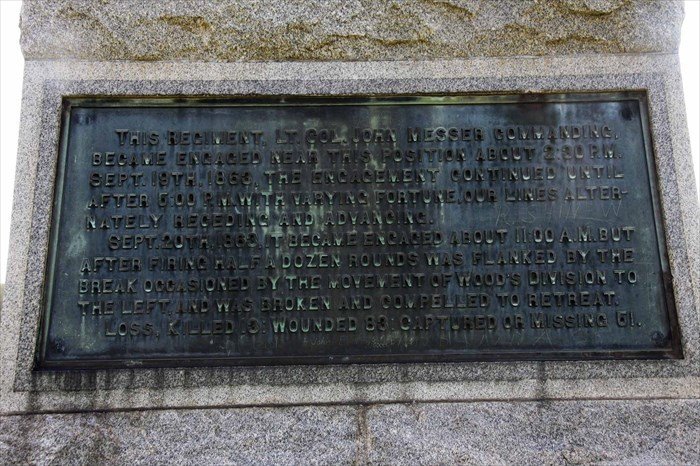 Backstory and Context
During the Civil War, Ohio provided the federal government with around 330,000 men, including 5,092 African Americans, divided into 260 regiments. Infantry regiments typically served anywhere from 100 days to three years. On August 30, 1862, the 101st Regiment Ohio Volunteer Infantry was formed at Camp Monroeville, Ohio for a three-year tour against the rebellion that was the Confederate army. Colonels Leander Stem, Isaac Minor Kirby, Lieutenant Colonels John Messer, Moses F. Wooster, Bedan B. McDonald, and Captain Leonard D. Smith led this volunteer regiment throughout its time. The regiment, composed of men from Crawford, Erie, Huron, Seneca, and Wyandot counties, engaged in a series of battles ending in 1864, but it is the Battle of Chickamauga for which the memorial was erected.
On September 24, 1862, the 101st Regiment joined the Army of the Ohio in Louisville, Kentucky, leaving from Covington, KY where they were to originally defend Cincinnati from an attack by Confederate General Kirby Smith, which never occurred. After leaving Louisville October 1 in search of General Braxton Bragg's Confederate army, the regiment fought its first battle on October 8 in the Battle of Perryville, KY, where they were successful. The Army of the Ohio and 101st Regiment soon pursued a retreating Confederate army, with the 101st fighting against Bragg's rearguard in Lancaster, before joining the Army of Cumberland in Nashville, Tennessee. On December 26, they headed toward Murfreesboro, fighting Confederates all the way to Stones River when they arrived on December 30.
On December 31 at the Battle of Stones River, the 101st Regiment repeatedly retreated, but on the third day, were ordered to the left side of the Union line. However, this resulted in 219 men, including seven officers, killed or wounded. It was their first large loss. After various expeditions near Murfreesboro from January to April 1863, then engaging in drill practice from April to June, they fought in the Battle of Liberty Gap during the Tullahoma Campaign June 24. In August of 1863, the 101st arrived in Winchester, Tennessee for the Chattanooga Campaign, where they finally engaged in the Battle of Chickamauga, Georgia from September 19 to 20, 1863 under Lieutenant Colonel John Messer's command. After a chaotic battle, they retreated with the Union army back to Chattanooga. 13 soldiers had been killed, 83 were wounded, and 51 were captured or missing.
Afterward, the 101st Regiment continued to fight. On October 28, they left for Bridgeport, Alabama for garrison duty, then moved to Oldtawah, Tennessee January 16, 1864. On May 3, 1864 they followed General William T. Sherman on his Atlanta Campaign. During this time, the 101st fought in most major engagements in the campaign, including Battles of Catoosa Springs, Rocky Face Ridge, Resaca, Dallas, Atlanta, Jonesborough, and Lovejoy's Station. After Atlanta, Georgia was captured in September of 1864, the 101st was dispatched to assist Union forces in intercepting Confederate John Bell Hood's army. After, they fought in the Battles of Franklin on November 30 and Nashville December 15 to 16.
The 101st Ohio Infantry Regiment Monument is located off Lafayette Road in Chickamauga National Battlefield in Georgia. It is dedicated to the men who lost their lives in battle. Two of these men received a Medal of Honor. Private Jacob Yeager was recognized for his bravery in saving his fellow soldiers by throwing a bomb into a river, rather than taking shelter. Private George S. Myers was recognized for saving the regimental colors by personal devotion and bravery.
Sources
"Battle Unit Details." National Parks Service. August 17, 2016. Accessed March 01, 2019. https://www.nps.gov/civilwar/search-battle-units-detail.htm?battleUnitCode=UOH0101RI.
Gasbarro, Norman. The Yeager Family in the Civil War (Part 14) - Pvt. Jacob F. Yeager, Medal of Honor, Civil War Blog. July 24th 2015. Accessed September 3rd 2020. https://civilwar.gratzpa.org/2015/07/the-yeager-family-in-the-civil-war-part-14-pvt-jacob-f-yeager-medal-of-honor/.
Mangus, Mike. 101st Regiment Ohio Volunteer Infantry (1862 - 1865). Ohio Civil War Central. July 08, 2011. http://ohiocivilwarcentral.com/entry.php?rec=671.
Robertson, William Glenn. Staff Ride Handbook for the Battle of Chickamauga 18-20 September 1863, Semantic Scholar. Accessed September 3rd 2020. https://pdfs.semanticscholar.org/77a1/7acd399912e1176dc04c2f14fc89c5507332.pdf.
101st Ohio Infantry Regiment Monument- Chickamauga National Battlefield. Waymarking.com. July 15, 2011. https://www.waymarking.com/waymarks/WMC1WC_101st_Ohio_Infantry_Regiment_Monument_Chickamauga_National_Battlefield
101st Ohio Infantry Regiment Monument, Civil War Battlefield Monuments. Accessed September 3rd 2020. http://cwbfm.org/Monument/MonumentDetails/6337.
Image Sources
waymarking.com

waymarking.com

waymarking.com

waymarking.com

Additional Information