Kentucky River Museum
Introduction
Established in 2002, The Kentucky River Museum preserves the history of Kentucky's early river navigation system. Between 1836 and 1917, 14 locks and dams were built along the Kentucky River which was one of the most complicated engineering projects to have been attempted in the United States at the time. This project was carried out by the U.S. Army Corps of Engineers. The museum also includes the John Walter House, the home of a former lock operator.
Images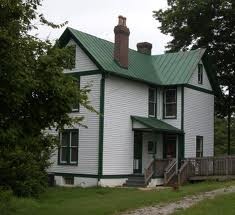 Lock #10 at Ft. Boonesborough.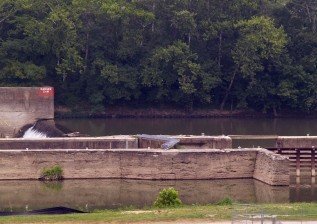 Corps of Engineers photo of lock.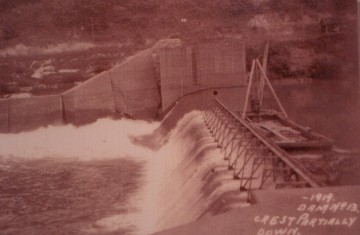 Backstory and Context
The Commonwealth of Kentucky began construction on what would eventually be a system of fourteen locks and dams along the Kentucky River in 1836. The commonwealth oversaw the construction of the first five then the project was taken over by the United States Army Corps of Engineers in 1880. By the project's completion in 1917, the slack-water navigation system had become nearly obsolete. This is due to rail travel nearly replacing the mode of river travel. Despite this, the river system continued operation into the 20th century. The Corps of Engineers began to pass ownership of the system over to the commonwealth in 1986 and, in 1996, restorations of the individual buildings began.
There is also a house on site that belonged to a lock operator known as John Walter. Walter came to work as a laborer in Kentucky in 1906. He became a successful lock master and this would be a job that ran in the family when his son, John Jr., took up this occupation as well. The Walter Family resided near the river from 1906 until John Jr. finally retired in 1975. John Walter's house is now apart of the museum grounds.
The Kentucky River Museum, opened in 2002, seeks to preserve the history of Kentucky's early river navigation. The museum includes restored lock buildings and displays about the river and dam system. The John Walter House has also been restored after a complete renovation. It has displays and history inside that show life on the river during the 19th century. Two generations of the Walter Family lived here which gave them the nickname of "The Dam Family."
Sources
"The River Museum," Fort Boonesborough Living History. Accessed November 12th 2020. http://www.fortboonesboroughlivinghistory.org/html/river_museum.html.
"The Walters-Growing up in a Lockmaster's Family," Finance Kentucky. Accessed June 10th 2021. https://finance.ky.gov/Office%20of%20the%20Controller/ControllerDocuments/5_The_Walters_Lockmaster_Family.pdf
Additional Information