Marquis de Lafayette Statue
Introduction
This statue was created to honor Marquis de Lafayette, an important ally in the American Revolution. It was installed in 1891 in Lafayette Square, named for the major general in 1824. In 1951, French president Vincent Auriol visited Lafayette's statue and placed a wreath at the foot of the statue.
Images
An up close look at the statue of the war hero.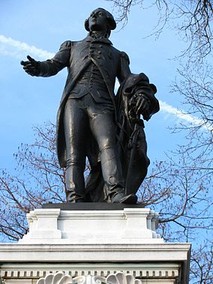 The full statue of the Frenchman that came to assist in the Revolution. The personified symbol of America sits at his feet.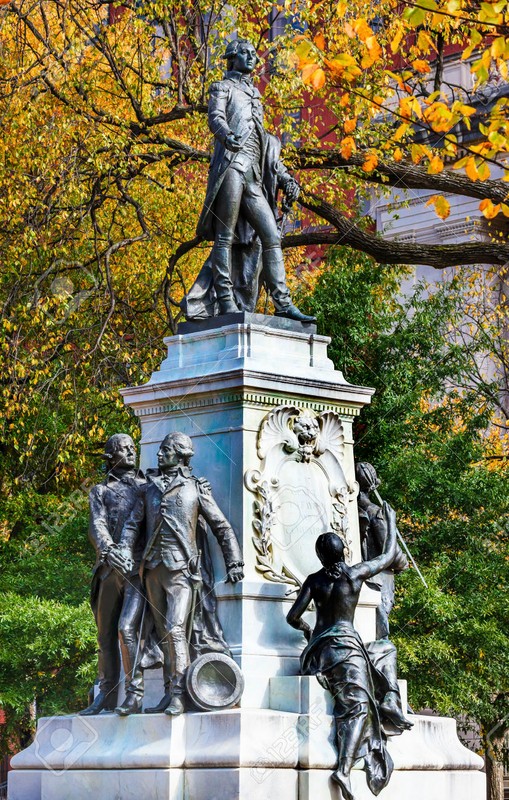 Lafayette's Oath of Allegiance to the United States, June 9, 1778. National Archives.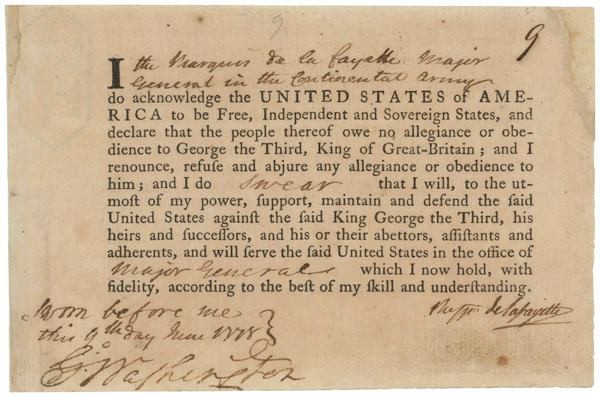 Comte de Rochambeau and the Chevalier du Portal, French army commanders who aided Lafayette in the American Revolution.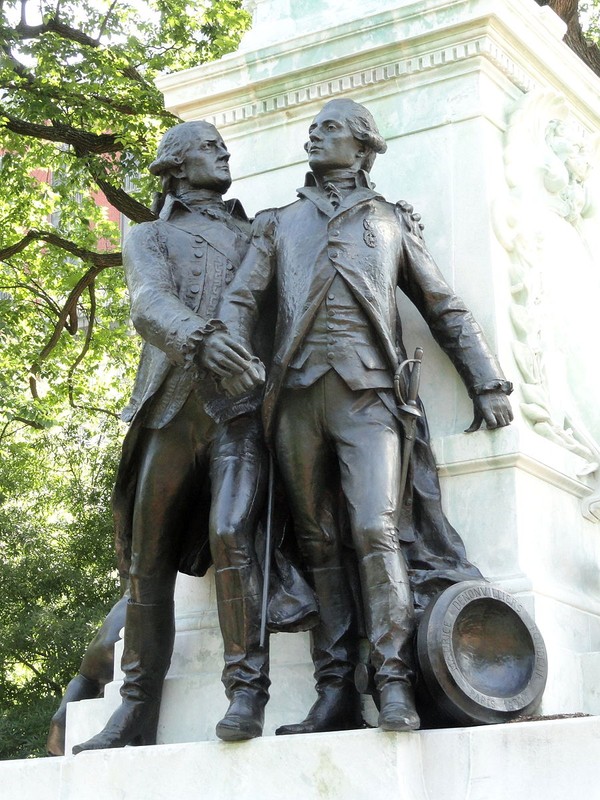 Comte d'Estaing and Comte de Grasse, French naval commanders who aided Lafayette in the American Revolution.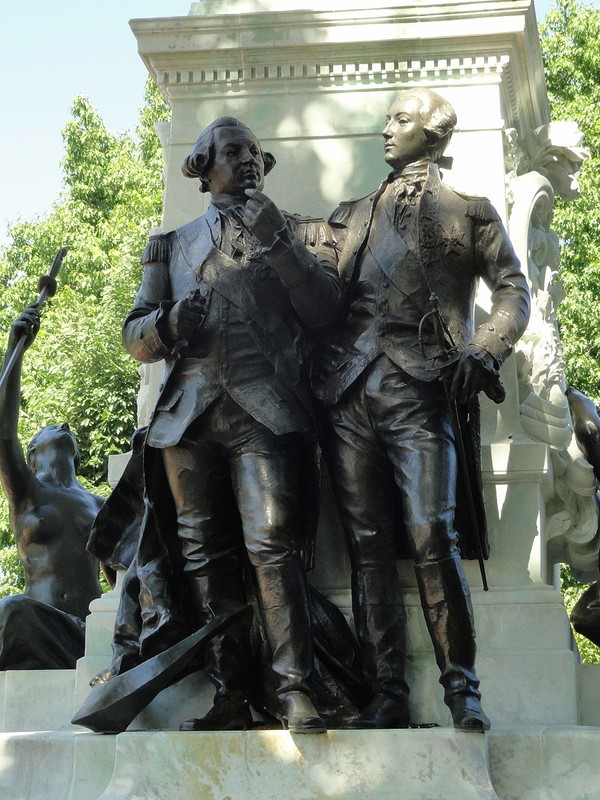 Two cherubs underneath a thank you inscription from Congress.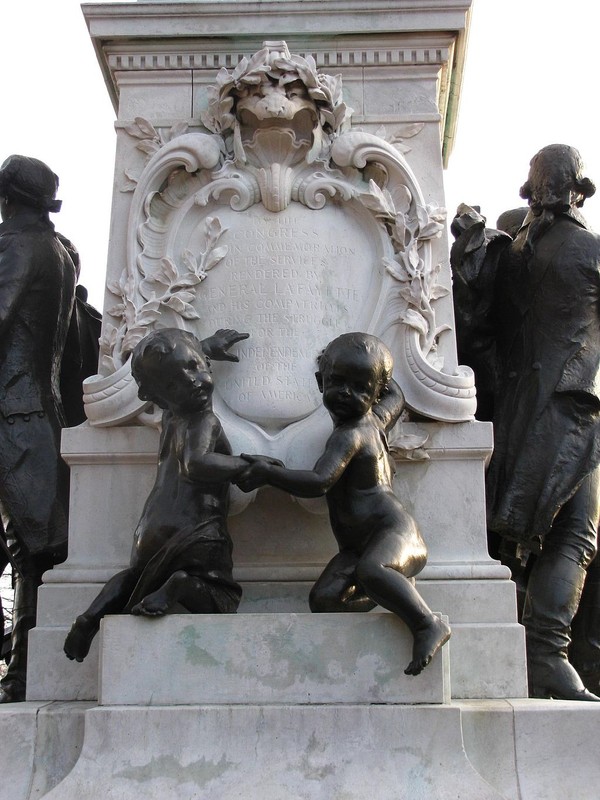 Backstory and Context
Marquis de Lafayette was born on September 6, 1757, in the town of Chavaniac, France. He lived until May 20, 1834, when he passed away in Paris. This French aristocrat came to America and fought alongside the colonial rebels during the American Revolution. Lafayette was a strong supporter of constitutional monarchy in France and was a leader in the French Revolution.
Born into a wealthy family but orphaned as a teen, Lafayette was raised by servants and lived among the members at the court of King Louis XVI. When Lafayette arrived in Philadelphia in 1777, he had no combat experience. Owing to his noble birth, he was appointed as a major general which gave him access to influential colonial leaders including George Washington.
Washington was impressed with Lafayette and following his success at the Battle of Brandywine in September of 1777, the French aristocrat was appointed to lead a division. In 1779, Lafayette returned to France as a diplomat where he worked with Benjamin Franklin and John Adams and convinced the leaders of France to increase their aid the colonies. When he returned to the Americas, he announced that France was sending ships and 6,000 troops to help the colonists. Lafayette was hailed by the Americans as a hero for his efforts during the war and named an honorary citizen in 1784 when he returned to the United States for a visit.
Lafayette returned to the United States in 1824 and was greeted by thousands. The seven-acre public park north of the White House was renamed Lafayette Square in honor of his visit. During this visit, Lafayette paid his respects to his former friend George Washington by visiting his grave. He also visited Monticello to see Thomas Jefferson. Lafayette became the first foreigner to address the House of Representatives. Several American cities have been named in honor of Lafayette. At the time of his death, Lafayette asked that soil from Bunker Hill be shipped to France so that he could be buried in both French and American soil.
Lafayette Square was conceived as part of architect Pierre L'Enfant's original design for Washington, D.C. a racetrack, a cemetery, a zoo, a slave market, an encampment for soldiers during the War of 1812, and the site of celebrations and political protests. After the area was redesigned in 1851 in its picturesque style, a statue of President Andrew Jackson on horseback that preceded Lafayette's statue. In April 1891, a 10-foot sculpture of Lafayette, standing atop a 15-foot base, was placed in the square bearing his name. The artist, Jean Alexandre Joseph Falguiere of France, depicted Lafayette as advocating for American independence to the French National Assembly. He wears a long coat, vest, boots, and a wig, rather than a military uniform. Surrounding him are important figures that are either historic or figurative. On the west side is Comte de Rochambeau and the Chevalier du Portal, French army commanders, with a symbolic cannon at their feet. On the east side is Comte d'Estaing and Comte de Grasse, French naval commanders, with a symbolic anchor at their feet. In front of Lafayette sits America, personified as woman offering the major general a sword. On the back of the base, two cherubs kneel below a sign thanking Lafayette for his service:
BY THE CONGRESS
IN COMMEMORATION
OF THE SERVICES
RENDERED BY
GENERAL LAFAYETTE
AND HIS COMPATRIOTS
DURING THE STRUGGLE
FOR THE
INDEPENDENCE
OF THE UNITED STATES
OF AMERICA
City leaders decided that Lafayette's statue should be joined by statues of other Europeans who fought on behalf of American independence. He is joined by the likes of Comte Jean de Rochambeau
of France,
Brigadier General Thaddeus Kosciuszko
of
Poland
, and
Major General Friedrich Wilhelm von Steuben
of
Prussia
.
Sources
National Park Service. "Lafayette Square Historic District." National Register of Historic Places Inventory-Nominatin Form. Washington, D.C.: National Park Service, 1968. https://npgallery.nps.gov/pdfhost/docs/NHLS/Text/70000833.pdf

Phifer, Evan and Joel Treese. "Monuments to the American Revolution in Lafayette Park." White House Historical Association. Accessed, April 1, 2017. https://www.whitehousehistory.org/monuments-to-the-american-revolution-in-lafayette-park.

"Lafayette Square Park - D.C." The Cultural Landscape Foundation. Accessed September 2017. https://tclf.org/landscapes/lafayette-square-park-dc

Leepson, Marc. Marie-Joseph-Paul-Yves-Roch-Gilbert du Motier, Marquis de Lafayette. britannica.com. May 18, 2015. Accessed April 1, 2017. https://www.britannica.com/biography/Marie-Joseph-Paul-Yves-Roch-Gilbert-du-Motier-marquis-de-Lafaye....

"Major General Marquis Gilbert de Lafayette (sculpture)." Art Inventories Catalog. Smithsonian American Art Museum. Smithsonian Institution Research Information System. Accessed September 2017. https://siris-artinventories.si.edu/ipac20/ipac.jsp?&menu=search&aspect=Keyword&term=IAS+DC000217&in...

Marquis de Lafayette's Oath of Allegiance, June 9, 1778. Record Group 93: War Department Collection of Revolutionary War Records, 1709 - 1939, National Archives and Records Administration, Washington, D.C. Accessed September 2017. https://catalog.archives.gov/id/4662573

Additional Information