Goodale Theatre
Introduction
One of the venues of the Cowles Center for Dance and the Performing Arts, the Goodale Theatre is an excellent example of historic theater design. The well-preserved building was constructed by the New York-based Shubert Theatrical Company, which built 60 theaters around the country between 1900-1920. Architect Will A. Swasey designed it in the Classical Revival style. He also designed it to be very fireproof and as such included wide stairways and many fire exits. The theatre became the home of the leading resident professional performing company in the city called the Bainbridge Players. Touring Broadway shows also performed here. The Goodale was moved to this location in 1996 to be part of the Cowles Center and was renovated at that time. It was added to the National Register of Historic Places in 1995, a designation that helped save it from demolition.
Images
The Goodale Theatre, part of the Cowles Center for Dance and the Performing Arts, was built in 1910.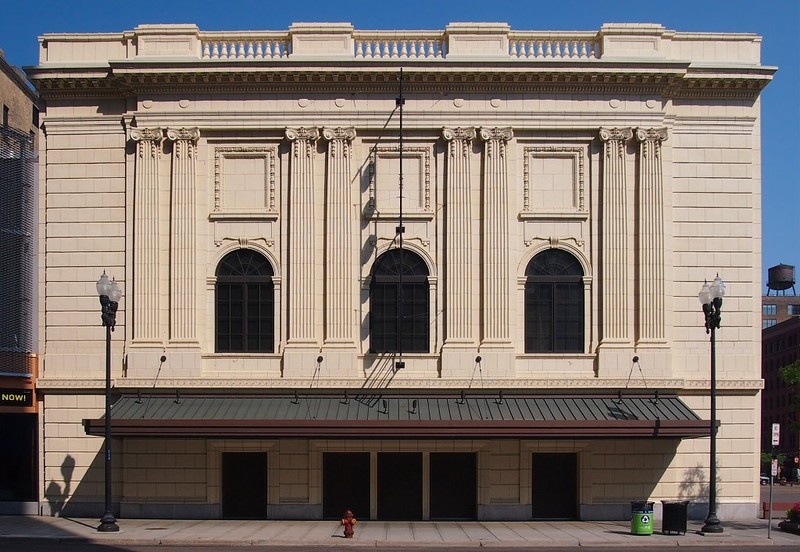 Backstory and Context
Vaudeville acts and burlesque shows, which were popular during the early 20th century, did not perform at the Shubert Theatre during the first part of its history. It was sold to William Steffes in 1935 who renamed it "Alvin", his middle name. Though he showed movies at the theater, business declined and he closed in December 1940 and reopened it not long after as a burlesque venue. This operated until 1953 when it became a church called the Minneapolis Evangelistic Auditorium. This church lasted just three years and it became solely a movie theater showing wide screen films. By the 1980s the area became neglected and the city wanted to tear down everything including the theater. Local residents called for its preservation and a long debate ensued about what to do. Fortunately, the theater was ultimately preserved. It was named the Goodale in 2010 after Katherine and Robert Goodale, who helped pay for its restoration.
Sources
"History of the Shubert Theatre." The Cowles Center for Dance and the Performing Arts. Accessed April 1, 2017. http://www.thecowlescenter.org/about-cowles/history-mission/history-shubert-theatre-goodale-theater.

Susan Granger & Kay Grossman. "Sam S. Shubert Theatre." National Park Service - National Register of Historic Places Nomination Form. October 31, 1995. https://npgallery.nps.gov/GetAsset/9b8fccff-256a-4b85-9b32-0f022c95bb97.

Photo: McGhiever, via Wikimedia Commons


Additional Information