Solomon G. Brown Historical Marker
Introduction
This historical marker commemorates the life of Solomon G. Brown (1829-1906) and was erected by the Smithsonian Institute. Brown was the first African American employee of the Smithsonian and is often described as a Renaissance man for his diverse skill set that included graphic design, assisting with scientific lectures, and writing poetry. Brown also served three terms in Washington D.C.'s House of Delegates. Brown also occupied a number of committee positions and worked on behalf of improving the conditions of his fellow African Americans.
Images
The Historical Marker for Solomon G. Brown. Inscription: Wisdom from these minds would flow Increasing knowledge more and more; Now younger men can easily learn Just how these great men were concerned In diffusing useful knowledge. . .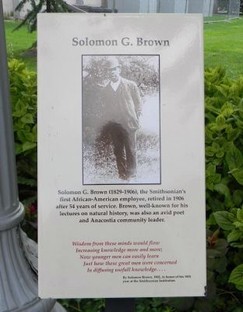 Backstory and Context
Born free in Washington DC in 1829, Solomon was one of six children born to Isaac and Rachel Brown. After his father's death in 1833, and the seizure of his property in 1834, Solomon and his family were homeless. Brown was fortunate enough to come under the influence of Lambert Tree, the assistance postmaster who secured Brown a position in the post office in 1844. Through this position, Brown was able to meet Joseph Henry, the first Secretary of the Smithsonian. Henry was impressed with Brown and hired him at the Smithsonian where he would serve several different roles. Hired first as a laborer, Brown was later hired as an assistant and graphic designer. In this role, Brown prepared important graphs for many scientific lectures.
Outside of the Smithsonian, Brown took on several civic-minded projects, For example, he was a member of a group of citizens who worked with the Freedman's Bureau to purchase Barry's Farm. This tract of three hundred and seventy-five acres soon became a pathway to economic independence as it was divided into homesteads for several Black families. Brown personally invested in this land and built a comfortable home on his section of land.
Around twenty years into his career at the Smithsonian Institute, Brown decided to run for Washington D.C.'s House of Delegates as a Republican during a time when the Republican party was a coalition of African Americans and liberal whites. Brown served three single year terms from 1871 to 1874. Brown also served on a national Black leadership committee that arranged for the revealing ceremony of the Emancipation Memorial Monument by Thomas Ball.
During his 54 years at the Smithsonian, Brown served the institute's first three secretaries. He retired at the age of 77 in 1906 and died later that year.
Sources
Hutchingson, Louise Daniel. Lowe, Gail Sylvia. King Regards of S.G. Brown. Washington DC. Smithsonian Institution Press, 1983.

Location information from the Historical Marker Database

Additional Information