"Civil War Army Base" - Kentucky Historical Marker
Introduction
This historical marker commemorates a Union Civil War Army encampment that protected vessels traveling along the Ohio River from potential attack by Confederate troops or bushwhackers. This post also served as a supply base and communication center for Union forces. This marker was placed by the Kentucky Historical Society and Kentucky Department of Highways in 1964.
Images
Close up of the marker, which was dedicated in 1964.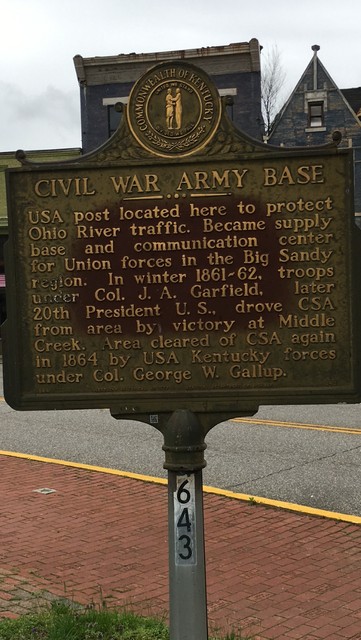 The marker is located next to a white gazebo, pictured here.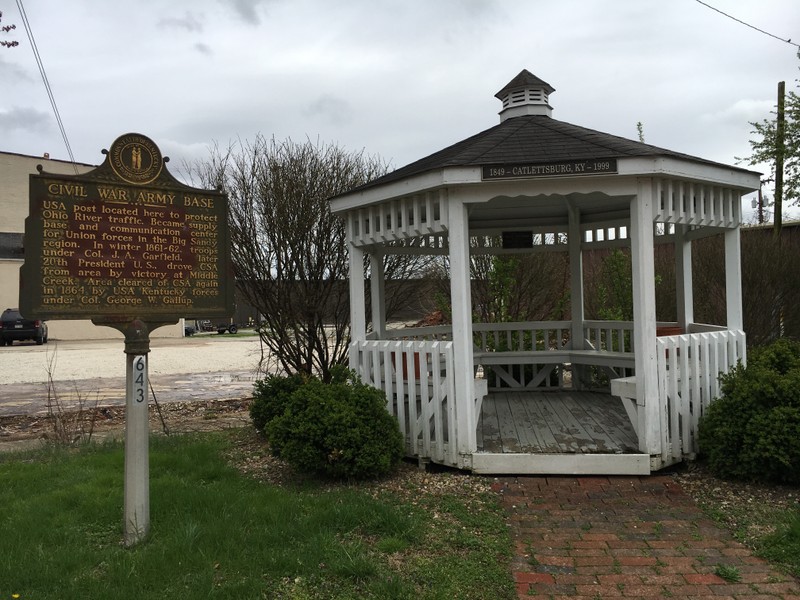 Backstory and Context
Union forces maintained a small garrison in Catlettsburg that protected supply lines and served as a supply base and communication center during the Civil War. At the time, control of the Ohio River was essential for trade. Confederate troops maintained control over nearby Prestonsburg for part of the war.
Although this location saw little action, the most significant battle in Eastern Kentucky occurred about an hour's drive from this location at the Battle of Middle Creek. The battle is significant for a variety of reasons, including the role of future President James A. Garfield as the Commander of the Union forces.

After Brigadier General Humphrey Marshall and the Confederates arrived in the Big Sandy Valley in December 1861 and set up camp, it did not take long for word to reach Union headquarters. In response, Brig. Gen. Don Carlos Buell put Colonel James A. Garfield in charge of the 18th Brigade, which consisted of 1,500 men, and instructed him to drive the Confederates back into Virginia. The battle occurred in the Middle Creek Valley on January 10, 1862, and ended with the Confederates retreating, surrendering an advantage they had gained in Eastern Kentucky.2,3 This was a significant victory for the Union as it prevented the Confederates from advancing and gaining ground in the region.

The Catlettsburg area was cleared of Confederate forces again two years later thanks to Colonel George W. Gallup and Union soldiers from Kentucky. The Battle of Salyersville (also called the Battle of Ivy Point) took place on April 13-14, 1864. Confederate Colonel Ezekiel F. Clay and his men were on a raid to Kentucky, opposed by Gallup when they attacked Union forces at Paintsville. Colonel Gallup and his men were successful in holding their position and the battle resulted in heavy casualties and another loss for the Confederates, who were driven out of the area again.

Sources
1. Kleber, John E. The Kentucky Encyclopedia. Lexington, KY: The University Press of Kentucky, 1992.

2. Berg, Gordon. "President Garfield's Proving Ground." Civil War Times 46, no. 9 (2007): 42-47.

3. "Civil War History: The Decisive Battle for Eastern Kentucky, January 10, 1862." Middle Creek National Battlefield. 2007. Accessed March 31, 2017. http://www.middlecreek.org/history.htm.

4. Roadside History: A Guide to Kentucky Highway Makers, eds. Melba Porter Hay and Thomas H. Appleton Jr. Frankfort, KY: The Kentucky Historical Society, 2002.

5. "Kentucky Historical Markers." Kentucky Historical Society. Accessed March 31, 2017. http://history.ky.gov/kentucky-historical-markers/.


Additional Information