Manzanar National Historic Site
Introduction
After the authorization of Executive Order 9066 by President Franklin D. Roosevelt on February 19, 1942, the War Relocation Authority established ten major incarceration centers at which over 120,000 American citizens of Japanese descent and Japanese immigrants were confined. The former Manzanar Relocation Center opened as a temporary "reception center" under the control of the Wartime Civil Control Administration on March 22, 1942, until the War Relocation Authority oversaw control of the camp on June 1, 1942. At its peak, the camp held 10,046 people. Manzanar closed on November 21, 1945, after the end of World War II.
Images
Dorothea Lange photograph of grandfather and grandson at Manzanar Relocation Center.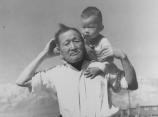 Kuichiro Nishi bridge in the Merritt Park area of Manzanar.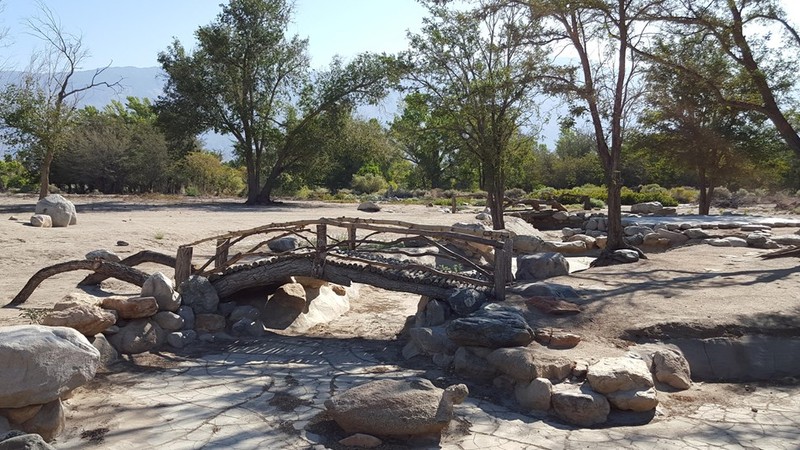 The first grave in the cemetery at Manzanar is that of Matsunosuke Murakami, 62. He had arrived ill on arrival on March 23, 1942, was hospitalized in camp, and died of heart disease on May 16, 1942.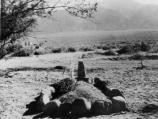 The inmates of Manzanar faced extreme changes in weather: bitter cold in winter, summer temperatures over 100 degrees, and frequent winds, blowing dust into the barracks.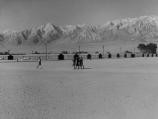 Backstory and Context
Located in the Owens Valley in central California, Manzanar is 225 miles northeast of Los Angeles and adjacent to the Sierra Nevada mountain range. The name, "Manzanar", is Spanish for apple.

The land originally was Paiute and Shoshone. Settlers of European ancestry moved into the area after the discovery of gold in California in the mid-19th century. Manzanar Irrigated Farms, which bought the land from a local rancher named John Shepherd in 1905, established a fruit orchard and distributed their produce to the Los Angeles area.

After the attack by Japan at Pearl Harbor on December 7, 1941, and without due process, the government gave everyone of Japanese ancestry living on the West Coast only days to decide what to do with their houses, farms, businesses, and other possessions. Each family was assigned an identification number and, taking only what they could carry, were transported under military guard to 17 temporary assembly centers located at racetracks, fairgrounds, and similar facilities in Washington, Oregon, California, and Arizona.

The first Japanese Americans to arrive at Manzanar, in March 1942, were men and women who volunteered to help build the camp. Japanese Americans provided most of the labor for the construction of Manzanar and the improvements made during their years of incarceration.

The 500-acre housing section was surrounded by barbed wire, guard towers with searchlights and patrolled by military police. By September 1942 more than 10,000 Japanese Americans were crowded into 504 barracks organized into 36 blocks.

Manzanar was the only camp that was used to confine Japanese American orphans during the war. In total, 101 children resided in a section of Manzanar known as Children's Village.

Japan surrendered on August 14th, 1945, and Manzanar closed on November 21st, 1945. After the war, all but three of the camp's 800 buildings were dismantled or relocated. Former Manzanar buildings were re-purposed and can be found throughout the Owens Valley.

The National Park Service has led major projects to recreate some of the buildings and features at Manzanar, including barracks, a mess hall, the fire station, and latrine, which helps visitors understand the lack of privacy faced by inmates. The National Park Service also organizes educational tours of the site and operates interpretive center in the restored Manzanar auditorium.

The Manzanar Committee organizes an annual pilgrimage to the former prison camp each April, which draws thousands each year. The annual pilgrimage is open to the general public and includes a Manzanar at Dusk program in the early evening at the Lone Pine High School gymnasium.

Manzanar is open to the public year round and provides self-guided walking and driving tours through the one-square mile former prison camp.







Sources
Japanese Americans at Manzanar. National Park Service. Accessed March 29, 2017. https://www.nps.gov/manz/learn/historyculture/japanese-americans-at-manzanar.htm.

Owens Valley Paiute. National Park Service. Accessed March 29, 2017. https://www.nps.gov/manz/learn/historyculture/owens-valley-paiute.htm.

One Camp, Ten Thousand Lives; One Camp, Ten Thousand Stories. National Park Service. Accessed March 29, 2017. https://www.nps.gov/manz/index.htm.

Dorothea Lange Gallery. National Park Service. Accessed March 29, 2017. https://www.nps.gov/media/photo/gallery.htm?id=CA29BB4E-155D-4519-3E5456896E1C2E6C.

Manzanar National Historic Site. National Park Service. . Accessed April 18, 2018. https://www.nps.gov/manz/index.htm.

Manzanar. Densho Encyclopedia. . Accessed April 18, 2018. https://encyclopedia.densho.org/Manzanar/.



Additional Information