Historical Marker: Father Hennepin Bluffs
Introduction
This marker indicates the location from which French explorer Father Louis Hennepin (c. 1626-c. 1705) first viewed the waterfalls that he would name after Saint Anthony of Padua. The falls are the sharpest drop anywhere along the 2,200 mile river and enabled Minneapolis to grow to become one of the great American cities. The surrounding six-acre area was revitalized in 1971 and renamed Father Hennepin Bluffs. Hennepin wrote three books describing his travels in America and all were widely read in France. However, he was criticized for his penchant for significant exaggeration of his accomplishments (for example, he claimed to have sailed on the Mississippi all the way down to the Gulf of Mexico) and racist descriptions of the Native Americans he encountered. That said, Hennepin did provide an early—albeit flawed—window into the "New World".
Images
The Father Hennepin Bluffs marker.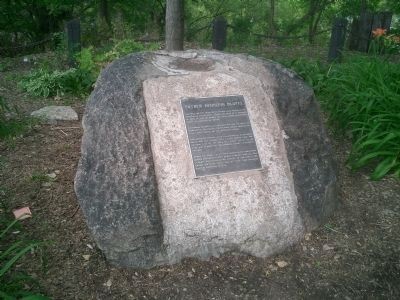 Backstory and Context
Hennepin was ordained as a Recollect Franciscan (a French Franciscan order) in 1666. He arrived in Quebec in 1675 and then traveled to the eastern part of the St. Lawrence River. Three years later he was allowed to join an expedition to the upper Mississippi River area. In April 1680 he and two other men were tasked with exploring the Mississippi north of the Illinois River. They encountered a Dakota war party near Lake Pepin and were held captive until July, when another French expedition negotiated their release. Before this, the Dakota allowed the men to canoe down to the Wisconsin River to collect supplies left for them. It was on this journey that they encountered the waterfalls. Hennepin would later travel to Quebec and then back to France in 1681. He wrote his first book in 1683.
Sources
"Father Hennepin Bluffs." The Historical Marker Database. Accessed March 30, 2017. http://www.hmdb.org/marker.asp?marker=21030,

Goetz, Kathryn. "Legacy of Fr. Hennepin looms large on the Mississippi." MinnPost. August 27, 2013. https://www.minnpost.com/mnopedia/2013/08/legacy-fr-hennepin-looms-large-mississippi.

Photo: Joseph Cavinato, via The Historical Marker Database