Bardwell-Ferrant House
Introduction
Fortunately renovated in recent years, the Bardwell-Ferrant House is a truly unique landmark. It was was originally constructed in 1883 by its first owner, Charles Bardwell, who had it designed in the Queen Anne Style. Its second owner, Emil Ferrant, had it moved to its present location and remodeled it into the Moorish Style, adding the onion domes and other features on this style. The house is highly embellished with intricate detailing, especially on the wraparound porch and below the domes. As such, the house is quite exotic in appearance. The present owner, Mike Gustafson, bought the house in 2011 and has restored it. The house was added to the National Register of Historic Places in 1984.
Images
The Bardwell-Ferrant House as it appears today. Photo: Seth5544, via Highway Highlights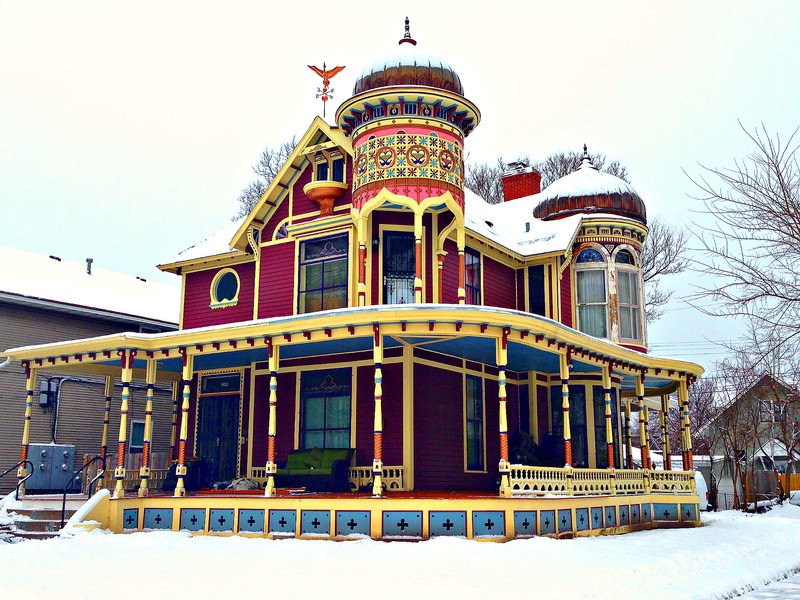 Backstory and Context
In 1986 the house was renovated and divided into apartments. The owners sold it in 2001 and went into foreclosure in 2010. During this time it suffered vandalism and theft. Three fireplace mantels and some stained glass windows were stolen and damaged. Additionally, one of the towers were beginning to lean dangerously towards the road.
Sources
Shiffer, James. "The leaning tower of Portland Avenue."
Star Tribune
. November 27, 2012. http://www.startribune.com/the-leaning-tower-of-portland-avenue-129-years-wear-on-mpls-landmark/1810...
Seth5544."The Top 50 Coolest Houses in Minnesota." Highway Highlights. December 29, 2015. http://highwayhighlights.com/2015/12/the-top-50-coolest-houses-in-minnesota.