Campus School
Introduction
Campus School is currently home of Boise State's Art Department, but originally it was an elementary school used to help train teachers. It was built in 1953 and changed to Boise State's Art Department in 1990. It is located right on the corner University Drive and Brady St. Campus is also know as Liberal Art Building West, Campus Building and Public Affairs and Arts West Building (PAAW).
Images
The front of Campus School with its original sign (photo from Boise State Special Collections)
Playground (photo from Boise State Special Collections)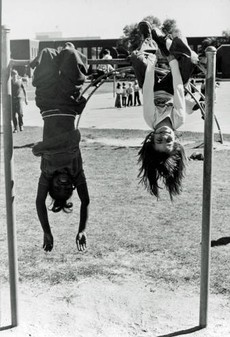 Cafeteria (photo from Boise State Special Collections)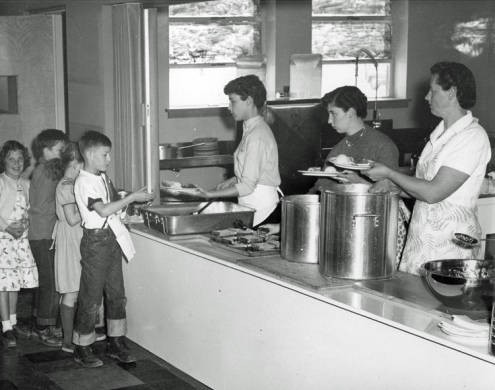 Drawing and Painting Classroom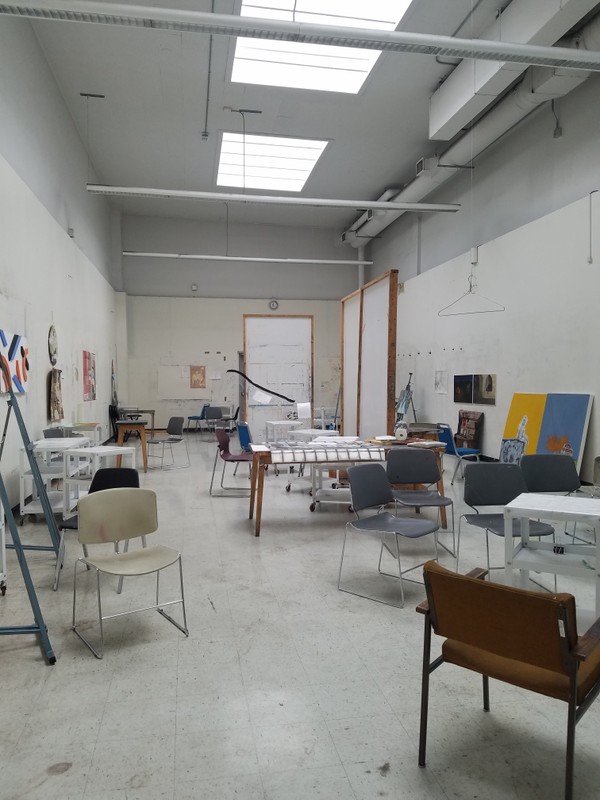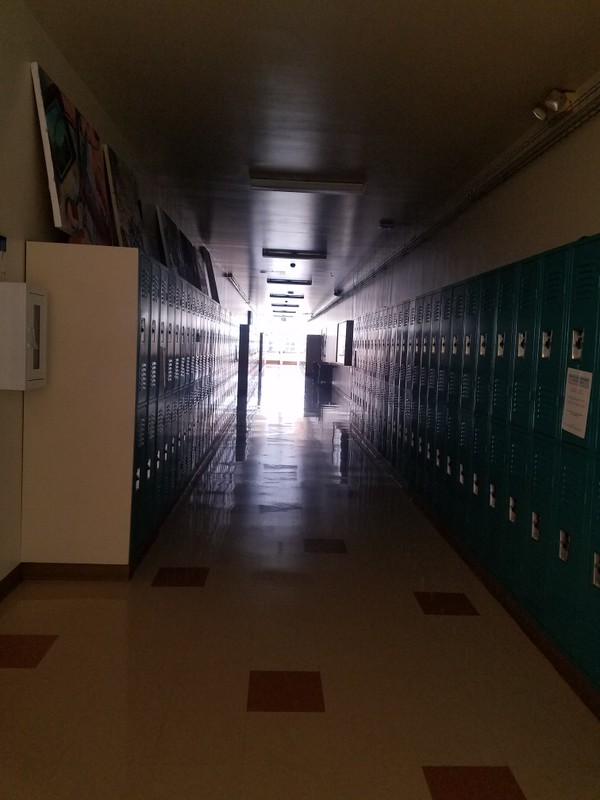 Backstory and Context
Plans to build Campus School began in 1952, and then in 1953 it was actually built. The architect company that was used to build it was Hummel, Hummel & Jones Architecture and the WPA (Works Progress Administration).1 Jordon and Son Contractors were also hired to build the 10,000 gallon fuel tank which cost about $4,000.5 Each classroom was to be 34 by 36 feet in length. There was to be 6 rooms built for grades 1-3 and 3 rooms for grades 4-6. Every classroom was to have and hot and cold drinking fountain with a sink.1
Campus School was built to give hands on training to prospective teachers who were currently attending Boise State University which at the time was Boise Junior College. The school consisted of classrooms, an auditorium, a small library, principal's office, recreation room and nurse's office. There was even an outside playground with basketballs hoops, four square courts, tetherball, and hopscotch games.3 Many of the classrooms had windows so that the prospective teachers could be observed on how well they were doing.
In October of 1953 Boise Junior college was permitted to rent 1 room to be used for evening classes. In 1958 summer school started to be offered for grades 1-8 for $20 per student.1 In 1987 a satellite dish was placed on the campus school playground because it was the only place it would have direct beam to the satellite. The satellite dish took up a lot of room in the playground which has already been shrinking with how much Boise state had been growing. This caused a lot of legal problems between Boise State and Campus School. Campus School said Boise State was breaking their contract.4
Boise State began the voting process to buy Campus School in 1988 to use it for the art department.4 In 1990 Campus School was purchased and officially shut down. Renovations then began to turn Campus School into the new art building. Some furniture from the Liberal Arts Building was moved into Campus School. Lockers were put it for the college students to store their art supplies. It was planned that there would be 11 total classrooms. Air conditioning had to be added to accommodate for the hot summers. It was going to cost approximately $62,000 to refurnish campus school. 6
Currently Campus school is still home to the art department. It now has a printmaking lab, computer lab, teacher offices and rooms for many other art classrooms. Some of the classrooms still have to observation windows. Although now they are not used for watching classrooms and the rooms on the other side of the window are just used for storage space. The lockers that were installed are rented out to students for $20 a year for the storage of their many art supplies. The original chalkboards are still in the classrooms as well. Originally there was plans to have a gallery but instead it is the drawing and paintings classroom seen in the pictures.
Boise State University is currently will soon be in the process of building a new Fine Arts building. The new building will have the have many new things like a new gallery and a world museum. The cost for the new building is estimated to be around $43 Million.7 This means that Campus school may once again change it's purpose and no longer be home to art department.
The building is built by Hummel Hummel & Jones Architecture/WPA who have also built many other buildings around campus in the neo-Gothic collegiate modern style. The outside of the building is mostly brick which was very popular during this time period. There are many awning windows throughout the building to help keep it cool during the summer. The main doors seem to be modeled after Venetian by having the doors filled with windows and a fanlight above them. There are Segmental Arches above the main doors as well. In the drawing and painting room there are skylights to let natural light in. This can be seen in the picture above.2
Sources
1. Campus School, RG 5, Box 6 Folder 20, Boise State Special Collections and Archives.

2. Ching, Frank D.K. A visual dictionary of architecture. Hoboken, NJ: Wiley, 2012.

3. Horton, Sherry. "A Short History of the PAAW." The Arbiter (Boise), February 17, 2011.

4. Notices, University Archives, RG 5, Box 6 Folder 22, Boise State University Special Collections and Archives

5. Oil Tank, University Archives, RG 5.2, Box 4 Folder 30, Boise State University Special Collections and Archives.

6. Renovations, MSS 66, Folder 323, Boise State Special Collections and Archives.

7. Tuck, Kathleen. "Boise State Takes Key Step Toward New Fine Arts Building." Boise State University, December 15, 2016.

Additional Information