Eagle Tavern
Introduction
This historic frame house demonstrates was operated as a tavern from 1820-1829 by Nathaniel Gates who also served as the county auditor at this time. The tavern was located directly across from the Our House, and according to an interview of the director of the Our House Tavern Museum, the Eagle was known to cater towards men who were looking for trouble while Our House served a more "genteel" crowd. The Holzer family restored the structure during the 1930s and today, the house still retains some of the original glasswork surrounding the entrance.
Images
This gravestone at the Pine Street Cemetery in Gallipolis marks the final resting spot of tavern owner Nathaniel Gates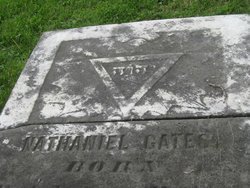 Sources
Gallia Crossroads and Cornerstones. Gallia Genealogical Society Newsletter. March 12, 2011. Accessed June 04, 12018. http://www.galliagenealogy.org/Newsletters/FinalMarch2011GalliaNewsltr%20Copy.pdf.

"Our House Tavern Museum officially opens for the season on May 25." Gallia Herald May 22, 2013.


Additional Information