Memorial Park
Introduction
Memorial Park is located at the corner of Gadsden and Hampton streets in downtown Columbia. The park covers four acres and was dedicated in 1986. Memorial Park includes a variety of monuments and historic markers that commemorate the service and experience of the state's veterans.
Images
Vietnam Memorial monument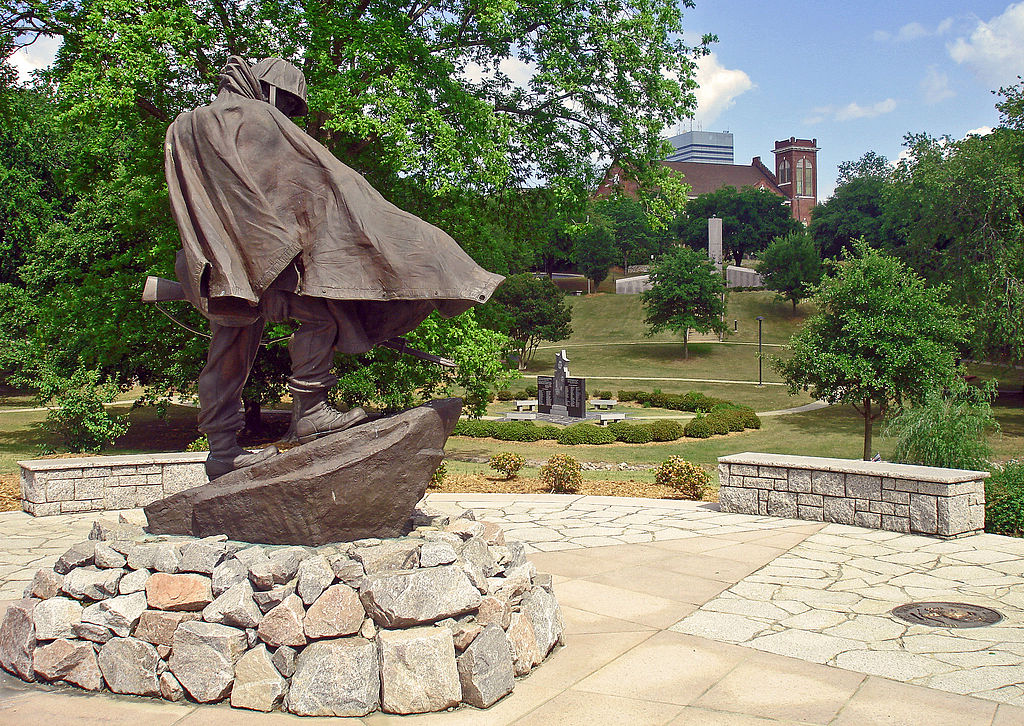 Holocaust Memorial Monument features the star of David honoring survivors and liberators of the Holocaust.
Backstory and Context
Memorial Park was dedicated in November of 1986 as a memorial to Vietnam veterans, Holocaust Survivors/Liberators, Pearl Harbor, the Korean War, and World War II. The park honors South Carolinians who served in these theaters of war. The park also includes the South Carolina Holocaust Monument which was designed by Irwan Hyman. This beautiful granite monument lists the names of holocaust survivors and liberators who reside in South Carolina. The monument features maps of where the multiple concentration camps were located across Europe.
Memorial Park presently has monuments honoring the USS Columbia warship and those that served with her during WWII; the China-Burma-India Theater Veterans of WWII; casualties of the Pearl Harbor attack of December 7, 1941, who were from South Carolina; and the State Vietnam War Veterans. The Vietnam Memorial Monument features two freestanding granite walls inscribed with the names of South Carolinians killed or lost in action in Vietnam. This memorial to Vietnam veterans is the largest of its type outside of Washington D.C. and includes the 980 names of soldiers from South Carolina who lost their lives in Vietnam. There are plans for future expansion of the current Korean War Memorial.
Along with the various monuments and memorials, the park well-kept paths and greenery make the park an excellent place to spend an afternoon outdoors.
The park has a water fountain next to the Vietnam Memorial. There is a creek running through the park with a small bridge over it, as well as a plethora of natural wildlife residing within the park.
Sources
"Memorial Park." Columbia Parks and Recreation Foundation. November 12, 2013. Accessed March 26, 2017. http://columnbiaparksandrecreationfoundation.org/memorial-park/
"Memorial Park.
" Memorial Park - Columbia, SC. Accessed March 26, 2017. http://www.columnbiacvb.com/listings/Memorial-Park/15641/
Memorial Park. Experience Columbia. . Accessed June 30, 2019. https://www.experiencecolumbiasc.com/listing/memorial-park/15641/.
Additional Information