Sun Record Company
Introduction
Where Rock and Roll was born. Sam Phillips launched his record company in February, 1952, and named it Sun Records as a sign of his perpetual optimism: A new day and a new beginning. Sun Studio became known as a place that nurtured talent and then encouraged it to expand with bigger labels. In 2003 it became a national tourist attraction due to the record company discovering Elvis Presley.
Images
View from outside Sun Studio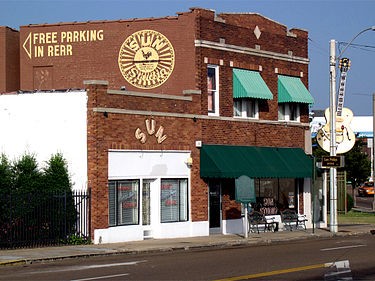 Another view from outside Sun Studio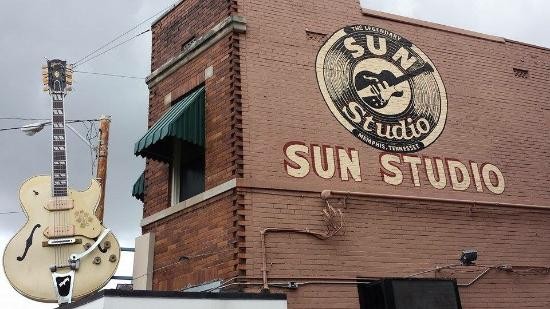 Backstory and Context
One of the most popular and notable recording studios ever is none other than Sun Studio, located in Memphis, Tennessee. The studio sits just one block over from the musically famous Beale Street but is just as famous in its own right. To give you an idea of how Sun Studio is regarded, people compared music to a religion and Sun Studio as a holy shrine.
The owner, Sam Phillips, opened up the studio in an attempt to start a dominant recording brand. He would draw in icons of the 1950s and '60s music, such as Elvis Presley, Johnny Cash, and Jerry Lee Lewis, to name a few. If you visit Sun Studio, you can take a complete tour through rock'n'roll birthplace, where you can experience the very outtakes that the studio had back in its prime, touch Elvis' first microphone that he used in recording, and hear the entire story of one of the most prominent recording studios to ever exist.
In 1950, Phillips opened up his studio, originally called Memphis Recording Service. That same year he would see one of the greatest blues writers and musicians, B.B. King cut some of Phillips' first recordings at the studio. A year later, Jackie Brenston and the Delta Cats would record a song titled "Rocket 88", which is to this day said to be the first rock'n'roll single, making Sun Studio the birthplace of the genre that would change both the music industry and American culture.
By 1955, Elvis Presley had recorded his hit version of "Blue Kentucky Moon" and Johnny Cash had a Top 15 country music single with his debut song "Cry! Cry! Cry!". Both Cash and Presley would leave the recording studio by 1958, launching their careers from Phillips' studio just three years prior. Before the pair had left, however, they recorded a jam session with fellow musicians Carl Perkins and Jerry Lee Lewis in what would later be dubbed the "Million Dollar Quartet". Their recording was not released on record until 1981, and again as a complete collection of 46 tracks in 2006.
In 1969 Sam Phillips sold Sun Studios for $1 million to Mercury Records executive Shelby S. Singleton. The studio would later house several different shops and other services. It was converted back into a studio in 1985, and throughout the years to follow, many artists would come and record typically acoustic versions of songs they have performed or release a more raw cut of other songs. Groups such as U2, Def Leppard, Magnolia Electric Company, John Mellencamp, and Elle King have all used the legendary recording studio to record various albums, songs, and other collaborations.
The Sun Studio in Memphis, Tennessee can truly be considered a musical temple, simply for that names that have passed through and the way it changed music in America. The studio remains a staple of the musical influence that the city of Memphis has had among Americans and the world.
Sources
Betts, Stephen L. Sun Records Studio: 18 Musical Milestones. Rolling Stone. 2/17/17. Accessed 5/1/17. http://www.rollingstone.com/music/lists/sun-records-studio-18-musical-milestones-w467525.

Sun Studio. Memphis. Accessed 5/1/17. http://www.memphistravel.com/sun-studio.


Additional Information